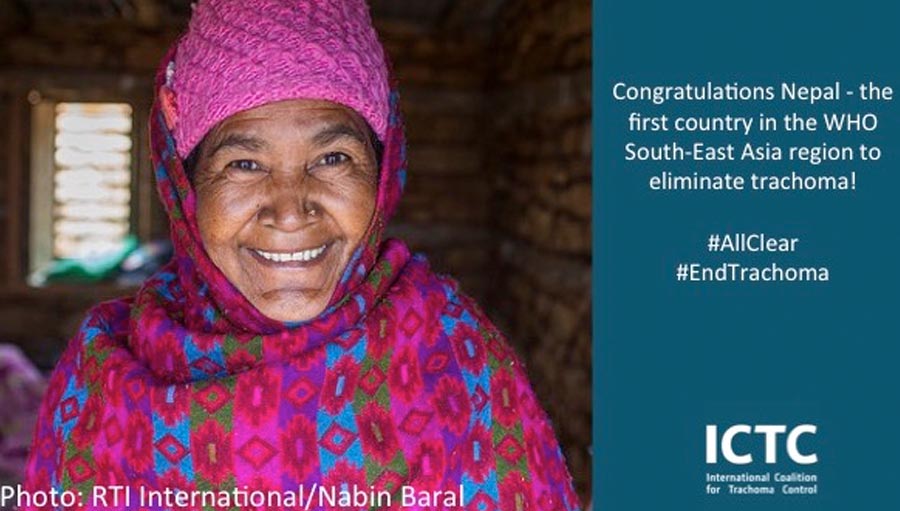 The World Health Organization (WHO) has validated Nepal for eliminating trachoma as a public health problem–the first South East Asian country to have achieved this success.
Trachoma was the second leading cause of preventable blindness in Nepal in the 1980s. The country has been working towards the elimination of trachoma and other forms of preventable blindness since 1979, when it began the world's first national epidemiological survey on prevalence and causes of blindness.
Efforts increased in 2002 with Nepal's National Trachoma Programme, implementing the WHO-endorsed SAFE Strategy (surgery, antibiotics, facial cleanliness and environmental improvements) in all twenty of its trachoma endemic districts.
"Nepal's elimination of trachoma as a public health problem demonstrates what can be achieved with strong national leadership, sustained investment and strategic partnerships" said Serge Resnikoff, Chair of the International Coalition for Trachoma Control. "By eliminating trachoma, Nepal has profoundly improved the lives of people living in some of the most remote and impoverished communities".
"This remarkable achievement demonstrates what political commitment and sustained partner support can do," said Dr Tedros Adhanom Ghebreyesus, WHO Director-General. "It is a big step towards health for everyone and comes at a time when Nepal accelerates its fight against other neglected tropical diseases."
IAPB congratulates all the partners, including ICTC and the Nepal Netra Jyoti Sangh (NNJS), an IAPB member.
Read more
Nepal: first country in South-East Asia validated for eliminating trachoma (WHO)
Nepal eliminates trachoma as a public health problem (ICTC)