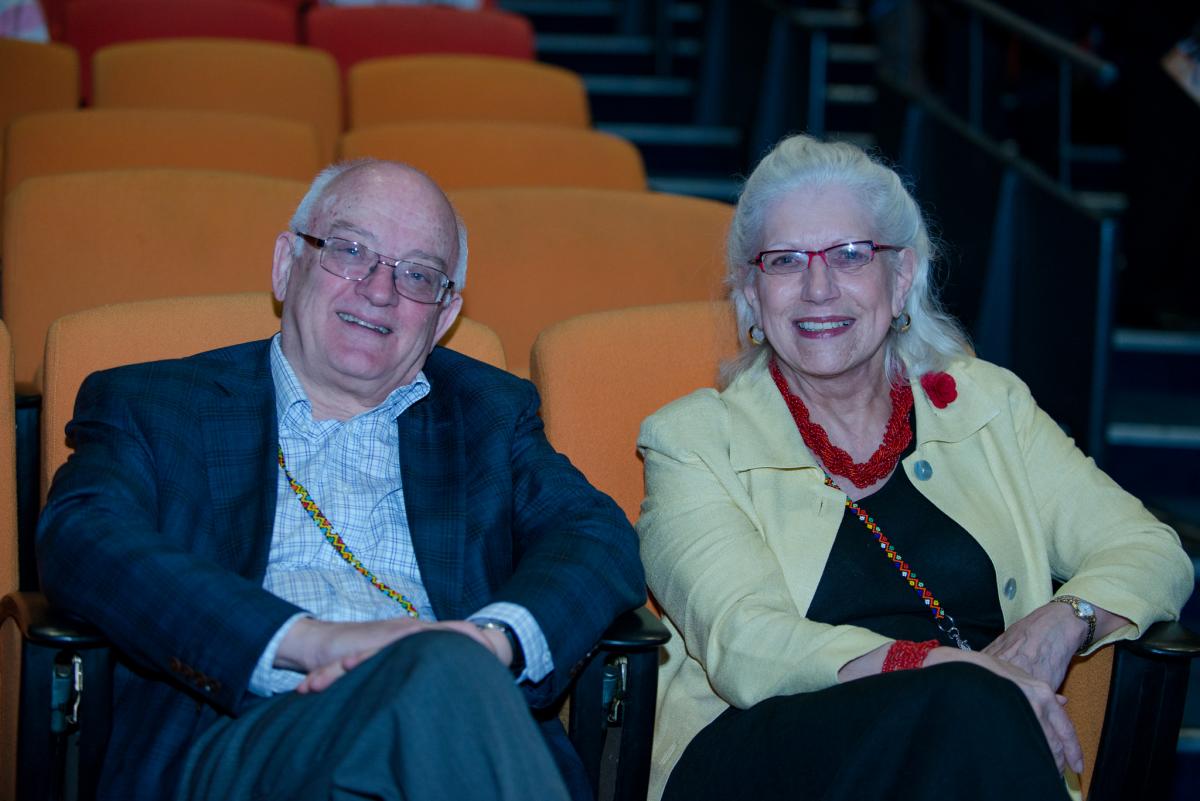 IAPB President Bob McMullan with Victoria Sheffield, IAPB Vice President
This October, alongside the 10th General Assembly, Durban also played host to the IAPB Board and Annual General Meeting. As in every Assembly year, this is a time of renewal for a number of seats and positions within the IAPB Board of Trustees. The terms for Officers and Regional Chairs come to an end and elections are held for the seats reserved to Group B and C representatives—as part of the new, more open governance approach introduced in 2014. This year also saw a number of changes among the Board appointments made by Group A members. This translated into 12 new faces joining the Board (see the full list of appointments at the bottom of this article) – quite an intake of fresh views as we near the new strategic planning period which will lead us to 2020.
Before welcoming the newcomers or congratulating those who have been re-elected, I would like to take this opportunity to thank those who have stepped down after years (for some over a decade) of service on the IAPB Board. Their commitment, passion and robust opinions have shaped our work and sustained our efforts throughout many meetings. We are grateful to their contribution for making IAPB 'stronger together':
Adrian Poffley (IAPB Treasurer for 12 years), Brian Doolan (The Fred Hollows Foundation's appointee for 12 years), Bob Chappell (10 years as the World Council of Optometry's appointed trustee as well as Chairman of the Audit Committee), Richard Le Mesurier (8 years as Western Pacific Regional Chair), Lou Pizzarello (4 years as North America Regional Chair and previously IAPB's Secretary General), Adrian Hopkins (5 years as the Mectizan Donation Program's trustee), Juan Batlle (Latin America Regional Chair for 4 years) and Dave McComiskey (3 years as CBM's appointment).
I am sure we will continue working closely with many of them still for years to come.
At the AGM, members also approved our new Articles of Association and Byelaws, which brought our constitution up to date with latest legislation in the UK, where IAPB is registered as a Company and Charity, and formally incorporated the governance changes approved at the 2014 review.
Finally, board meetings are also when new membership applications are considered and we are delighted to welcome into our fold 3 new members: Fondation L'OCCITANE (Group B), EYElliance and Noor Dubai Foundation (Group C).
New Board Appointments for 2016:
(for the full list of Board members click here)
Officers
Bob McMullan – President
Victoria Sheffield – Vice President
Debra Davis – Treasurer
Nominated Trustees
Mohammad Babar Qureshi – CBM
Jennifer Gersbeck – The Fred Hollows Foundation
Rupert Roniger – Light for the World
Jitsuhiro Yamada – Lions Club International Federation
John Robert Ranck – ORBIS International
Scott Mundle – World Council of Optometry
Elected Trustees
Kathy Spahn – Helen Keller International
Neil Murray – Royal Australian and New Zealand College of Ophthalmologists
Job C. Heintz – Himalayan Cataract Project
Ahmed Trabelsi – Nadi Al Bassar
Tirtha Prasad Mishra – Nepal Netra Jyoti Sangh
Kashinath Bhoosnurmath – Operation Eyesight Universal
Tom Rosewall – Vision for a Nation Foundation
Regional Chairs
Aaron Thembinkosi Magava – Africa
HRH Prince Abdulaziz Bin Ahmad Bin Abdulaziz Al Saud – Eastern Mediterranean
Janos Nemeth – Europe
Francisco Martínez Castro – Latin America
Suzanne Gilbert – North America
Taraprasad Das – South East Asia
Amanda Davis – Western Pacific
We wish the new Board all the very best and look forward to working closely with them over the next four years.