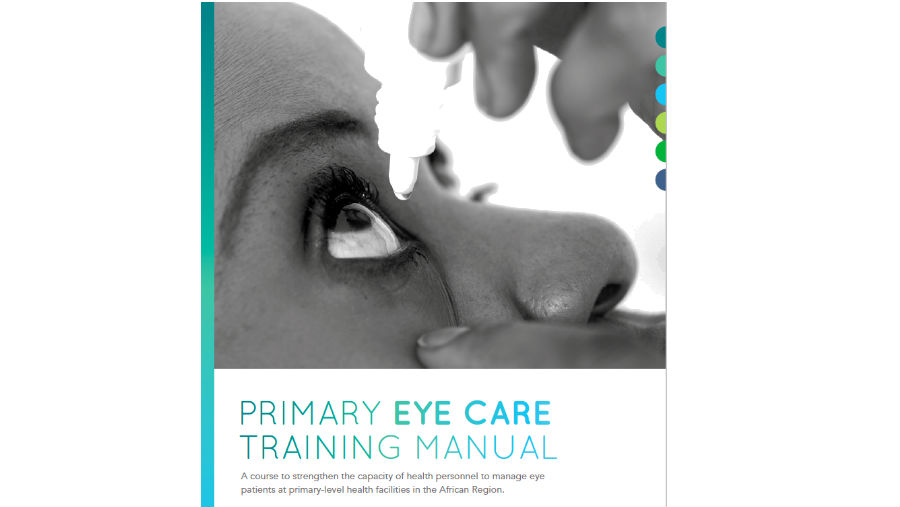 The WHO Regional Office for Africa has launched a training manual entitled "Primary Eye Care Training Manual – A course to strengthen the capacity of health personnel to manage eye patients at primary-level health facilities in the African Region".
The purpose of this manual is to provide guidance in the design, implementation and evaluation of a course that aims to build and strengthen the ability of health personnel to successfully manage patients with eye complaints presenting at primary health care facilities.
The manual is intended for use by course directors and facilitators. Its intended audience includes all persons who wish to commission, support or offer a course serving the above aims, including pre-service training.  It sets out the requisite steps for the preparation and organization of such a course. The 3-days course is designed for health personnel such as nurses and clinical officers. It includes a set of 18 protocols and 5 clinical algorithms to guide the primary health care workers in the African region in diagnosing, referring and treating common eye diseases they encounter on a daily basis. This course is not designed for personnel without formal medical training such as community health workers.
The current manual actively contributes in strengthening health systems at PHC level to deliver better health outcomes, efficiency and improved quality of care, thus, supporting Member States in achieving the Sustainable Development Goal (SDG) related to health (target 3) "to ensure healthy lives and promote well-being for all at all ages".