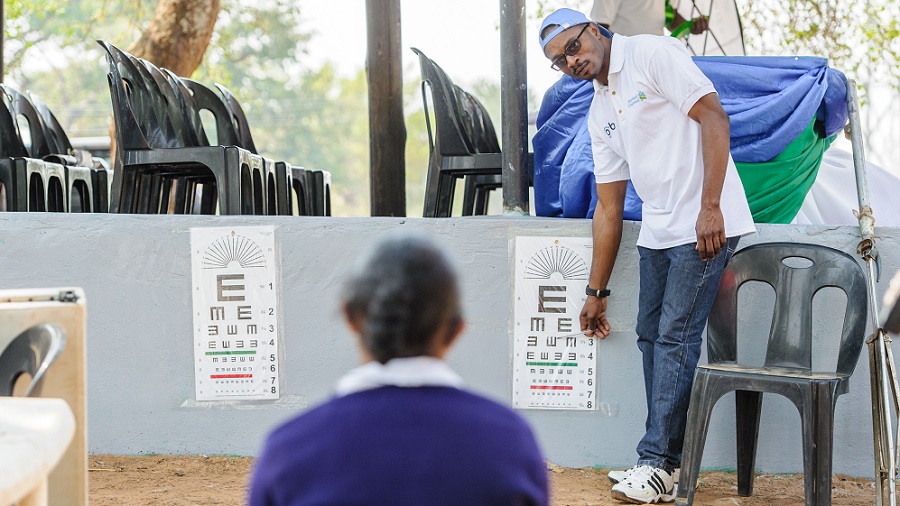 Improving Uptake of Cataract Surgery in North Western Province, Zambia
Cataract is the leading cause of avoidable blindness in North-Western Province, Zambia, mostly affecting elderly populations. Economically, North-Western Province is the least developed province in the country and geographically, the province covers approximately one fifth of the land area in Zambia and is the largest of Zambia's provinces.
Before Orbis started working in North-Western Province in 2013 under the Saving Sight Changing Lives project funded by Standard Chartered Bank (SCB) through Seeing is Believing (SiB), cataract services were limited. There was no full-time ophthalmologist based in the province, and the cataract surgical rate was 446.  Cataract surgical services were conducted on a quarterly basis through mobile surgical eye camps with support from the Ministry of Health visiting ophthalmologist and static surgical operations were only offered at a missionary hospital by the local cataract surgeon based at Mukinge Mission Hospital in Kasempa district.
Mobile cataract surgical services were only conducted in strategic district hospitals due to inadequate funding, lack of ophthalmic officers, lack of transport for patients in remote communities and there were limited community awareness programmes. Uptake of cataract surgery was very low – mainly attributed to distance to district hospitals, cultural norms, fear of surgical outcome, lack of community awareness and availability of cataract services.
Over the last five years, through the SiB project, Orbis has collaborated with all District Health Offices (DHOs) to improve cataract surgery uptake by employing impactful strategic interventions at primary, secondary and tertiary levels.
At primary level:
The project utilised existing local Ministry of Health structures, Neighbourhood Health Committees (NHCs), to train Community Health Workers (CHWs) in Primary Eye Care (PEC) aiming at case identification and referrals to the nearest rural health facility.
The project collaborated successfully with community leaders to influence change towards community perceptions on importance of surgery and addressing cultural norms that prevent community participation in health matters.
Former cataract patients played a key role in encouraging other cataract patients around the importance of surgery and removing fears and negative feelings surrounding surgery.
The project employed the first of its kind community awareness strategy "Facilitated Film Screening" – an approach used to sensitise communities on eye health. District Ophthalmic Clinical Officers (OCOs) used the film documentary to educate and engage communities on eye health and address the importance of cataract surgery. The strategy has helped the project to reach out to community members and dispel myths and misconceptions that surrounds cataract surgery. The effectiveness and impact of the facilitated film screening strategy led to its adoption by the North Western Provincial Health Office in early 2017 as the health promotion strategy for community awareness in the province.
At secondary level
The project has built human resource capacity by training two Ophthalmic Clinical Officers who were deployed by the Provincial Health Office to districts where cataract services didn't previously exist. This is in line with the Ministry of Health's transformation agenda of taking quality health services closer to the people.
Six district eye clinics were equipped with basic eye equipment necessary for diagnosis of different eye conditions. Furthermore, the project in collaboration with the Provincial Health Office, established a district-wide robust cataract mobilization and surgical eye camp schedule. The cataract surgical schedule details all cataract activities within the province and was integrated into the provincial health office activity calendar.
A key intervention was strengthening patient follow up after surgery and ensuring that OCOs conduct periodic patient visits. This helped to reduce reducing cataract patients' case complications and, subsequently, patient confidence to undergo cataract surgery.
The project, with support from district health offices, has been providing transport to all cataract patients by picking them from the rural health centers to district hospitals for surgical operations and taking them back at the day of discharge. This has continued to encourage cataract patients to access surgical services in their respective districts.
At tertiary level,
In 2014, the project's continuous lobbying for the province to have a permanent ophthalmologist was supported by Ministry of Health through the office of National Eye Coordinator. The ophthalmologist, now consultant ophthalmologist, is fully active and functional at Solwezi General Hospital and has been conducting mobile surgical eye camps throughout the province with support from local surgeon based at Mukinge Mission Hospital.
Through these key strategic interventions at primary, secondary and tertiary levels, Orbis in collaboration with the Ministry of Health, has seen the Cataract Surgical Rate (CSR) increase to 1,686. In 2017, 4,414 people have undergone cataract surgery. However, there is still a high number of people needing cataract surgery services in the province; therefore the need to build on and enhance sustainable strategies for awareness, access and uptake remains vital.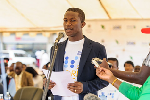 Moffat Shawa
Project Officer
Orbis International Zambia