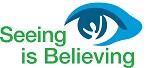 As part of SiB's commitment to share learning between SiB projects we arrange a series of webinars twice a year. In October 2017 SiB arranged a series of webinars on gender.
In many of the countries where we have SiB projects there are gender based barriers stopping women accessing services at the same rate as men. The SiB webinars were an opportunity for SiB partners to share their experiences of the challenges women face accessing eye health services, as well as the strategies they use to ensure equal access for all. These webinars were recorded and we are happy to share them below.
SiB Africa Regional Webinar recording:
SiB South East Asia / Western Pacific Regions Webinar recording:
For recordings of previous SiB webinars, please click below:
Seeing is Believing is Standard Chartered's global initiative to tackle avoidable blindness and visual impairment[1]. Launched in 2003, Seeing is Believing (SiB) is a collaboration between Standard Chartered, the International Agency for the Prevention of Blindness (IAPB) and leading international eye health organisations.
Standard Chartered has committed to raise USD 100 million between 2003 and 2020 for Seeing is Believing through fundraising and the Bank's matching funds. Funds raised for Seeing is Believing are invested in eye health projects that range from providing comprehensive eye care in low and middle-income countries to building innovative eye health delivery solutions.