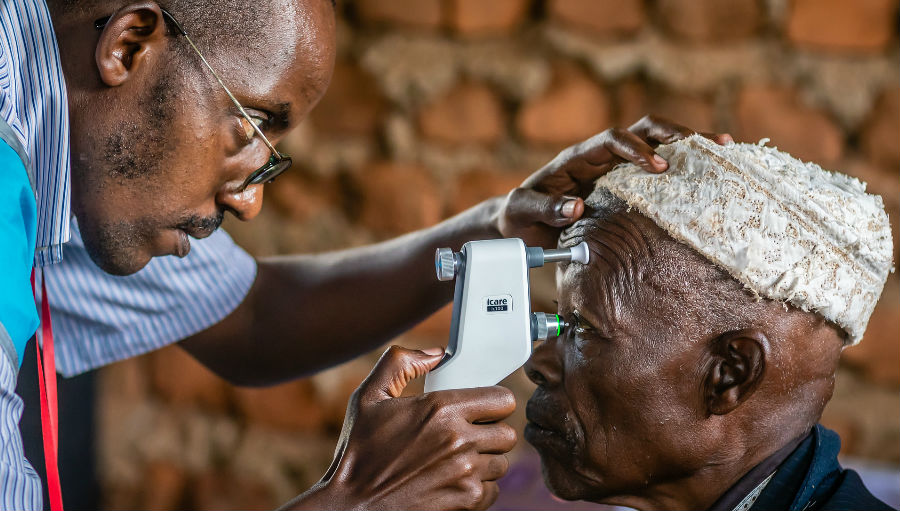 — Unique initiative joins an innovative eyecare biopharma leader with international charities to train healthcare professionals to diagnose and treat patients with glaucoma —
 — Glaucoma is the third leading cause of blindness worldwide[i] yet with adequate screening and diagnosis, vision loss can be prevented—
 — "Keep Sight" initiative launched at the World Health Assembly (20-28 May) in Geneva —
Press Release DUBLIN, IRELAND – May 22, 2019 – Allergan, Sightsavers and the International Agency for the Prevention of Blindness (IAPB) today announced a unique joint initiative – "Keep Sight'"– to prevent glaucoma-related vision loss by building healthcare capacity in low and middle-income countries with the highest unmet need. The initiative will provide training for healthcare professionals to screen at-risk populations, ensure early and accurate diagnosis and provide appropriate treatment and long-term care in an effort to make a positive impact on people with glaucoma.
The first programme is due to launch at a high-volume hospital in Nigeria, where training will be provided for 50 healthcare professionals, with the goal of screening 5,000 people, treating 500 patients and providing surgery for 70 patients. It is anticipated that the initiative will expand to screen 500,000 people in high-burden countries by 2021 and beyond.
Sightsavers CEO, Caroline Harper said: "We are excited to be partnering with Allergan, an organisation with a long heritage in eyecare and a shared commitment to drive life-transforming innovations for patients suffering with glaucoma, which is one of the leading causes of irreversible blindness.
The greatest global needs in eye health today exist in developing countries, where typical barriers include inadequate human resources, poor infrastructure, a lack of awareness and limited access to medical treatments. The partnership between Sightsavers, The IAPB and Allergan is an example of the important and necessary alliances that are needed to fight avoidable blindness and deliver better services to patients."
"75% of sight loss can be cured or prevented, so it's an area where donors can have a very real impact, and the partnership will enable us to establish new initiatives in Nigeria. Support from companies like Allergan is really important in our drive to help countries develop their health infrastructure, so this is really great news." said Harper.
Joanna Conlon, Director of Development and Communications at the International Agency for the Prevention of Blindness, continued: "Glaucoma accounts for between 12% and 16% of blindness in high-income regions, central Asia, parts of Europe and Africa[ii]. Glaucoma in Africa is poised to be a significant public health burden in the coming decade. 'Keep Sight' is the kind of solution we need today. IAPB is delighted to be working with Allergan to raise awareness of glaucoma, a 'neglected' eye condition.
Allergan and IAPB had worked together to mark World Glaucoma Week this year, on our very successful Focus On: Glaucoma' initiative—a series of webinars, blog posts and high-profile lectures–to draw a spotlight on this blinding condition.
IAPB is delighted to be partnering with Allergan and Sightsavers for "Keep Sight". We will build on the "Focus On" initiative to raise awareness and stimulate policy action so that glaucoma and eye health in general are part of universal health coverage".
"Allergan is honoured to partner with Sightsavers and IAPB on "Keep Sight"; their wealth of knowledge and expertise, combined with our passion for science and solutions will have a real impact on our shared goal of reducing the high burden of irreversible blindness. For almost two decades Allergan has been committed to developing novel approaches to preserve visual function and prevent blindness caused by glaucoma; "Keep Sight" is an initiative that will make a real difference to people with glaucoma in these underserved populations." said Marc Princen, Executive Vice President and President, International Commercial at Allergan.
—ends—
About Sightsavers
Sightsavers is an international organisation that works in more than 30 developing countries to prevent blindness, restore sight and advocate for social inclusion and equal rights for people with disabilities.
There are 36 million blind people in the world; 75% of all blindness can be prevented or cured.
In the six decades since its foundation, Sightsavers has:
Supported over 1.1 billion treatments for neglected tropical diseases iii
Carried out over 10.2 million operations to restore sight iii
Trained more than 795,427 primary eye care workers iii
Carried out rehabilitation training for 225,954 blind or low vision beneficiaries iii
Supported 62,908 blind or low vision children to gain a school education [iii]
About Allergan plc
 Allergan plc (NYSE: AGN), headquartered in Dublin, Ireland, is a global pharmaceutical leader focused on developing, manufacturing and commercializing branded pharmaceutical, device, biologic, surgical and regenerative medicine products for patients around the world. Allergan markets a portfolio of leading brands and best-in-class products primarily focused on four key therapeutic areas including medical aesthetics, eye care, central nervous system and gastroenterology. As part of its approach to delivering innovation for better patient care, Allergan has built one of the broadest pharmaceutical and device research and development pipelines in the industry.
With colleagues and commercial operations located in approximately 100 countries, Allergan is committed to working with physicians, healthcare providers and patients to deliver innovative and meaningful treatments that help people around the world live longer, healthier lives every day.
For more information, visit Allergan's website at www.Allergan.com.
Forward-Looking Statement
 Statements contained in this press release that refer to future events or other non-historical facts are forward-looking statements that reflect Allergan's current perspective on existing trends and information as of the date of this release. Actual results may differ materially from Allergan's current expectations depending upon a number of factors affecting Allergan's business. These factors include, among others, the difficulty of predicting the timing or outcome of FDA approvals or actions, if any; the impact of competitive products and pricing; market acceptance of and continued demand for Allergan's products; the impact of uncertainty around timing of generic entry related to key products, including RESTASIS®, on our financial results; risks associated with divestitures, acquisitions, mergers and joint ventures; risks related to impairments; uncertainty associated with financial projections, projected cost reductions, projected debt reduction, projected synergies, restructurings, increased costs, and adverse tax consequences; difficulties or delays in manufacturing; and other risks and uncertainties detailed in Allergan's periodic public filings with the Securities and Exchange Commission, including but not limited to Allergan's Annual Report on Form 10-K for the year ended December 31, 2018 and Allergan's Quarterly Report on Form 10-Q for the period ended March 31, 2019. Except as expressly required by law, Allergan disclaims any intent or obligation to update these forward-looking statements.
[i] Glaucoma. The International Agency for the Prevention of Blindness. https://www.iapb.org/knowledge/what-is-avoidable-blindness/glaucoma/. Last accessed: April 2019
[ii] Global Vision Impairment—Regional estimates; IAPB Vision Atlas (accessed on 14 May 2019). https://atlas.iapb.org/global-burden-vision-impairment/gbvi-regional-cause-estimates/
[iii] Taken from output statistics in Sightsavers' annual reports, aggregated since the founding of the charity. Further details available from Sightsavers' Media team
Image: Screening for glaucoma by Terry Cooper