For World Glaucoma Week, Drs Rizwan Malik and Deepak P. Edward discuss the advances that Ophthalmologists at King Khaled Eye Specialist Hospital (KKESH) are making to tackle childhood blindness from congenital glaucoma in the Kingdom.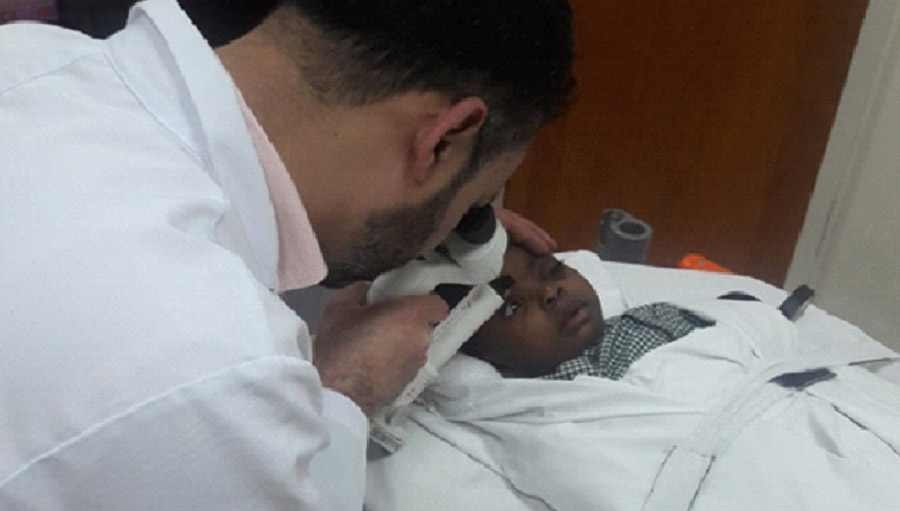 Alleviating childhood blindness is a priority for the World Health Organization (WHO). Approximately 8,000 children are estimated to have functional low vision in Saudi Arabia. Congenital glaucoma is amongst the leading cause of childhood blindness in the Kingdom which is caused by a developmental abnormality in the drainage outflow of the eye leading to high intraocular pressure shortly after birth.
In the Middle East, congenital glaucoma is mostly inherited due to a defined autosomal recessive genetic mutation in the CYP1B1. Strategies to reduce the blindness burden include better epidemiological, phenotypical / genotypical characterisation of the disease as well as prevention through screening high-risk family members. KKESH is leading the fight against blindness from congenital glaucoma through a specific genetic screening and counselling programme.
Congenital Glaucoma Prevention Programme
The first stage in tackling the disease is establishing the number of children with Congenital glaucoma by creating a disease specific registry followed by a genetic screening and counselling programme. KKESH, in 2019, established a registry with a focused screening programme for congenital glaucoma by performing genetic testing for the common mutation on index congenital glaucoma patients and potential carriers of the disease. The team for this programme includes glaucoma specialists, a molecular geneticist, genetics counsellor and other research personnel. The plan is to counsel patients with PCG or a carrier that harbour a specific mutation (CYP1B1 gene) common in the Kingdom of Saudi Arabia not to marry a patient with PCG or a carrier.* This approach is predicted to lower the incidence of new cases of disease in the population and has been predicted to be cost effective and efficient in achieving this goal.
*Malik R, Khandekar R, Boodhna T, Rahbeeni Z, Al Towerki AE, Edward DP, Abu-Amero K. Eradicating primary congenital glaucoma from Saudi Arabia: The case for a national screening program. Saudi J Ophthalmol. 2017 Oct-Dec; 31(4).PubMed PMID: 29234227.
Drs Rizwan Malik and Deepak P. Edward
On behalf of the Glaucoma and Pediatric Ophthalmology Services and Research Department
King Khaled Eye Specialist Hospital, Kingdom of Saudi Arabia
GA 2020 – Act Now!
The IAPB Global Assembly 2020 (GA2020) programme has several sessions on Glaucoma. If your work is around the topic, do submit an abstract–the sector needs to know!