Who We Are
KeraLink International exists to make blind people see. Specifically, those suffering from corneal blindness in low-and middle- income countries (LMICs), where the need is most acute.
Surgeons have had the knowledge and experience to treat and to cure corneal blindness for over 100 years. However, more than 10 million people around the world remain blind because a corneal transplant is not affordable, not accessible, or surgeons' skills are not sufficient. (Philippe Gain, MD, PhD; Rémy Jullienne, MD; Zhiguo He, PhD; Mansour Aldossary, MD; Sophie Acquart, PhD; Fabrice Cognasse, PhD; Gilles Thuret, MD, PhD. "Global Survey of Corneal Transplantation and Eye Banking." JAMA Ophthalmology. Web. 3 December 2015).
Medical and business innovations that increase access, reduce costs, and eliminate complexity can change this. With public and private partners, KeraLink International develops and supports sustainable, scalable programmes that reverse corneal blindness globally.
A History of Saving Sight
KeraLink's mission has always been to restore sight. Founded in 1962, the organization now known as KeraLink International began as a single eye bank in Baltimore, MD. Later expanding to a network of seven eye banks located throughout the U.S. and facilitating cornea transplantations world-wide. KeraLink played a key role in addressing corneal blindness and established the sight-restoring standard of care that has been relied on until this day.
KeraLink divested its U.S. eye banking operations earlier this year. This was done so that all resources could be focused on finding innovations that will revolutionize corneal blindness treatment for people in LMICs who are still blind but would be made to see.
The Future of Corneal Treatment
KeraLink will innovate and create a new system for corneal blindness treatment. This will happen by first identifying bottlenecks that prevent access to treatment and creating programmes around easing those hardships. Potential projects could address tissue supply, financial concerns, and deskilling of surgical procedures, among other innovations that come about through collaboration with other organizations and experts in the field of corneal blindness.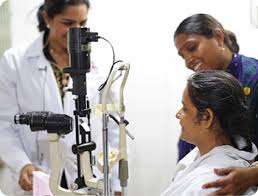 The current strategic plan is focused on bringing sight to 50,000 people over the next five years who would otherwise remain blind. It is KeraLink's expectation that the innovations and programmes it fosters will eventually be scaled to go well beyond that five-year goal, so that anywhere in the world, anyone who needs corneal treatment will receive the care they need.