Our Beginning
In 1969, the Northwest Lions in Seattle, WA founded an eye bank inspired by three people who wanted to help local citizens in need of a corneal transplant. At that time, the Northwest Lions Eye Bank was a volunteer-driven organization – proudly placing 40 corneas for transplant in the first year. Fast forward a few decades, and by 2000, the eye bank became the number one provider of corneas in the United States and would eventually transform into a global health organization known as SightLife.
Expanding Our Work Domestically and Globally
Over the last two decades, we expanded our work beyond the Pacific Northwest to Montana, California and Pennsylvania. Today, SightLife operates one of the largest eye banks in the U.S. We are committed to honoring the donor's gift of sight to restore hope to those in need. Losing a loved one is hard, and we support and offer resources to grieving families, provide the utmost care in recovering donated tissue, and work closely with hospitals and donation partners to ensure the process is handled with integrity and purpose.
As our work grew domestically, we couldn't ignore the global need – 12.7 million people are needlessly suffering from treatable corneal blindness. This condition goes beyond not being able to see the world around you or the faces of your loved ones – it could mean becoming part of the 70 percent who fall out of the education system or who become unemployed with no social service support. People lose their homes or are unable to care for their families. Life expectancies can even be reduced by one-third.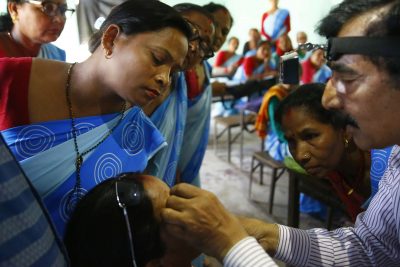 We take a health systems approach to eliminating corneal blindness globally. Our work focuses on advocating for policy change to increase access to donors and care, preventing corneal blindness, training corneal care providers to ensure access to quality care, strengthening eye banking systems to increase the number of high-quality transplantable corneas, and creating access to innovative solutions.
Our Future
With partners in more than 30 countries, SightLife is increasing the number of corneal transplants performed each year – and preventing new cases – to transform millions of lives around the world.

There is still, however, tremendous need for the solutions SightLife can provide. We've developed proven models in each of our global focus areas and we're making significant progress across the global regions we serve – Africa, Greater Asia, India, Latin America, and the U.S. But to truly eliminate corneal blindness by 2040, we must continue to foster global partnerships for sustainable development, bring new, innovative products and technologies to more people, and scale models that work in countries where the majority of the corneal blind live.
No matter where in the world someone lives, sight restoration has a profound impact on individuals, their families, and their communities. When one person's sight is restored, so is their independence and livelihood, which ultimately contributes to a better and more sustainable world for future generations.
To celebrate our 50 year anniversary, here are a few highlights:
1969: Launched at the Northwest Lions Eye Bank, providing 40 corneas in the first year of operation
2000: Became the number one provider of corneas in the United States
2006: Rebranded to SightLife to better reflect our journey from not only an eye bank, but a global health organization focused on eliminating corneal blindness worldwide
2009: Launched our global programmes in India; initially, bringing our best practices honed over many decades to eye banks that were struggling to meet their local needs. We also adopted our mission to serve as a global leader and partner to eliminate corneal blindness.
2016: Amended our mission to eliminate corneal blindness within our lifetimes – by 2040
2018: Reached the milestone of providing 200,000 corneas for sight-restoring, life-transforming transplants
2018: We provided a record 36,294 corneas for transplant around the world – that's nearly 100 corneas PER DAY; 2.5X more than what we did in our ENTIRE FIRST YEAR in operations