In our second blog for World Glaucoma Week, Laura Gore, Programme Manager – East Africa and Asia, CBM UK writes about the trial CBM is doing to improve glaucoma treatment in Africa.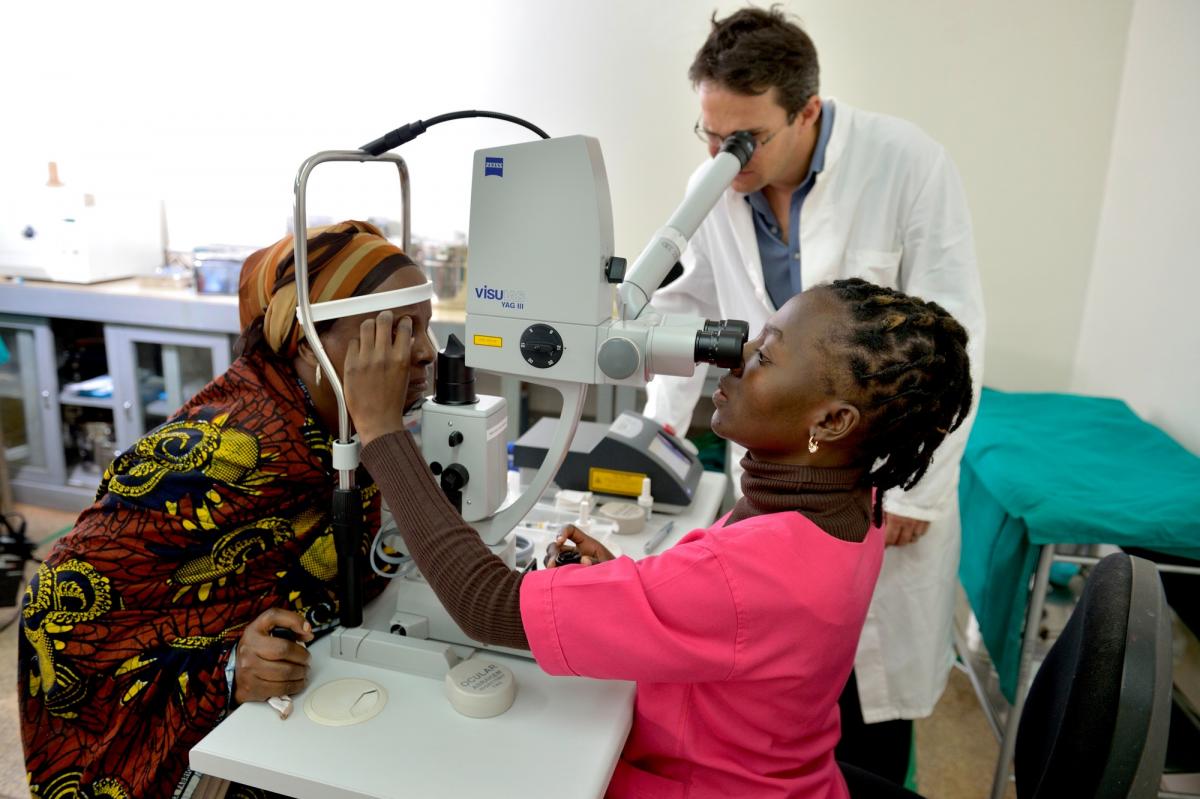 Post-graduate ophthalmology student examines a glaucoma patient at KCMC hospital, under supervision of Dr Heiko Philippin. © CBM/argum/Einberger
Over the years I have unfortunately met far too many people who have lost their sight because of Glaucoma. Glaucoma is the second leading cause of blindness worldwide. But unlike cataract, the blindness caused by glaucoma is irreversible. That's why identifying the condition early and treating it effectively is vital to save sight. It is heart-breaking to hear someone being told that they will be never be able to see again, when you know that if they had accessed treatment earlier, it could have been avoided. Treatment for early and moderate glaucoma usually involves taking daily eye drops for life, which is expensive, logistically challenging and difficult to adhere to.
In Tanzania, CBM is trialling a relatively new laser treatment that has the potential to significantly improve treatment for glaucoma patients in Africa. Selective Laser Trabeculoplasty (SLT) is currently mainly used in high-income countries but has never been trialled in sub-Saharan Africa. It offers the possibility of a one-off or occasionally repeated outpatient treatment for glaucoma. In a country like Tanzania, this could be absolutely transformational for people who have Glaucoma. No longer would they have to purchase, store and then take eye drops (already out of reach for so many people because of the cost or distance to travel to hospital). The trial will help to establish SLT's long-term clinical efficacy and its acceptance among patients.
Awareness creation and training will continue to play a vital role in any Glaucoma treatment and it's essential that patients are aware and understand the condition. In Tanzania, focus group discussions and patient involvement days have been helping us to understand the patient's views and perspectives on glaucoma and treatment in much more detail. The study team have gained greater insight into how glaucoma and various treatment options are perceived by patients. This learning will continue to be fed into the counselling and more targeted messaging to help improve the effectiveness of the treatment.
On a recent visit to Tanzania, I met with a patient on the trial who had already lost a considerable amount of her sight. She explained that she had visited a number of clinics before reaching us, but her glaucoma had gone undiagnosed. This is unfortunately a relatively common experience, and highlights the important for more health personnel to be trained, so that treatment can be accessed as soon as possible. CBM is committed to improving training for medical professionals and CBM ophthalmologist Dr Heiko Philippin, who is running the SLT trial at the Kilimanjaro Christian Medical Centre (KCMC) in Tanzania, now offers fellowships to doctors in Sub Saharan Africa. The trial continues to provide insight into patient perception and understanding of glaucoma, which along with the clinical treatment will help contribute to decreasing the number of people who become blind from the condition.
Liked it? We have a series of posts to mark Glaucoma awareness week. You can see them here: