In our first blog for World Glaucoma Week, Mohammed Abdull, an ophthalmologist writes about the challenges he faces managing and treating patients in Africa.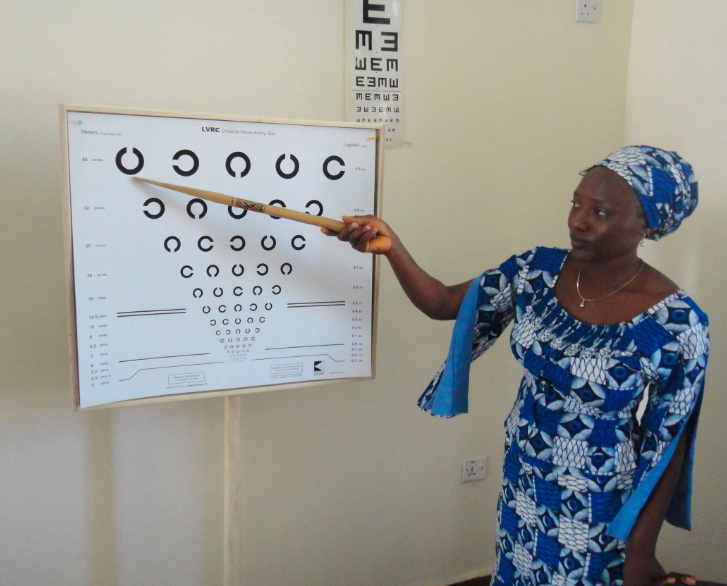 Testing visual acuity
As an ophthalmologist working in Africa I face specific challenges that my western colleagues may not. Glaucoma is a big problem in Africa: the prevalence of glaucoma in people of African origin tends to be high; the disease presents at a much younger age and at a later stage, [1] progresses more rapidly, so there is increased lifetime risk of blindness.
At presentation, my typical patient is a rural, uneducated person with one eye already blind and the other with reduced vision or other co-morbidities. Quite often they have visited a traditional healer. It is likely they have been to another hospital, but seeing no improvement, have eventually reached our clinics. So in many patients there is already a history of erratic use of eye drops and very poor follow up.[2]
Examination
Challenges start from registration, as many patients don't know their birthdays. Many are also not literate, so visual acuity measurement is conducted using the Snellen "E" chart.
Even positioning the patient on the slit lamp to carry out applanation tonometry–especially in the seeing eye–takes a lot of instructions and time. Gonioscopy is often not possible because the patients have corneal oedema due to very high pressures at presentation or scarring from pannus or other causes, especially use of traditional eye medication. Visual field assessment (perimetry) is not available in many eye clinics in Africa. Where available, patients may not be able to accomplish the test because the visual fields are so damaged that they are unable to maintain fixation for a good test or lack the necessary manual dexterity to operate the machine to indicate response. Other investigations such as imaging may not be possible because of lack of equipment or supporting infrastructure. A diagnosis is often made eventually with very high intraocular pressure on tonometry and a high cup-disc ratio on optic nerve head assessment.
Treatment
The most acceptable treatment is eye drops, but in my experience they are the least effective for the following reasons:
Eye drops are expensive. Patients cannot afford the appropriate treatment offered.
The drops may not always be available.
Forgetfulness: As there are no symptoms of pain or any form of relief from using the medication, many patients become complacent or simply forget to use the eye drops as recommended.
The eye drops could be fake, adulterated or lose potency due to poor storage conditions.
In some eye drops the effect wanes over time so that the eye drops become ineffective.
Tablets may be an alternative as they are cheaper, but they are associated with many side effects.
The next option for treatment is surgery, which has been recommended as best for Africans. [3][4]However, there is poor acceptance of surgery; patients refuse surgery when it is offered to their only seeing eye. They come with high hopes of surgery recovering vision in the non-seeing eye (as seen with cataract) and are disappointed to know that may not be possible. For fear of losing the only seeing eye they have, they refuse surgery.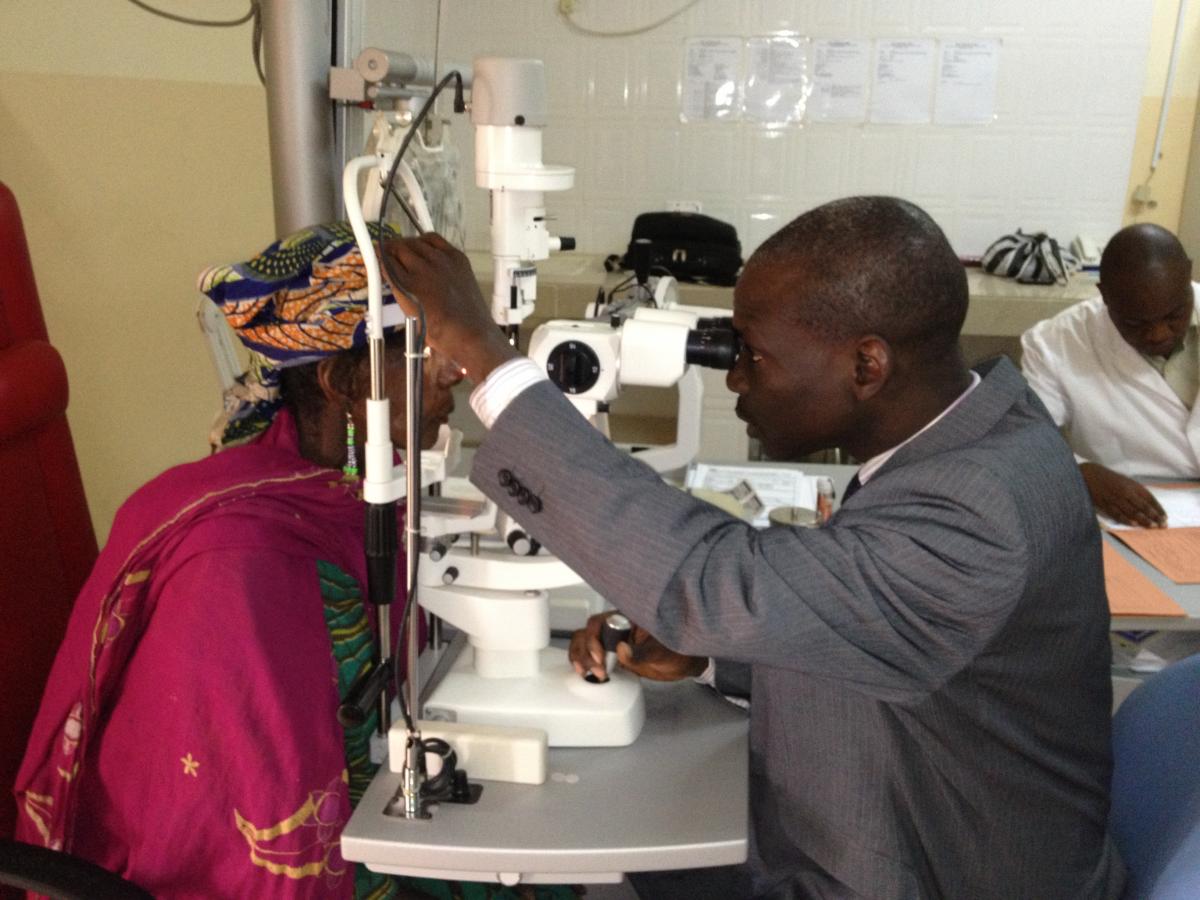 For those who are willing to have surgery, many other factors have to be taken into consideration. For example, if the patient lives in a rural area with poor sanitation and long travel time to hospital, incisional surgery (trabeculectomy) may not be the best option; if there is a problem they may not come to hospital in time for a solution. As the average patient has poor follow up record, I would not offer a procedure that requires me to see the patient regularly for check up. In the patients who accept to have surgery and it is done, I still face the fact that filtration surgery fails more often in Africans than the average European even with the use of antimetabolites. So, both medical and socioeconomic indications discourage surgery as an option.
The next option is laser treatment, which is less invasive than surgery. However, most eye clinics in Africa lack equipment or the necessary infrastructure to support their use. [5]Laser surgery is only available to a few in the cities at exorbitant prices.
Another quandary with treatment is what target pressure to set. Many patients come with pressures in excess of 45mmHg, so a 30% reduction, which is the highest most medical treatments offer, still leave the eye with pressures over 21mmHg.
Under these circumstances, what can one do?
Where options are limited, we have found that transscleral diode laser cyclophotoablation was acceptable as a less invasive procedure to our patients and it was effective in maintaining acceptable IOP level and preserving vision in the short term in most, and is repeatable. The alternative is to do nothing and watch patients go blind.
As a researcher and ophthalmologist in Africa, my western colleagues often confront me about my methods. I believe we need a better understanding of the odds we have to surmount to achieve even the smallest progress. There is also an urgent need to make affordable and effective lasers more widely available across Africa. Many IAPB partners are helping, but a lot more needs to be invested to reduce avoidable blindness from glaucoma: "the silent thief of sight".
Photos courtesy: Mohammed Abdull

---
Liked it? We have a series of posts to mark Glaucoma awareness week. You can see them here: