In our third blog for World Glaucoma Week, Dr Krishnadas, a senior consultant in the glaucoma services at Aravind Eye Care System writes about the need for glaucoma training and what Aravind is doing.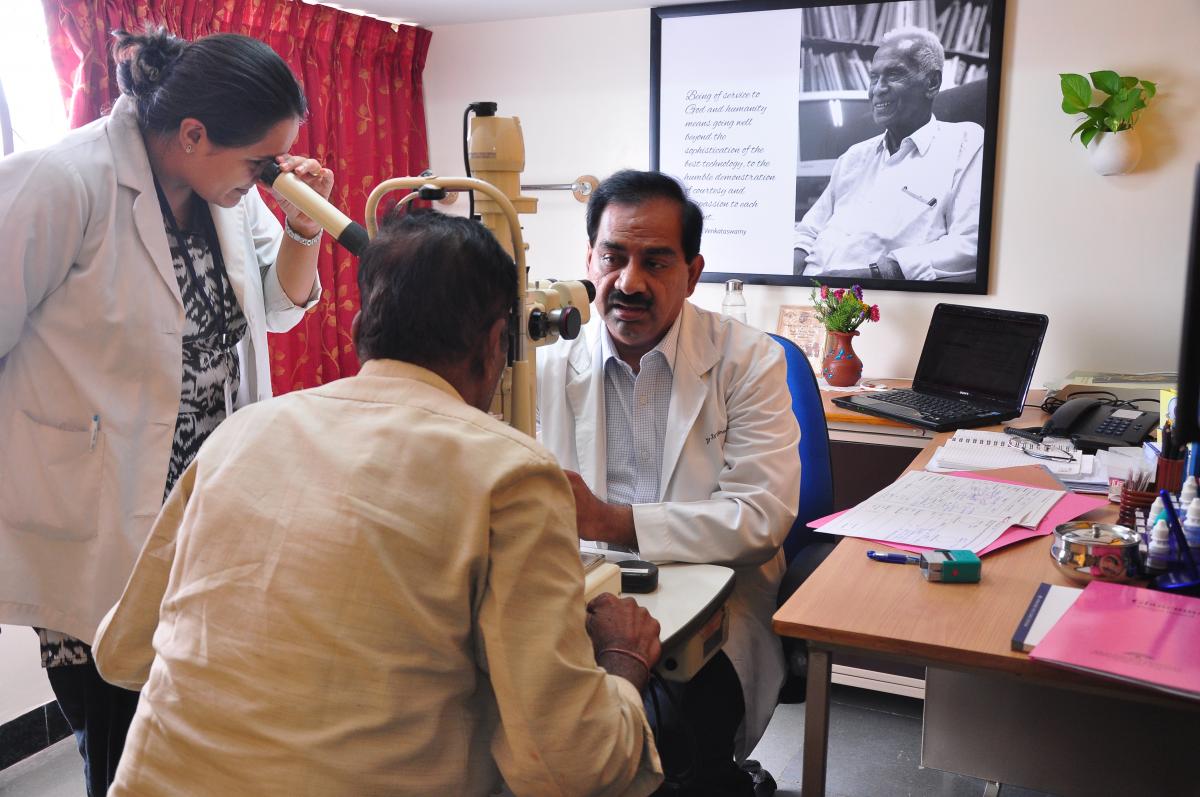 Dr Krishnadas with a fellowship student
Glaucoma is a leading cause of blindness in India and Asia, as in the rest of the world. This disease causes 10% of all blindness in India, but less than 8% of Indians with glaucoma have been diagnosed and treated 1. The most effective strategy for management of glaucoma appears to be early detection and treatment and currently the most efficient strategy appears to be to optimize case finding among patients reporting in ophthalmology clinics, rather than mass detection or screening in populations.
Improved training of ophthalmology residents, practitioners and other care providers is the most crucial strategy in our efforts to reduce glaucoma. Residency programmes in India, for example, continue to be plagued by inadequate training of post-graduates despite availability of facilities and most ophthalmology programmes are cataract-centric. Only a minority of residents who have completed their curriculum undergo additional subspecialty training in glaucoma. Given the huge burden of glaucoma in the community, it is largely managed by general ophthalmologists in India. A huge backlog of cataract, diabetic retinopathy and corneal blindness continues to compete with glaucoma for the limited resources that is available for effective management. There is also wide variability in the quality of eye care services across India; ophthalmologists seldom have access to currently acceptable standards of glaucoma care. Targeted and customized training of residents, graduates and practicing ophthalmologists is critical for improving glaucoma care and in prevention of avoidable blindness due to glaucoma.
Aravind Eye Care System is the largest eye care provider in India with close to 3.7 million patient visits and a little over 400,000 eye surgeries, six tertiary eye care centers and a network of secondary care, community hospitals and primary vision care centers. With support from well-trained senior faculty, Aravind trains residents and ophthalmologists in all aspects of eye care. An average of 250-300 glaucoma patients visit each of its tertiary centres every day.
Glaucoma Fellowship Programmes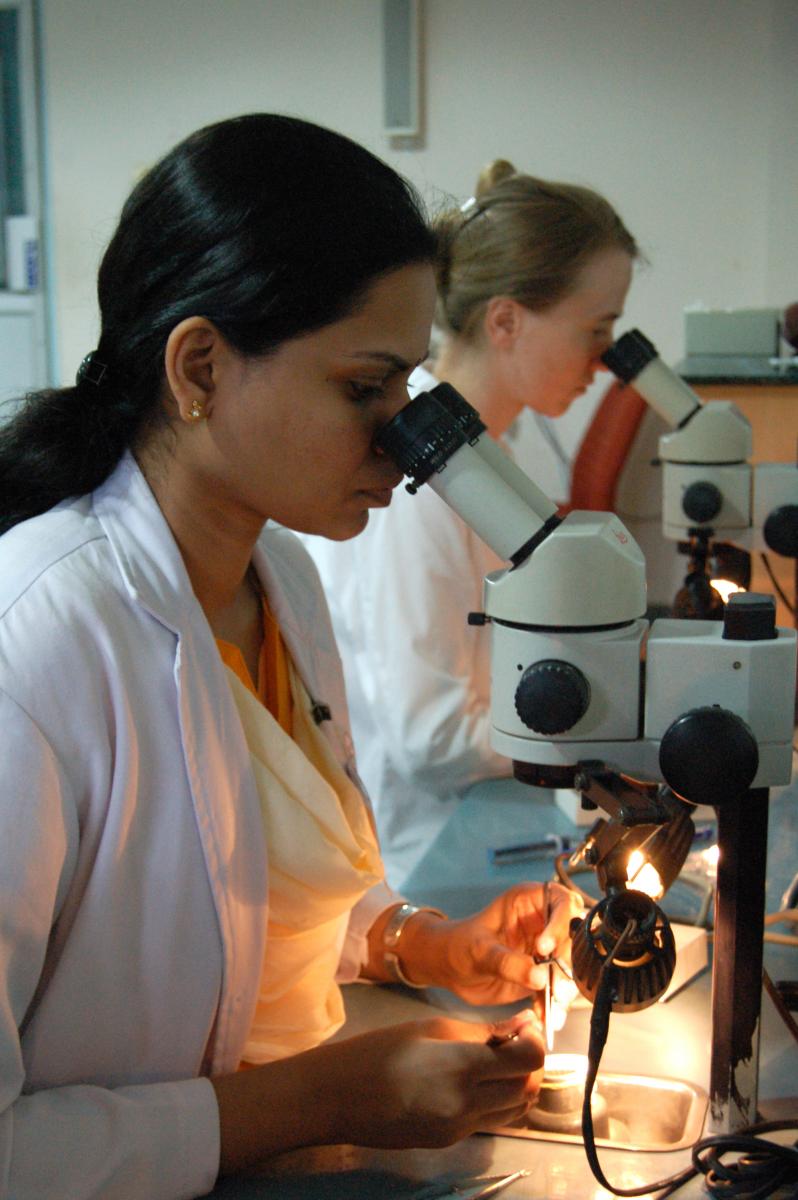 The fellowship programme at Aravind equips ophthalmologists with superior clinical skills, knowledge and judgment with a commitment to contribute to those in need. It emphasizes hands-on experience and close mentoring by the glaucoma faculty. There is wide exposure to clinical cases in glaucoma and all fellows are independently assigned to patients in the outpatient clinics and the inpatient wards. The first year of training is focused on facilitating clinical skills in glaucoma diagnosis and management, on building basic surgical skills in manual small incision cataract surgery, and basic glaucoma surgeries including combined cataract and glaucoma surgical management.
Faculty in the glaucoma services host clinical meetings twice a week, and every fortnight, fellows are invited to present a journal discussion from recent peer-reviewed literature. Glaucoma fellows and faculty from all the tertiary hospitals attend these meetings via video conferencing. Fellows also present glaucoma topics to residents and attend weekly grand rounds where clinical presentations are made by residents across all topics in ophthalmology. Fellows are also provided opportunities to participate in research projects and are encouraged to present their work in national or regional glaucoma / ophthalmology conferences. At the Aravind Medical Research Foundation, fellows also have the opportunity to collaborate with basic research faculty on genetic and molecular basis of glaucoma pathophysiology and management.
During the second year of their training, fellows manage simple glaucoma independently and more complex clinical situations are managed by them in consultation with their faculty. During the second half of their training module, they are trained in phaco emulsification, combined phcoemulsification and glaucoma surgery and glaucoma drainage surgery.
Glaucoma training is being offered in four of the largest Aravind eye hospitals- Madurai, Tirunelveli, Coimbatore and Pondicherry) to ophthalmology graduates and practitioners from many of its partner hospitals from Asia, Middle East and Africa.
These glaucoma alumni can be found across India in every type of ophthalmic practice: private, non-profit and government hospitals. Aravind has trained about 130 ophthalmologists across India as long term two-year fellows in the past 25 years. As short term two month customized training for practicing ophthalmologists, we have totally trained 431 candidates from India and 63 ophthalmologists internationally. In addition, five international candidates have been trained for one year each (one each from Mongolia, Albania and Palestine and two from Nepal).
1 J Glaucoma. 2010 Aug;19(6):391-7. Glaucoma in India: estimated burden of disease.
Photo on the left: Surgical training for fellows in wetlab
Photos courtesy: Krishnadas
Liked it? We have a series of posts to mark Glaucoma awareness week. You can see them here: