In our fourth blog for World Glaucoma Week, James Muecke, an Ophthalmologist, an IAPB Eye Health Hero and Chairman for Sight For All, writes about the need for training for glaucoma in Asia, highlighting what they are doing.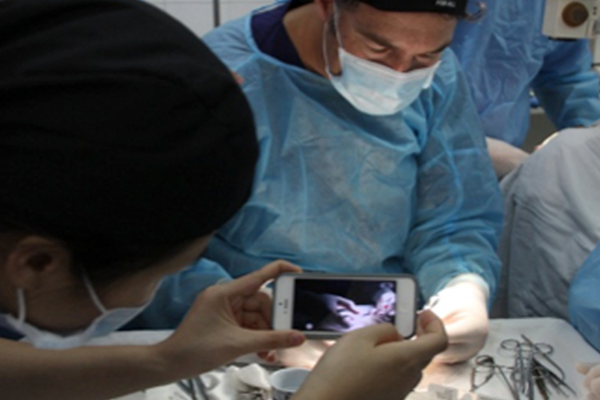 James Muecke AM teaching fellows
Glaucoma is the leading cause of irreversible blindness worldwide and over half of the affected patients live in Asia.
A systematic review and meta-analysis of glaucoma in Asia conducted in 2014 found a significant current and future glaucoma burden, particularly in South-Central and East Asia. In 2013 there was a glaucoma prevalence of 3.54%, with a projected steep increase in the number of individuals with glaucoma, from 17 million in 2013 to 33 million in 2040, in South-Central Asia alone. These statistics demonstrate the urgent need to create sustainable strategies to combat glaucoma in Asia.
Eye conditions such as glaucoma require specific strategies for screening, prevention, diagnosis and treatment. Most developing countries in Asia have good ophthalmic training programmes that focus on producing general ophthalmologists adept at cataract surgery. In addition, most non-government organisations working on blindness-related issues are focusing on improving cataract surgical rates. Few countries have training programmes directed at ophthalmic sub-specialties such as glaucoma.
In 2005, I was part of a team conducting a blindness study in rural Myanmar. We were shocked to find that over 8% of the participants were blind, with glaucoma the second leading cause. Following that seminal study, Profs Bob Casson, Henry Newland and I established "Sight For All", a charitable organisation run by eye health professionals, for eye health professionals. Launched in 2008, Sight For All is now delivering high impact and sustainable solutions to broadly reduce blindness from all causes, including glaucoma, and in turn helping to reduce poverty in some of the poorest countries in the world.
Eye disease is far more than just cataracts and so Sight For All are actively engaged in the training of ophthalmologists who are far more than just cataract surgeons.
In 2012 and 2014, we trained the first glaucoma specialists for Bhutan and Myanmar respectively, in Adelaide, Australia. Many Asian ophthalmologists, however, have difficulty passing the English test required to enable training in Australia. To solve this barrier, we developed the innovative 'reverse fellowship', where ophthalmologists from partner countries are taught in their own environment and with an appropriate spectrum of local patients with relevant local issues. These fellowships are made possible through the donation of time and expertise by over 100 ophthalmologists, optometrists and orthoptists from across Australia and New Zealand.
Sight For All has conducted a range of reverse fellowships in countries such as Cambodia, Laos, Myanmar and Vietnam. Our team of Australian glaucoma specialists have already trained the first glaucoma specialist for Lao, and are currently training the first two for Cambodia, at the Khmer Soviet Friendship Hospital in Phnom Penh. We mobilise one Australian glaucoma specialist for a week in every second month to spend time in the clinic and operating theatre conducting one-on-one training.
These vital projects also include the provision of equipment to ensure that the fellows have the best tools to diagnose and treat glaucoma. With the training acquired during their fellowship, the fellows can manage glaucoma cases from all over the country, pass their skills and knowledge on to colleagues and ultimately train their own fellows.
The sustainability of these programmes combined with the very efficient use of resources means that the projects will have a profound local impact for a modest financial input. The ripple effects of these programmes are already proving to be far-reaching and will be sustainable for many years to come. I am very proud of what our small team are achieving in the fight against glaucoma.
Photo on the left: Glaucoma specialist Dr Anna Galanopoulos visiting Bhutan's first glaucoma specialist Dr Deki, who trained in Adelaide in 2012.
Photos courtesy: Sight For All
Liked it? We have a series of posts to mark Glaucoma awareness week. You can see them here: