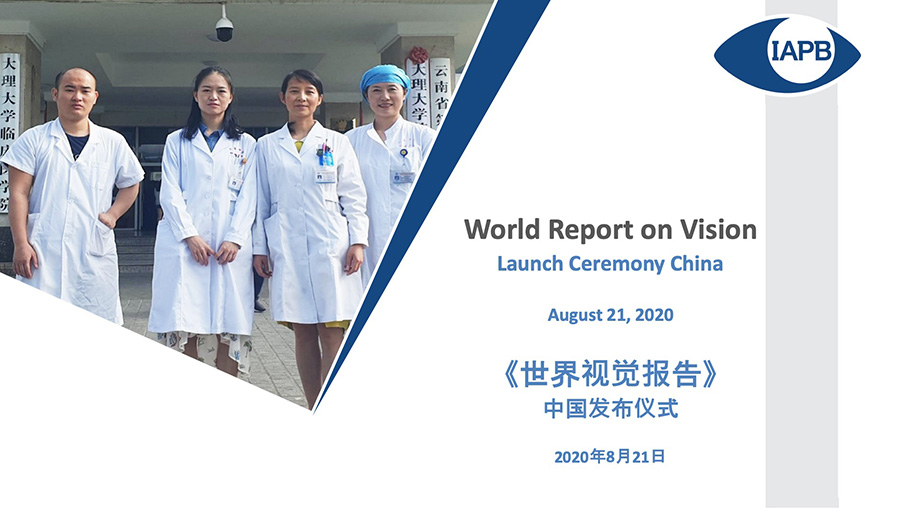 This afternoon in Beijing, the National Prevention of Blindness Committee of the National Health Commission hosted the 2020 National Eye Health Meeting, incorporating the China Launch of the WHO World Report on Vision. As has become the norm in 2020, today's event was held virtually, but nevertheless with a wide audience; as well as all of the members of the National Committee for the Prevention of Blindness, the event was also attended by senior members of the Medical Administration Bureau and key members of the provincial committees for the prevention of blindness. Also in attendance were eye care professionals and eye health workers from across China as well as IAPB members including Zhongshan Ophthalmic Center, Shanghai Eye Disease Prevention and Treatment Center, He Vision Experts, Orbis and The Fred Hollows Foundation.
Given that China accounts for 20% of the world's blind people it was particularly appropriate that Dr Alarcos Cieza, WHO Coordinator, Blindness and Deafness Prevention, Disability and Rehabilitation was on hand to introduce the report. The report shows blindness especially impacts on ethnic minorities, older people, women and low and middle income families – all of which have been priority areas for China's recently completed 13th Five Year Plan.
Professor Wang Ningli, Chair of the National Prevention of Blindness Committee noted that an NHC focus on high quality work and outcomes is central to the upcoming 14th Five Year Plan. Together with the importance given to the launch of the World Report, this is indicative of the priority given to eye health in China. As the Fred Hollows Foundation's China Country Manager Amanda Huang said "the launch shows the determination of the Chinese Government to improve eye health in the country, which is also closely tied to the future development of China."
The World Report on Vision highlights the multi-faceted approach necessary for tackling global vision impairment. Amanda Davis, IAPB Regional Chair Western Pacific, outlined this approach in her presentation and also touched on the successes achieved in China during the Vision 2020 period of the past two decades. For example China successfully eliminated trachoma as a public health problem and, in recent years, significantly lifted the profile of Myopia. And as we initiate progress towards 2030, it worth noting that the Chinese Government was one of the very first to sign onto Vision 2020 back in 1999 – a legacy worth celebrating on this launch day!