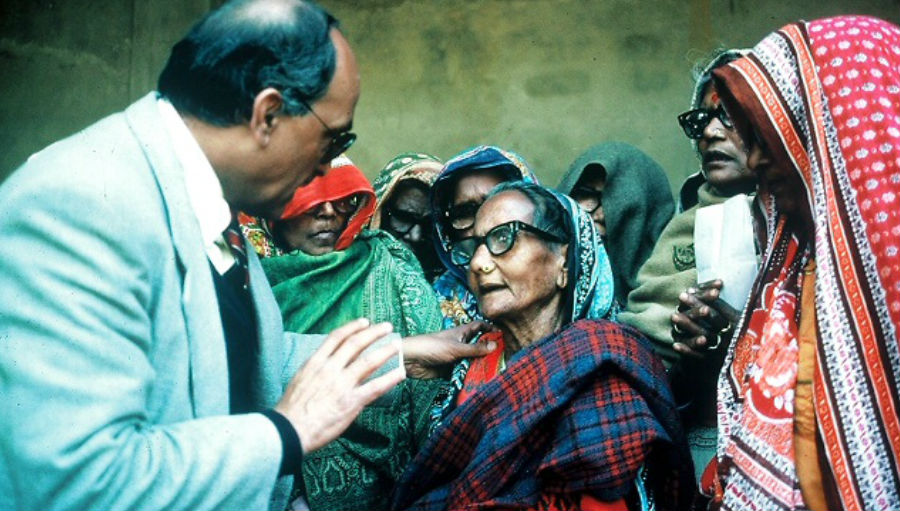 This year Combat Blindness International (CBI) will celebrate 35 years of service in alleviating avoidable blindness around the world. I am eternally grateful for support from friends, partners and well-wishers of CBI.  This 35-year journey has been the most meaningful part of my career as an ophthalmologist.  It feeds my life and my soul.
In 1983, I travelled to India to lecture and demonstrate advanced retinal and vitreous surgery. As I was walking to my operating room to perform a four-hour retinal surgery, I noticed a hallway filled with 50 patients waiting to receive cataract surgery. After performing the surgery, I walked back down the hallway and the patients were gone. A nurse informed me that those patients had received their surgeries and were recovering in the ward. In the time it had taken me to complete one retinal surgery, 50 patients had received the gift of sight.
Cataract causes half of global blindness. The idea that we can give sight to an individual so quickly and inexpensively compelled me to start Combat Blindness International in 1984. Our mission has always been to eliminate preventable blindness worldwide by providing sustainable, equitable solutions for sight through partnerships and innovation.
Headquartered in Madison, Wisconsin, CBI has sponsored the screening of over 2.2 million men, women and children in 15 countries on 4 continents. We have funded more than 360,000 cataract surgeries. Annually we screen over 80,000 school age children for refractive errors.  In addition, we have supported the education of over 350 ophthalmic technicians in India and the training of residents from Brazil and India.
Here are a few of our accomplishments that embody our mission:
Aurolab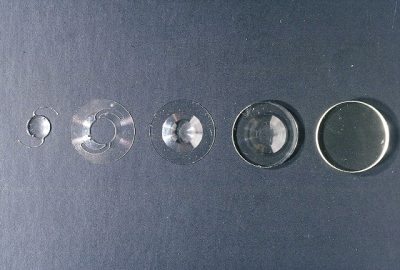 In 1992, we were one of three Non-Governmental Organizations (NGOs) to support the establishment of Aurolab.  Aurolab is the manufacturing division of the Aravind Eye Hospital. Aurolab began producing intraocular lenses (IOLs) and provided those lenses to us at cost.
IOLs allow our medical partners to provide the same surgeries to their poorest patients that were previously only available in higher-income countries.
Today, Aurolab produces over a million IOLs a year. They have expanded their production to include sutures and other ophthalmic consumables.
Partnership Building
We have built strong partnerships over the years. Since our founding, we have leveraged our partnerships to create sustainable methods to end avoidable blindness. This has been through training programmes, IOL production, school screenings, eye clinics, and smartphone screenings.
We support the education and training of local ophthalmologists, technicians, and nurses and build surgical centers. We also build the capacity of our indigenous partners, increasing their ability to operate sustainably in alleviating avoidable blindness. This includes providing cataract surgeries to eliminate backlog, using local resources to improve access and increasing the capabilities of our partners.
Through financial support, medical supplies and partnership building, we are able to restore sight to those who previously had no access to eye care or resources to pay for treatment.
Certified Ophthalmic Paramedical Programme (COP)
The shortage of trained eye care professionals is a major obstacle facing programmes in the developing world. In India with our partner Dr. Shroff's Charity Eye Hospital, we support the training of young women to become Certified Ophthalmic Paramedics. Thereby, giving them a vocation and empowering them.
Through this, we alleviate the shortage in the allied health profession, while empowering women who traditionally have few opportunities to receive an education and pursue a career. These young women develop important life skills through our curriculum. It has been a great joy to see these young women blossom as they gain knowledge, skills and confidence.  To know that CBI's support has such a profound effect on the lives of these women, their families and communities is humbling.
I believe it is the responsibility of the fortunate to help the less fortunate. Our work is possible because of the generosity of friends, volunteers and supporters. A key to our success has also been being an IAPB Council member and our participation in the Vision 2020: The Right to Sight Initiative.
I am proud of the impact Combat Blindness International has made in helping the most vulnerable populations in the world. The gift of sight has allowed many to live happier and more fulfilling lives. The millions of people we've treated in 35 years inspire us to continue to serve.