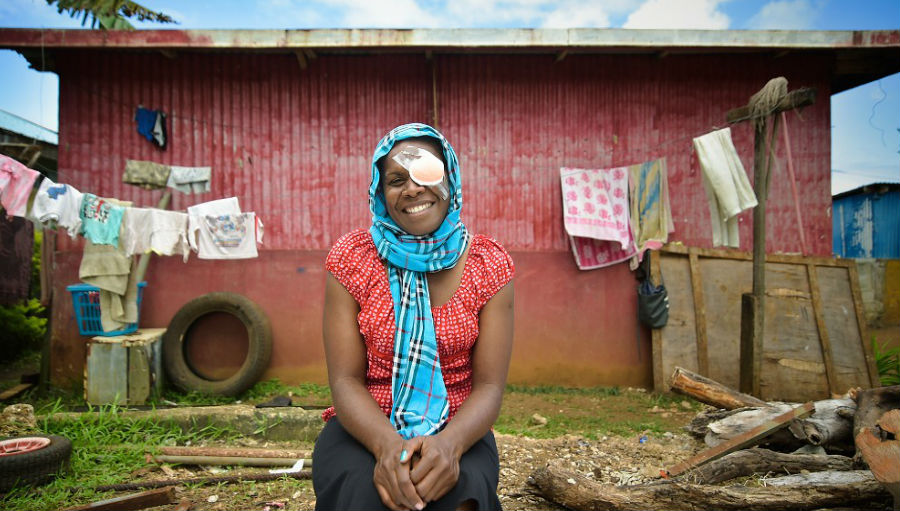 "We have fifteen doctor, twenty three eye nurses and two technicians. But we only have one professor, so we're just a small provincial hospital," laments Dr Wang as he shows me around the Dali Hospital in Western Yunnan. "That's why we're so happy you came to visit us, so that people will know that anyway we are doing our best."
Dali Hospital is doing more than its best – at the hospital alone they see 1500 cataract patients a year. Plus conducts outreaches in the surrounding hinterland and manage 70 in-patient beds. Unit Head, Professor Li assumes his responsibilities with an easy grace and manages to train students in Kunming, a two-hour ride away on the high-speed railway.
It was here in Dali, on the border of China's fabled Shangrila region, that I started my China National Sight Day journey, visiting a hospital that has been the recipient of Orbis and the Fred Hollows Foundation support. It's a rare privilege in this role to visit not only the bosses in the big cities but also the doctors and nurses who are toiling at the coal face on a daily basis. Rather than receiving thanks, it's me who should be grateful… to have the opportunity to take their stories to the world through the wider IAPB community and share a little of the trials and tribulations, the challenges and the overwhelming successes of those who work so tirelessly in our sector.
IAPB Western Pacific aims to live up to the Stronger Together hashtag. This strengthening of the network, connecting people and building on our communal knowledge takes time and much travel. Amanda and I are always grateful for the support we receive from our members and the efforts you go to in facilitating visits and events right across the region. In a six month wrap, it's always hard to cherry-pick the highlights – I'm going to list five. To everyone else we've met with, strategized with and advocated with, you're not forgotten –  thanks for your friendship, advice and ongoing commitment.
Launch of the Vanuatu Eye Clinic, Valentines' Day could not have been more fitting occasion for this gift of love from the Fred Hollows Foundation New Zealand to the people of Vanuatu. A culmination of years of effort and hard-work from the Ni-Vanuatu eye health community.
Korat Breakfast, APAO, with an alumni that encompasses many of the chief ophthalmologists from across the region. The Korat School demonstrated the importance of public health to ophthalmology. Great to hear talk of a revival and thanks to Juntendo and Japan National Society for the Prevention of Blindness for hosting.
Health Financing Workshops were held in Vietnam and Cambodia for our members in those countries – big thanks to our facilitators from the Fred Hollows Foundation Australia.
China National Sight Day was a success right across the country and especially so at the Shanghai Eye Disease Prevention and Treatment Center event in Shanghai. And who didn't love the Big Eye's Global Journey?
Asia Pacific Optometry Congress, in Manila was the start of our regional GA2020 promotional campaign… terrific to see the engagement of optometry in public health and also excitement building towards a pivotal event in a pivotal year.
Finally, on the global policy and advocacy front, look out for the World Report in Vision late in the year. As many of you are aware we have been working to lay the groundwork for a rolling series of launch events and policy dialogues.  These will link to the continued conversation around cataract surgery outcomes and myopia control strategies that IAPB and WHO started last year. We have country specific results ranging from a National Myopia meeting in China to a Cataract Surgery Outcome monitoring system in Papua New Guinea. Please do look out for the joint report, to be released later this year.
Hope to see you all at Council of Members in Dar Es Salaam, October 5 – 8.
Image on top: Monique cannot stop smiling after cataract surgery by Darren James for #EyeCareEverywhere photo competition