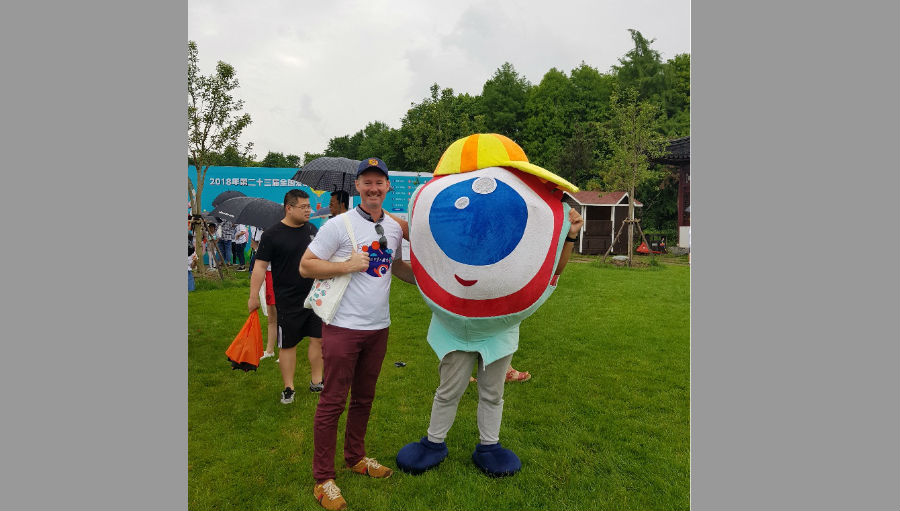 With China National Sight Day fast approaching, attention continues to focus on the growth of myopia and the importance of strategies to combat the trend. Increased outdoor activity for children is one such mechanism and our colleagues at Shanghai Eye Disease Prevention and Treatment Center (SEDPTC) are at the forefront of research and awareness raising.  Once again, on June 6, Big Eye will be on a mission to encourage the children of Shanghai to get outdoors and play. But this year, with a little help from IAPB, Big Eye has carried-out a global mission to raise awareness with our partners and friends.
中国一年一度的全国爱眼日即将到来,人们持续关注近视人数的增长和应对这一问题的策略的重要性。增加孩子的户外活动正是这样的策略,上海市眼病防治中心(SEDPCT)的同仁们一直致力于该领域研究和提高公众认识。6月6日,大眼仔又一次承担这个神圣的使命,鼓励上海的孩子们走出户外玩耍。不同的是,今年在IAPB的帮助下,大眼仔还执行了一项全球任务,和我们的伙伴朋友们一起,共同提高公众的关注和认识。
Over the next two weeks, look out for regular updates on the IAPB website as Big Eye Goes Sunny for Sight around the world. Perhaps you can even play a game with your colleagues: where will Big Eye visit next?!
在接下来的两周里,大眼仔将在全世界"目"浴阳光,请留意IAPB网站定期更新。也许你可以和你的同事玩个游戏,猜猜大眼睛下一站会去哪里?!
Paris 巴黎
Amsterdam 阿姆斯特丹 & Eye Care Foundation, Netherlands 荷兰眼保健基地
Singapore 新加坡 and at Singapore Eye Research Institute 新加坡眼科研究所
New South Wales Parliament House 新南威尔士议会大厦
Image on top: Drew Keys with Big Eye at the celebrations last year.