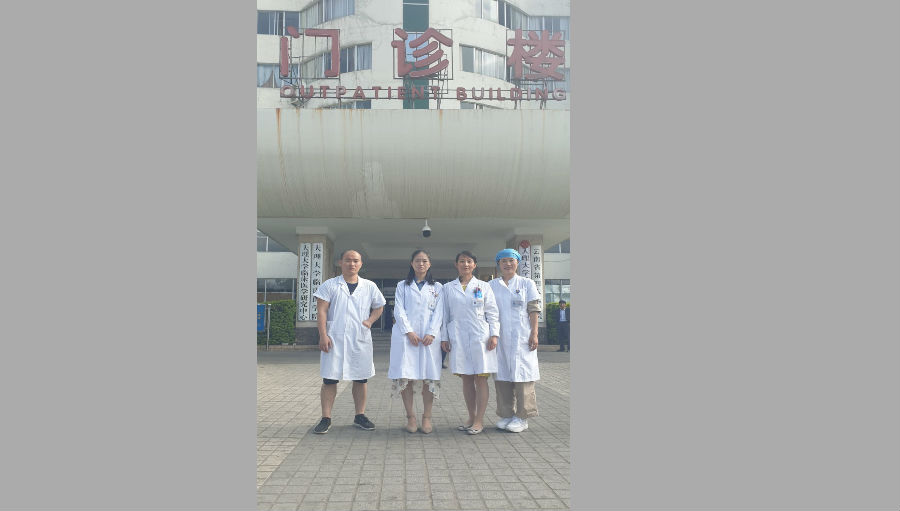 "We have fifteen doctor, twenty three eye nurses and two technicians. But we only have one professor, so we're just a small provincial hospital," laments Dr Wang as he tours me around the Dali Hospital in Western Yunnan. "That's why we're so happy you came to visit us, so that people will know that anyway we are doing our best."
Dali Hospital is doing more than its best – at the hospital alone they see 1500 cataract patients a year, plus conduct outreaches in the surrounding hinterland and manage 70 in-patient beds. Unit Head, Professor Li assumes his responsibilities with an easy grace and manage to train students in Kunming, a two hour ride away on the high speed railway.
It was here in Dali, on the border of China's fabled Shangrila region, that I started my China National Sight Day journey, visiting a hospital that has been the recipient of Orbis and Fred Hollows Foundation support. It's a rare privilege in this role to visit not only the bosses in the big cities but also the doctors and nurses who are toiling at the coal face on a daily basis; rather than receiving thanks, it's me who should be grateful… to have the opportunity to take their stories to the world through the wider IAPB community and share a little of the trials and tribulations, the challenges and the overwhelming successes of those who work so tirelessly in our sector.
Please enjoy this series of articles celebrating the work of our Chinese colleagues over the China National Sight Day period. Of course, China is the largest country in our region, so it's understandable that there are many challenges – but they're not insurmountable as these stories attest. For those of you who follows Big Eye's Global Journey, we hope you enjoyed the fun in the lead-up to June 6. Now to read about the hard work!
---
He Vision Group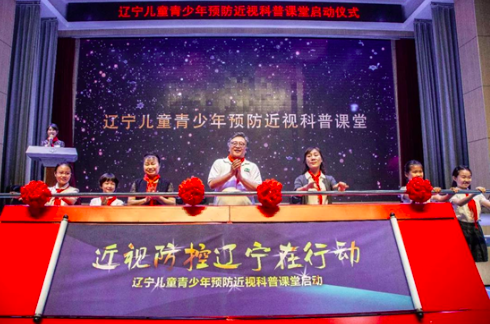 He Vision Group (HVG), as the National Training Base for the Prevention and Treatment of Blindness, Liaoning Provincial Center for Juvenile Myopia Prevention and Control, and one of the ten teams of National Myopia Control Team held a series of activities. The theme was, "Taking Care of Children's Eye Health, Giving Them a Bright Future".
On June 5th, we launched "Liaoning Provincial Science Classes in Preventing Myopia" project in Liaoning Province Experimental School. The project advocates for cooperation between eye hospitals and schools to create a three-in-one myopia prevention and control model combining family, school and medical institutions together. The opening ceremony was shown live on Netease, the top news app in China.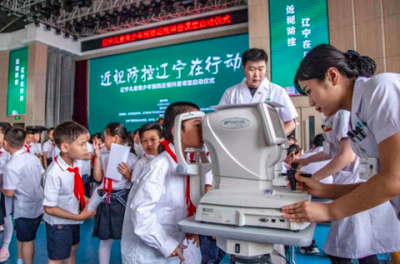 Ophthalmologists from HVG used intelligent equipment to screen students. Data automatically uploads to the cloud to form an e-record for each student. Based on this data, ophthalmologists will formulate a unique solution for each school to prevent and control myopia.
In the future, HVG will keep on conducting activities to prevent myopia in primary and secondary schools across Liaoning Province.
For watching this activity online:
https://c.m.163.com/news/l/206822.html?spss=newsapp&from=singlemessage&spssid=217db177d20dc95a4a03ed350766d2ff&spsw=2 (Chinese only)
By Helen Yan
---
The Fred Hollows Foundation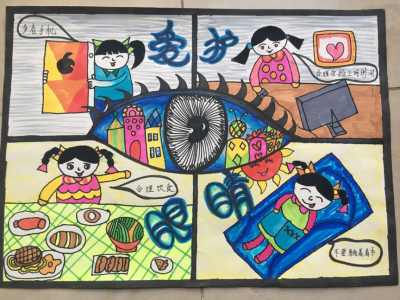 The Fred Hollows Foundation used the 24th National Eye Care Day in China to work with partners to create awareness about myopia among children and young people.
A drawing competition was held to reinforce this year's theme – Better eye care brings brighter future to Children.
It's been the fourth consecutive year that the National Eye Care Day raises concern to myopia among children and adolescents.
The drawing competition aims to engage primary students and raise their awareness about myopia and eye health. Around 100 entries were received from Xinjiang, Guangxi, and Anhui provinces. Reducing the number of myopia among young people is a high priority for the central government.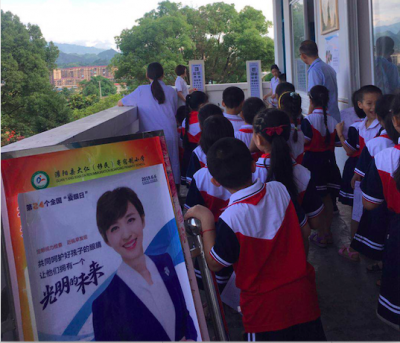 Partner hospitals of The Foundation also provided free screenings and eye health education to promote eye health in communities and schools during the National Eye Care Day.
Screening for refractive error was provided for more than 150 primary school students in Guanyang county in Guangxi province. Most students are children of migrant workers that lack knowledge about eye health and have never had the opportunity to attend eye screenings.
Eye health lectures were held for more than 400 teachers and students of Wenshan Experimental Primary School. The First Affiliated Hospital of Xinjiang Medical University provided free screening and eye health consultation for patients in the hospital.
---
Zhongshan Ophthalmic Center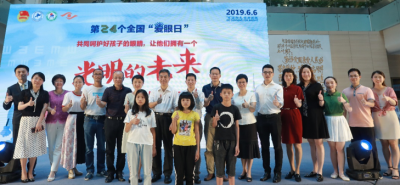 A series of events were arranged by Zhongshan Ophthalmic Center, Sun Yat-sen University (ZOC), as well as the head office of provincial eye health committee in Guangdong.
Volunteer teams were established by eye care staff across the province for prevention & controlling of myopia in children in Guangdong Province. Service delivery, health education, monitoring of children's vision and propaganda were their remit. They were launched on the day and headed to various areas in the province. Especially for ZOC's special service delivery team serving for "Hope Primary Schools (HPS)" in Guangdong. ZOC's volunteer team for HPS is supported by Guangdong Provincial Youth Development Foundation, local health and education authorities.
The initiative also echoed in the Huaqiao Primary School in Liwan District, Guangzhou City and Fengqing County, Yunnan Province, one of the disadvantaged areas supported by ZOC.
Health talks were also given by specialists on myopia and retinopathy in a number of primary schools in Guangzhou.
---
SightLife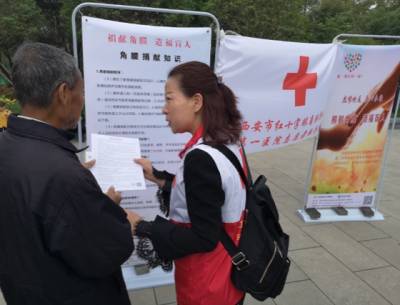 SightLife's China Sight Day celebrations were a call for support for the 4 Million Corneal Blind from Xi'an, ShaanXi.
After 7 months of wait, Thyram Gyatso's father was told he had to take the baby to Xi'an for a cornea transplant to restore her eyesight. The reason was simple – in the place where they live there was no tissue available nor a skilled surgeon to accomplish such a surgery. They travelled 1,700 kilometers to reach Xi'an 1st Hospital, where Thyram was immediately admitted and arranged for a transplant surgery.
Thyram was the 2nd child patient in need of cornea transplant referred to Xi'an 1st Hospital in that week. Cornea patients like her were referred from remote areas for a transplant surgery, which is a surgical treatment replacing the deteriorated tissue of the eye with healthy tissue. The transplantable tissue – just the size and shape of a contact lens –  could only be obtained by donation from the deceased.
Patients in Xi'an have to wait 6 to 12 months on average before they can receive a transplant due to insufficiency of donated cornea, said Mr. Yin Yong, the director of Xi'an 1st Hospital Eye Bank. The supply of tissue has increased 80% compared to 1 year ago when the eye bank started a Hospital Cornea Retrieval Program (HCRP) with the support from SightLife, an international non-profit organization with a mission to eliminate corneal blindness worldwide through partnerships such as Xi'an 1st Hospital Eye Bank. The need is immense and immediate across China with four million people waiting in darkness for a cornea transplant and only 10,000 transplants performed each year due to limited supply of corneas.
During the week of 6th June, the National Eye Care Day of China, Mr. Yin and his colleague championed for eye donation in the community. They spoke to 200 college students during a campus event explaining why people choose to donate body and eyes, and educated 30 elders in a community about the procedures to fulfill an eye donation. In a radio program on the day, Mr. Yin told the story of Thyram, and asked his audience to consider a gift of life, as "there are thousands of blind people waiting in darkness bitterly while we can enjoy a world of colors."