1st World Congress of Optometry, 14-16 August 2015, Medellin
The World Council of Optometry (WCO) and La Federación Colombiana de Optómetras (FEDOPTO) are delighted to announce the launch of the 1st World Congress of Optometry.
This is the first global optometry conference and a unique and unmissable event for anyone in the eye health sector including community and hospital practitioners, researchers, academics and students.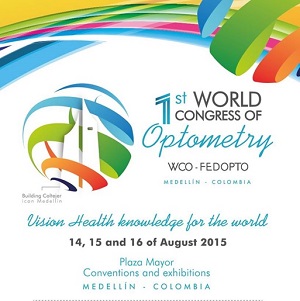 For three days in August the world's leading eye health experts will be gathered in Medellín, Colombia, to share the latest ideas, research and knowledge from across the optometry sector. Delegates will have the opportunity to:
Learn more about differing approaches to optometry in a wide range of countries
Maintain and develop their professional and clinical knowledge and skills
Network with colleagues to share ideas and discuss key themes and topics
Download at-a-glance details, or go to www.worldcongressofoptometry.org for all latest news and information.