Anna Scott, YWAM Medical Ships shares the story of the Lapila sisters to show the impact they are making bringing healthcare to remote communities…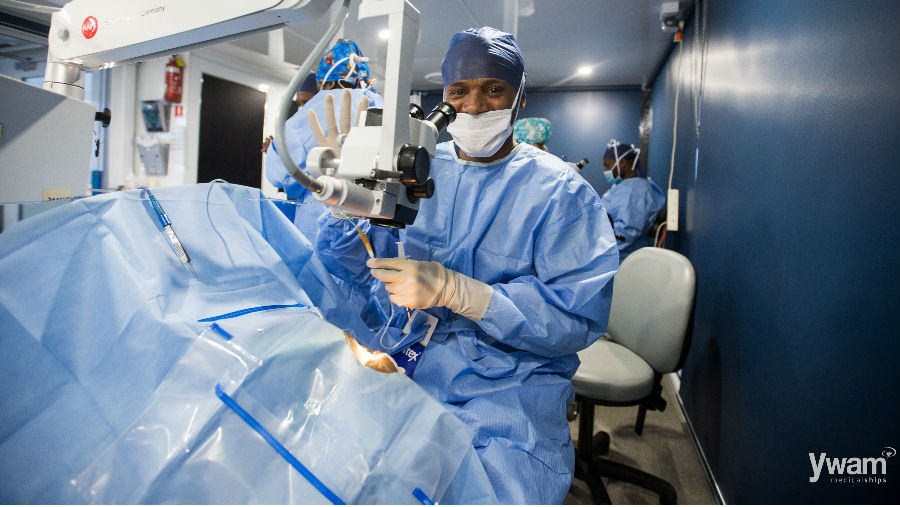 Four sisters sit nervously lined up on a bench outside the health centre. Three of them have patches on their eyes from their cataract surgeries that had been performed the day before, and the fourth, their caretaker, sits next to them in support with her arm wrapped around her sister closest to her.
These are the Lapila sisters, residents of Loupom Island in Central Province, Papua New Guinea. Three of the sisters have had very limited sight for several years due to cataracts.
After surgery aboard the Youth with a Mission (YWAM) Training and Medical Ship, MV YWAM PNG, the day before, they were waiting outside the health centre to find out the results from the surgery.
One by one, the nurse removes the patches from each of the sister's eyes.
The second youngest of the four, Lema, had been blind for ten years. A smile erupts from her face as the patch comes off, "Ah! Now I see!"
There is laughing from her sisters and the YWAM team as she reaches out toward the nurse and the surgeon.
The other two sisters have similar reactions – they embrace and kiss each other as the reality sets in that their sight has been restored.
10 months later…
 The MV YWAM PNG returns to Loupom Island. There, sitting under a tree is three familiar faces, each of them sporting their sunglasses given to them 10 months before. The Lapila sisters burst with joy as they share how their restored eyesight has changed their lives.
Laughter erupted as they were shown the photos the YWAM team had taken 10 months ago. A photo of one's self is a rare sight in these parts, and apparently, hilarious!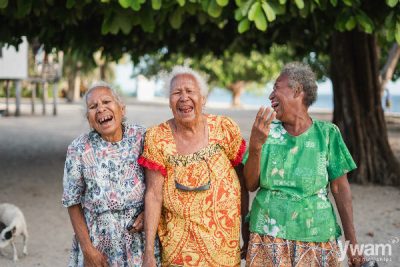 Together the sisters and the YWAM team relish together in the Lapila sisters' new-found joy.
The transformation continues
Delivering basic services in Papua New Guinea poses enormous challenges with 84% of the population living in remote, rural areas. These communities are scattered over rugged terrain, complex river systems, vast expanses of ocean, and an extensive coastline – just a few hundred kilometres from Australia's coast.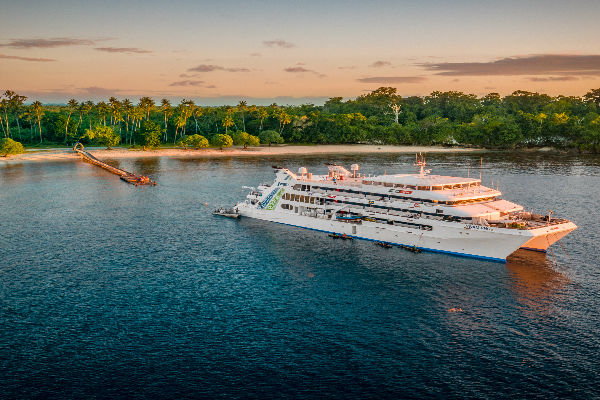 YWAM Medical Ships Australia & Papua New Guinea (YWAM MS) helps overcome isolation by utilising a medical ship, MV YWAM PNG, to deliver essential and specialised healthcare to remote communities in collaboration with local health authorities.
Ophthalmic services will continue to be provided from the MV YWAM PNG's onboard day procedure unit in remote areas of Papua New Guinea throughout this year.
The MV YWAM PNG also provides a platform for training and support for ophthalmic registrars as they start their careers, as well as the opportunity for local ophthalmic professionals to extend their services in their nation's rural villages.
YWAM MS is helping to contribute toward Papua New Guinea's National Prevention of Blindness Committee's goal of 20,000 cataract surgeries by 2020.
Ophthalmologists, orthoptists, optometrists, and ophthalmic scrub nurses are invited to volunteer aboard the MV YWAM PNG in 2019. Two-week outreaches are planned in April, May, September & October. For more information, visit this link.