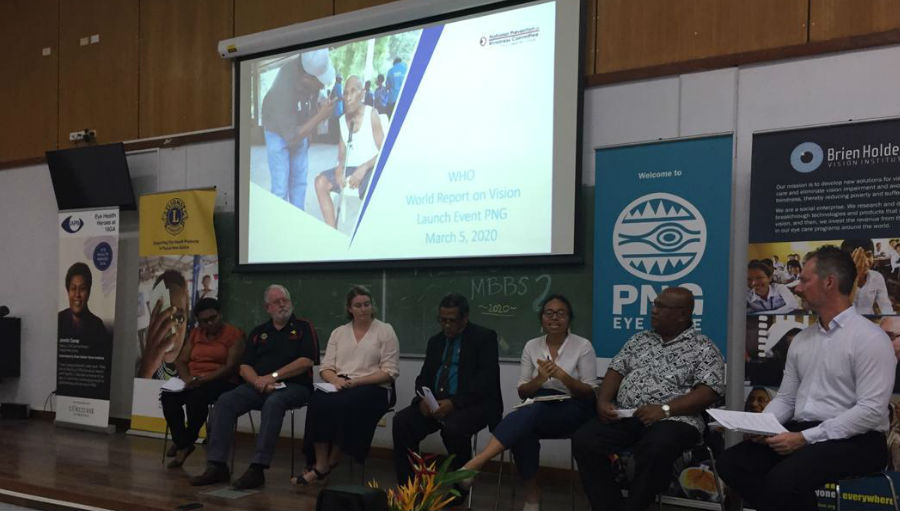 "My eyes have been opened," declared Minister for Health & HIV-Aids, the Honourable Jelta Wong as he launched the World Report on Vision in PNG. Speaking at the University of Papua New Guinea, during the first launch event in the Pacific Islands, the Minister acknowledged that he was surprised by the high rates of blindness in PNG. He committed to greater funding for eye health in the Ministry's budget and to supporting new infrastructure initiatives designed at addressing PNG's cataract backlog.
Dr Jambi Garap, the Chair of PNG's National Prevention of Blindness Committee, noted that blindness rates due to un-operated cataract are amongst the highest in the world. She thanked the minister, particularly for his impassioned declaration that nobody in PNG should be avoidably blind, but also noted the significant investments in infrastructure and training will be necessary over the next decade.
Essential equipment was gratefully received by the Chief Ophthalmologist of PNG, Dr Simon Melengas in a special presentation by Anna Maalsen, WHO Team Leader Health Systems and Social Determinants of Health. This continued the theme of the afternoon, where Ms Maalsen joined a panel discussion to review the successes of PNG in eye health and also look to where the challenges were for the future. Infrastructure – particularly specialised equipment – was identified by the panellists as one of the key necessities for PNG.
Dr John Szetu, Medical Director of the Fred Hollows Foundation New Zealand, suggested that despite its challenges, PNG has the most dynamic Prevention of Blindness committee in the Region – one of the reasons for the ongoing investment by the Lions Clubs International Foundation (LCIF). Representing LCIF, Garry Kenny noted their 1.2million dollar investment over the past five years has brought significant up-skilling and training of registrar ophthalmologists including Dr Magdalene Mangot who also joined the panel to discuss her experience as a trainee.
Also on the panel, Alithia Barampataz, National Human Rights Officer, Office of the United Nations High Commissioner for Human Rights, noted the intersection between eye health and human rights and particularly how the World Report on Vision had highlighted gender inequities. But the final comment of the afternoon went to Dr Paison Dakulala, Acting Secretary of the National Department of Health. He committed to including eye health in the National Health Plan and declared his most important message from the afternoon was summed-up with one word: Vision! Without it and the courage to act, he noted, we will not progress to ending avoidable blindness in PNG.
***
IAPB is especially thankful to the PNG National Prevention of Blindness Committee of PNG for hosting the launch; we thank PNG Eye Care and UPNG for their logistical support and Brien Holden Foundation for funding the event. Thank you also to CBM, Fred Hollows Australia, Fred Hollows New Zealand, LCIF, RANZCO and YWAM for your ongoing dedication to PNG; and to the WHO PNG Country Office for supporting our efforts to raise the profile of eye health in PNG.