For World Glaucoma Week, CERA's Keith Martin on how research offers new hope in glaucoma battle…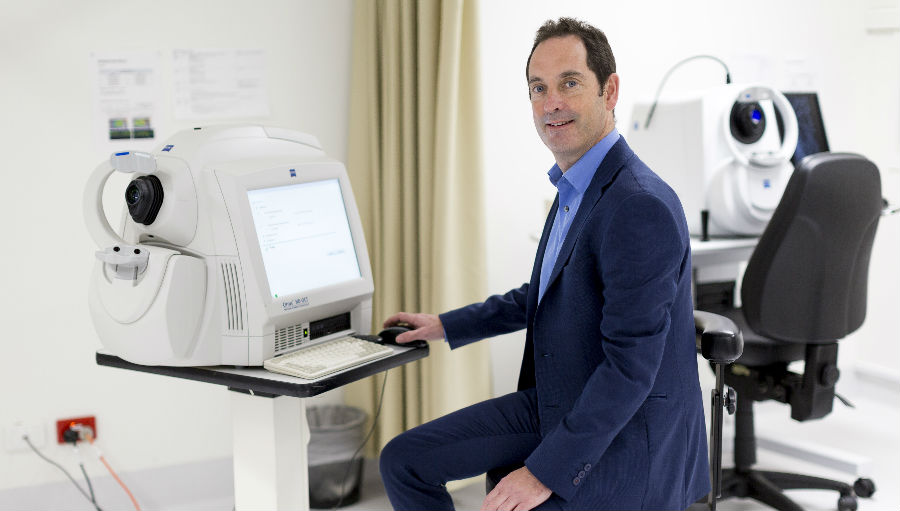 As 2020 unfolds, I'm excited to be at the start of a decade where advances in glaucoma research are showing real promise of innovative new treatments to combat the disease and restore sight.
Glaucoma is one of the world's leading causes of vision loss and blindness.  It damages the optic nerve, which transfers visual information from the eye to the brain and if left untreated can lead to blindness.
It is often known as the 'silent thief of sight' because it has no symptoms in the early stages – and by the time someone notices the impact on their vision irreversible damage has occurred.
Sadly, once the optic nerve has been damaged there is no treatment that can reverse it and restore lost sight.
But the good news is that with early detection there is a lot we can do to manage the disease and save people's sight.
Eye checks are essential
This makes regular eye checks an essential first-line of defence against vision loss. This World Glaucoma Week, I'd encourage anyone who is overdue for an eye check to make an appointment today. It could save your sight!
But for many people around the world, a lack of access to basic eye care means they can't just head down to the main street eye clinic for a test.
As the World Health Organization's World Report on Vision points out, almost 90 per cent of vision impairment and blindness occurs in low and middle-income countries. Even in a wealthy country like Australia, vast distances, inequality and a shortage of eye care specialists in remote areas means many people are not getting the help they need.
Research can play an important role in bridging the eye care gap.
AI research to aid diagnosis
At the Centre for Eye Research Australia (CERA) one of our major projects is using AI to develop screening tools that are easy to use, affordable and can be delivered by health workers other than eye care specialists.
We are currently trialling the use of artificial intelligence in remote Indigenous communities – with partners from The Fred Hollows Foundation and Nganampa Health Council – to screen for four common blinding eye diseases, including glaucoma.
A software programme is loaded onto a laptop and health workers take a photo of the back of the eye which is analysed in seconds. Those identified with signs of disease can then be referred on to a specialist.
This technology has the potential to lead to earlier diagnosis and prevent blindness. It could be a real game changer for eye screening programmes around the world.
Clinical genetics and gene therapy
I've dedicated much of my career to developing new treatments for glaucoma and investigating ways to repair the optic nerve and save sight.
There are now many great treatments we can use to slow or prevent vision loss by reducing eye pressure including eye drops, laser treatments and surgery.
But they don't work for everyone and we still need to find new ways of helping the 15% of patients who are continuing to lose their sight despite treatment.
Advances in clinical genetics, gene therapy and mitochondrial research could transform the way we diagnose and treat glaucoma – moving away from simply reducing eye pressure.
A recent Australian study involving CERA researchers in collaboration with colleagues from the QIMR Berghofer Medical Research Institute, Flinders University and other centres identified 107 genes which increase a person's risk of developing glaucoma. It is hoped that a clinically useful test based on this work could be available in two years.
At CERA, my colleagues are also investigating a range of other approaches to tackle the disease, including a major study into the role that mitochondrial DNA plays in cell damage to the optic nerve and an investigation into the role that vitamin B3 plays in protecting nerve cells from damage.
Restoring sight
My own research – conducted with partners from Cambridge University – is investigating new ways, including the use of gene therapy, to strengthen and repair the optic nerve and potentially restore lost sight.
In the past it seemed impossible that we would ever be able to regenerate the optic nerve but in the 2020s the idea that sight could be improved or even restored is now a realistic proposition.
It's my hope that advances in research in 2020 and beyond will make a real difference for the millions of people worldwide living with glaucoma.
Professor Keith Martin is the Managing Director of the Centre for Eye Research Australia and Ringland Anderson Chair of Ophthalmology at the University of Melbourne. He is the immediate past president of the World Glaucoma Association.
Image on top: Keith Martin by ©Anna Carlile
GA 2020 – Act Now!
The IAPB Global Assembly 2020 (GA2020) programme has several sessions on Glaucoma. If your work is around the topic, do submit an abstract–the sector needs to know!