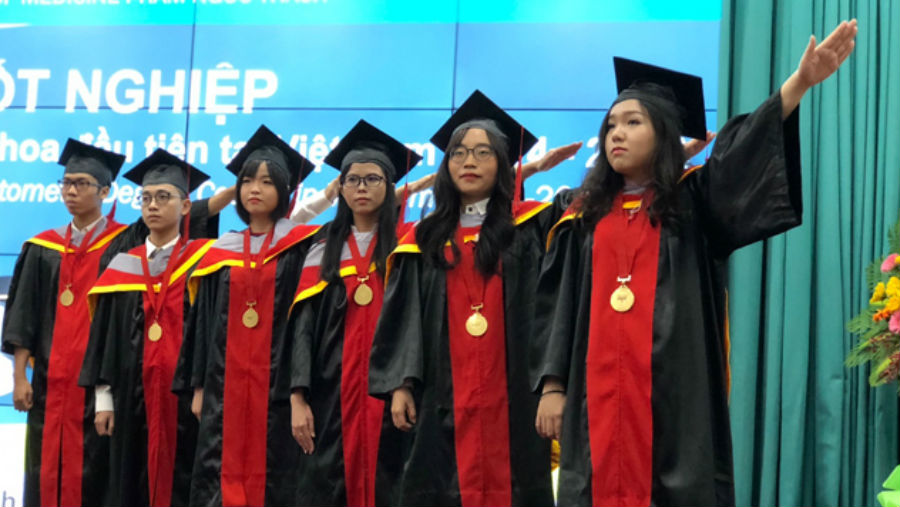 Press Release Ho Chi Minh City, Vietnam, 8 November 2018: Today's date will be remembered in history as the momentous day the optometry profession emerged in Vietnam. Spirits are soaring in Ho Chi Minh City as the first Vietnamese-trained optometrists graduate from the first school of optometry.
The initial twelve optometrist graduates, emerging today as the pioneer generation, will eagerly join the existing twelve overseas-trained optometrists currently practicing in Vietnam. In 2013, there were only three qualified optometrists practicing in Vietnam to serve a population of 90 million, and today we increase the figure eightfold to 24 in one great leap.
These first generation optometrists will use their skills to address the burgeoning unmet eye care need across the nation as they have successfully completed their four-year degree. The graduation today is the culmination of a ten-year strategy collaboratively supported by the University of Medicine Pham Ngoc Thach (UPNT), Ho Chi Minh City Eye Hospital, the Vietnamese and Australian Governments and international NGO Brien Holden Vision Institute (the Institute).
There are more than 300 optometry students enrolled in two pioneering optometry schools. UPNT graduate the first generation of Vietnamese educated optometrists this year. The second school at the Hanoi Medical University, which opened in 2015 enrolling more than 60 optometry students, will graduate their first optometrists next year in 2019. This pattern will continuing each year and by 2020 there will be more than 250 qualified optometrists to serve the growing population.
Dr Serge Resnikoff, Senior Consultant in International Health and Development and Former Director of the World Health Organisation's Prevention of Blindness and Deafness programmes is attending the launch. "It is an honour to be here to witness the graduation of the first optometrists trained in Vietnam", Dr Resnikoff said.
The global need for vision correction has created disability and a poverty-inducing health care crisis worldwide. There are an estimated 21 million Vietnamese people requiring eye care services who do not have access to seeing an optometrist, having their eyes examined or receiving glasses. Three million of that number are children and to compound matters further, recent research shows 67% of children who have had an eye test still do not have the glasses they desperately need to see and live by.
Associate Professor Ngo Minh Xuan, Rector of UPNT attended the ceremony and said "According to WHO's recommendation, by 2020, Vietnam needs at least one optometrist for each 50,000 people. However, currently we have only 12 optometrists serving 93 million people in Vietnam. We understand the great need to have optometrists as a vital personnel in eye care, especially to provide the precise refraction services needed by our population. We have a sizeable gap in eye care service provision in Vietnam. Therefore, UPNT is proud to implement the first ever Bachelor Degree of Optometry which is educating the eye care personnel to close that gap and to bring the best services to our population. This year we are proud to celebrate the 12 very first Vietnamese-graduated optometrists. In the years to come we will increase the number of students incrementally until we reach 60 per year."
Prevalence rates for vision impairment due to uncorrected refractive error and myopia in Vietnam are very high on the global scale. For millions of children in Vietnam, life without clear vision is normal. For them, not being able to see their lessons, or recognise the faces of their friends is normal. The causes of myopia are known to be both genetic and environmental.
Read more on the Brien Holden Vision Institute website