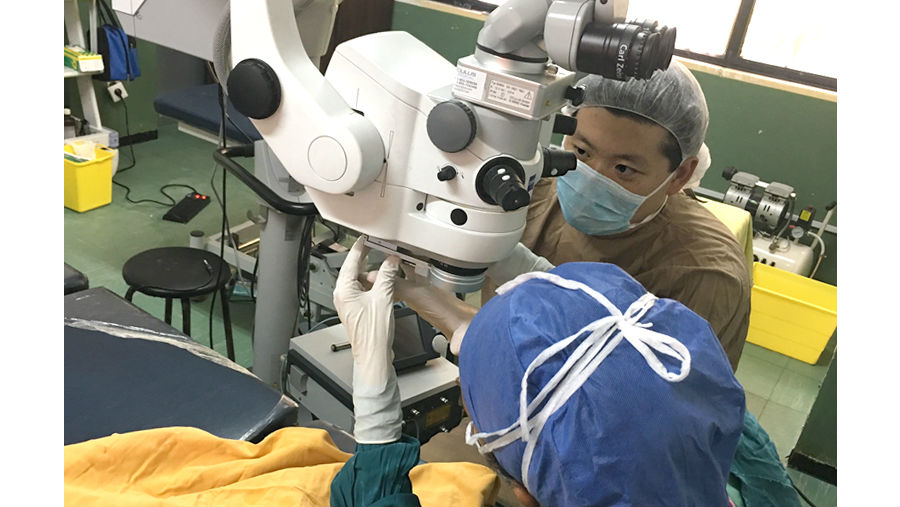 Only a few years old, a nascent ophthalmology residency programme at Ethiopia's St. Paul Hospital Millennium Medical Center in Addis Ababa is growing both in size and scope.
Established in 2015 in partnership with the Kellogg Eye Center for International Ophthalmology, the programme welcomed their third class of residents in 2017, bringing the number of resident trainees to 18. Meanwhile, more Kellogg faculty are traveling to St. Paul's, introducing new ophthalmology sub-specialization to their Ethiopian colleagues.
"Here in the U.S., we take it for granted during our training that there are mentors around from whom we can watch and learn. That is not necessarily the case everywhere," says ophthalmology clinical instructor and retinal surgeon Philip Lieu, MD, who visited St. Paul's for the first time in 2017. "I was told there are less than 10 retinal specialists in all of Ethiopia, so there is a really big need there."
The long-term in-country training programme is one of nearly a dozen international platforms in which Kellogg Eye Center, one of the newest members of the International Agency for the Prevention of Blindness, collaborates with vision specialists outside the United States. The goal in Ethiopia is capacity building with an eye toward self-sufficiency – a train-the-trainer model.
"They've had past training programmes, but people would come to the States for training and then never return (to Ethiopia)," says oculoplastic surgeon Christine Nelson, M.D., an oculoplastic surgeon, co-director of the Kellogg Eye Center for International Ophthalmology and the leader of the partnership at St. Paul's. "When I first visited there, they indicated that they had an interest in eye plastic surgery. I asked what kind of cases they do and they said, 'We don't do any cases yet. We're interested in learning.' So it was very ground-up."
Fast forward a few years; at Dr. Nelson's urging, Kellogg faculty specializing in oculoplastic surgery as well as pediatrics, cataracts, retinal surgery, and ocular ultrasound have all traveled to St. Paul's to mentor the faculty and residents there. These visitors typically spend a week or two seeing patients in clinic and performing procedures while the residents and faculty assist, followed by didactic sessions with the learners.
Dr. Lieu, during his visit in June 2017, performed several of the first vitrectomy procedures ever performed at the hospital, removing vitreous gel from the eye in order to repair retinal detachment, hemorrhage, or scar tissue – a complex procedure that requires specialized training and equipment.
"I brought two suitcases of equipment and instruments donated from several companies," Lieu says. "We started to lay the foundation to make it possible for them do these procedures on their own. They have the ambition; they just need a few tools. Part of what we plan to do is help establish a supply chain through which they will be able to obtain surgical instruments in the future."
The training has taken hold and the partnership is growing. The inaugural group of residents is now in their third year of the four-year residency.
"They are so eager to collaborate and ready to learn, taking nothing for granted and hanging on every word and every presentation. That is part of what makes it so rewarding," says Nelson. "I'm looking forward to the first class graduating next year. Ultimately, I would like to see our faculty and trainees down the road teaching future residents not only from Ethiopia, but other countries in the region who don't yet have residency programmes."
Image on Top: Retinal Surgeon Phil Lieu supervises a retinal surgery with resident trainee at St Paul's. Dr. Lieu is among an increasing number of Kellogg Eye Center faculty helping to stand up a new Ophthalmology residency programme in Ethiopia