On World/Universal Children's Day, Charlotte Jonchere writes on L'OCCITANE Foundation's work supporting UNICEF to prevent childhood blindness.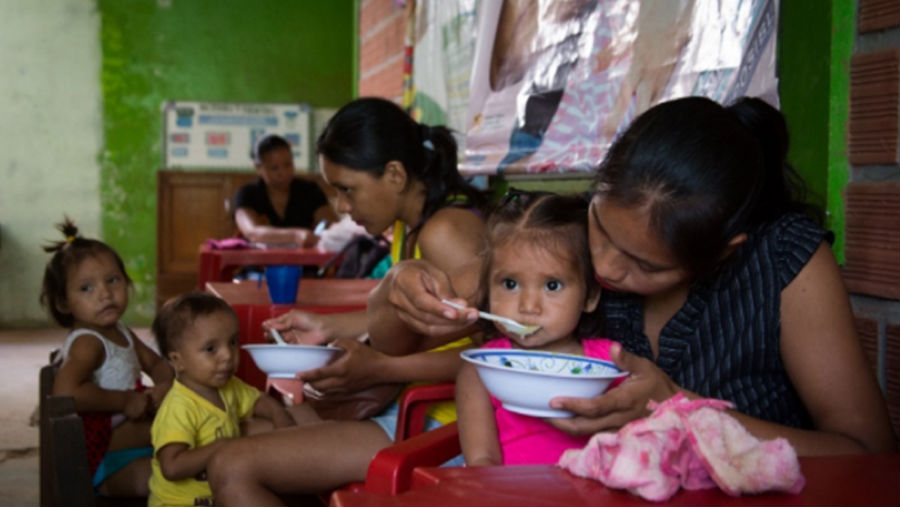 World Children's Day, is a day dedicated to promoting the rights of every child. According to the WHO, one of the leading causes of childhood blindness is Vitamin A deficiency, which affects 137  million children under the age of five worldwide and also exposes them to other preventable – and potentially lethal – diseases. In the majority of cases, prevention is the most effective and most appropriate solution to fight these diseases.
Our partnership with UNICEF
In 2016, we signed a partnership with UNICEF to notably prevent childhood blindness by supporting its international Vitamin A supplementation programmes. The UNICEF programmes aim to provide children aged 6 months to 5 years with the two vital vitamin A doses per year, necessary for their proper development.
The programmes
Every morning, Claudia, a nurse, gets up early to prepare food and juices which contain micronutrient supplements: a key strategy to encourage consumption of Vitamin A. "Every child has the right to a healthy life, I don't want to see a child suffer from malnutrition until they die," says Claudia.
Claudia is a nurse in Bolivia, a country where newborns and toddlers have a high prevalence of Vitamin A deficiency (27% between ages 6-23 months). L'OCCITANE is supporting UNICEF to help 675,000 children by 2019 in hard-to-reach areas of this Latin America country. The number of deaths from malnutrition has reduced there and childhood blindness is also becoming less common. But in a region where there is a high rate of teenage pregnancy, high rate of unemployment, job insecurity, and lots of vulnerability, many children are still at risk.
Bolivia is one of the countries where L'OCCITANE chose to focus these actions, Myanmar and Papua New Guinea are the other two. All the three countries have a high prevalence of Vitamin A deficiency, and therefore have children that are at a higher risk of visual impairment. In Myanmar, 38% of the population has a high level of Vitamin A deficiency, with even higher rates (up to 60%) in certain regions. L'OCCITANE is contributing to UNICEF's programmes to help 380,000* children there. In remote Papua New Guinea, only 22% children have been given Vitamin A supplementation. L'OCCITANE and UNICEF's goal is to reach more than 667,000* children with Vitamin A supplementation.
 "This partnership provides a wonderful opportunity for L'OCCITANE to strengthen its commitment to fighting preventable blindness. We are very proud to support UNICEF to set up this programme, which will benefit hundreds of thousands of children by 2019 – who, along with women, are the most affected by visual impairment," explains Charlotte Jonchere, General Delegate of the L'OCCITANE Foundation.
Impact
In Papua New Guinea, five-year-old Nagita missed eight Vitamin A doses and was weak and malnourished. But thanks to L'OCCITANE's support to UNICEF, she received Vitamin A supplementation for the first time and has the chance to be prevented from childhood blindness. We want to help a lot of children such as Nagita.
In 2017, we donated one million euros, enabling UNICEF to protect 400,000 children but we won't stop here: we hope to reach — 1.7 million children by 2019.
* Targeted objective by L'OCCITANE and UNICEF between 2017 and 2019
Images Courtesy: UNICEF
Liked it? We have more stories that focus on Childhood Blindness: