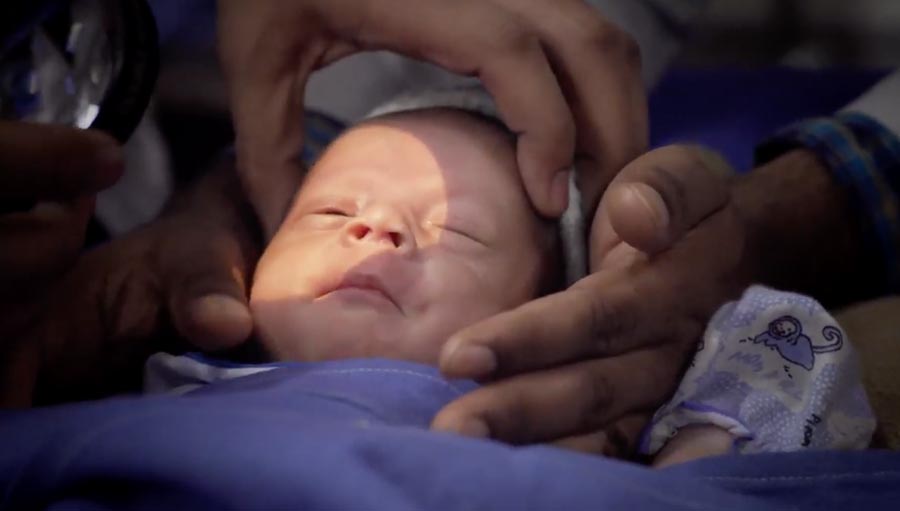 The Queen Elizabeth Diamond Jubilee Trust is releasing its new film, A Life With Sight to mark World Prematurity Day on November 17.
The film tells the story of Dr Subhadra Jalali (an ROP and retina specialist at IAPB member, L V Prasad Eye Institute) – a world-class ophthalmologist, mother and mentor – who has led the way in the fight to tackle blindness in premature babies since cases were first identified in India over two decades ago.
India is home to the highest number of premature births in the world – some 26 per cent of all preterm babies worldwide are born in India. In 2007 the government of India rapidly accelerated efforts to reduce infant mortality, setting up neonatal units all over the country to improve the outcomes of those born too soon. But as children were surviving, more and more cases of blindness were emerging.
Retinopathy of prematurity is a condition that exclusively affects preterm babies, as their retinal blood vessels have not had a chance to fully develop before birth. Premature babies are often given oxygen in the incubator to survive, but too much oxygen is highly toxic to immature retinal blood vessels, causing total and irreversible blindness.
Dr Jalali is a global leader in retinopathy of prematurity and works to ensure that babies born prematurely in India are screened in the first few weeks of life so that sight-saving treatment can be given if needed, before it's too late. She is instrumental in the delivery of the Trust's programme to tackle retinopathy of prematurity across India and works with the Ministry of Health to strengthen services and build an informed workforce equipped to provide appropriate eyecare to premature babies. Thanks to Dr Jalali's tireless dedication and the efforts of the Indian Government, today not only are the lives of premature babies in India being saved, but so too is their sight.
For more information on our work, visit www.jubileetribute.org
Image credit: Screen-grab from the film, "A Life in Sight"
Liked it? We have more stories that focus on Childhood Blindness: