Ante la Pandemia
Recomendaciones de la Sociedad Mexicana de Oftalmología
Comunicado de la Sociedad Colombiana de Oftalmología
Recursos COVID-19: esto es lo que sabemos
---
Un ejemplo de compromiso
Primera Parte: "Voyages of Captain Cook of Madurai – (1996 – 2015)"
Prof. V. Srinivasan, Professor of Physics and NCC Officer, highest rank held – Captain
The American College, Madurai (Retired); Consultant, Instruments Department, Aravind Eye Hospital, Madurai.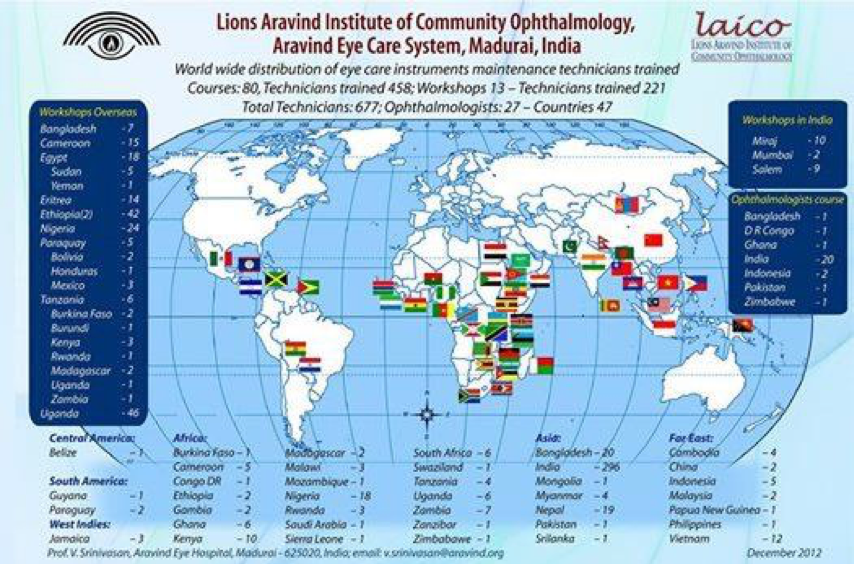 Retired at the age of 58 after full service of 35 years (1959-94) at American College, to keep me busy and occupies retired life, decided to use my interest and expertise in repairing instruments and joined Aravind Eye Hospital, Madurai in 1995. With the encouragement of a Dr. G. Venkatasamy, well-known Ophthalmologist who had himself created an eye hospital (Aravind) after his full service and retirement from Government service. Encouraged by him took some training in a leading eye hospital (L V Prasad) in Hyderabad and an eye care instrument sales and service organization (Carl Zeiss) in Mumbai and created a training programme for training technicians of eye hospitals all over the globe under the umbrella of LAICO, a wing of Aravind. The training commenced in the year 1996 with four trainees (one each from Bangalore Raipur, Bangalore and Madurai). Well begun is half done the course became an instant success and the second course had a trainee from Nigeria. It was four courses in a year. With demand it was increased to six courses in a year and by the end of 2012 the total number of trainees trained was 458 and they were from 47 countries in five continents as shown in the world map.
Besides this there were invitations from many countries to run similar courses in their countries – Paraguay (South America), Jamaica (West Indies), Cameroon, Nigeria, Ethiopia (twice), Kenya, Uganda, Tanzania, Eritrea, Egypt (all in Africa), Bangladesh and Vietnam (twice). Besides this I was invited to present papers on outcome of the courses at international conferences held in Sydney, Australia, Jakarta, Indonesia, Durban (South America), Dubai (UAE) and London (UK).
In 2012 the IAPB (International Agency for Prevention of Blindness) honoured as "Eye Health Hero" at their Ninth General Assembly held in Hyderabad.
Because of my age I took my second retirement in 2013. A successor for me could not be located immediately. In 2014 I was asked to lead the Madurai team for their second trip to Kenya and also on a trip to Mongolia to run courses there. Then Mr. K S Rajkumar, one of my students and colleague at American College, joined at my request to carry on the activity. He had invited me to the graduation day of the 100th course was held during his tenure in 2015. However, the nature snatched him away from us. It was a sudden death. Then I was able to persuade Prof. N. Manickam also my student and colleague at American College joined to carry on the activity.  
The first voyage: The first overseas course was held at National Eye Centre, Kaduna, Nigeria, a 30 days program, Sept – Oct 2000, trainees were from Nigeria, Ghana and The Gambia, three trainers trained in Madurai earlier were instructors. I and Poornachandran were resource persons – Sponsored by Sight Savers International, London. Photos: session of repair of surgical instruments the group 3.
The second voyage was to Sydney Australia. I was invited an invited speaker to present a paper on the instrument maintenance courses I have been running in Madurai and the one in Nigeria described yesterday. It was at the XXIX International Congress of Ophthalmology (ICO) held in April 2002 attended by delegates from all over the world. My participation was supported by Sight Savers International, London who had sponsored and witnessed the course held in Nigeria.
The third voyage was to Hanoi, Vietnam. One engineer and two doctors of that country had come to Madurai for twelve-week training. That was followed by a seven-week course run at National Institute of Ophthalmology, Hanoi. I and two trainers, Poornachandan and Saravanan (now working for an Ophthalmic instrument company), were involved in running a course for seven weeks for technicians of Vietnam Eye Hospitals in Feb-Mar 2004. Programme sponsored by Christoffel Blinden Mission (CBM) Germany. We had the service of local translators for side by side translation for making the course effective. That was an experience by itself. A bonus was a visit to Ho Chi Min mausoleum. A high light was the dinner hosted by the Minister of Health of Vietnam Government (an ophthalmologist himself) in honour of our visit.
 The fourth voyage in Sept 2004 to participate in the 7th General Assembly of the International Agency for Prevention of Blindness (IAPB) in Dubai to present a paper on the instruments maintenance courses I had run in Madurai, Nigeria and Hanoi. Sponsored by the India office of Sight Savers International (Delhi office), a Non-Government Organization (NGO) involved in eye care work. The attached picture was taken Dubai International airport where I got my first digital camera. Dr. BalaKrishan of Aurolab was with me on that trip. The brief case that has been with me in all my voyages is on the table displaying the IAPB slogan 2020 Right to Sight.
The fifth voyage was to Kikuyu, Kenya to run a five-week programme in Feb-Mar 2005. The participants were from Kenya, Tanzania, Malawi, Cameroon and Nigeria. The programme was sponsored by a NGO (non-government organization) Light for the World, Austria while some of the trainees were supported by Sight Savers International, Kenya office. Poornachandran and Sridharan accompanied me and two technicians of Kikuyu trained earlier in Madurai served as instructors. The hospital was a church supported and the training each day began with a prayer by the Chaplain of the hospital. For me who had spent 35 years in The American College, Madurai that experience was very natural. The course included a one-week camp in another hospital in Kenya. A very encouraging feature for of that camp was the trainees present for the work on all days well before the hospital was opened for work on those days (see the picture). A bonus for me and Poornachandran during the trip was a weekend safari in one of the national wild life parks of Kenya. A herd of rhinos in open was the main attraction.
To be continued…