Reporte Mundial sobre la Visión
Dicho reporte muestra la major evidencia disponible en la escala de las enfermedades oculares e impedimento visual. Muestra el progreso hecho y los desafíos remanentes para el sector de salud ocular. Como respuesta, detalla las prioridades para la acción futura.
The World Report on Vision video and infographic we made: https://www.iapb.org/news/what-exactly-is-the-world-report-on-vision/
Asamblea General IAPB: GA2020 – 12 al 14 de Octubre de 2020
Los invitamos a participar de la asamblea General de la IAPB que se realiza cada 4 años. Este año será en Singapur y marca el fin del programa VISIÓN 2020 y el comienzo de una nueva etapa. ¡Los esperamos!
Curso: Donde la Salud Pública y la Alta Especialidad Confluyen
14 y 15 de Febrero de 2019
Instituto Mexicano de Oftalmologia (IMO)
Centro Mexicano de Salud Visual Preventiva
Sociedad Mexicana de Oftalmología (SMO)
Agencia Internacional de Prevención de la Ceguera (IAPB)
Cómo Enfrentar Causas de Ceguera Silenciosa: La Prevención en la Salud Visual –  5 de Marzo 2020
Curso Nivel Intermedio / para personal de contacto de primera vez: Médico Internista, Familiares, Estudiantes de Medicina, Optometristas, Técnicos asistentes en Salud Visual
OPS/ OMS Regional América Latina C O C / F OC Barranquilla Colombia. Access here: https://www.iapb.org/wp-content/uploads/14-Attachment-CURSO-DE-LA-SOCIEDAD-COLOMBIANA-DE-OFTALMOLOGIA-PAAO-IAPB-1.pdf 
FACOCARIBE 4 al 7 de Marzo de 2020

No Te Pierdas
FACO Caribe En Su Séptima Edición
Para Mayor Información Consulta: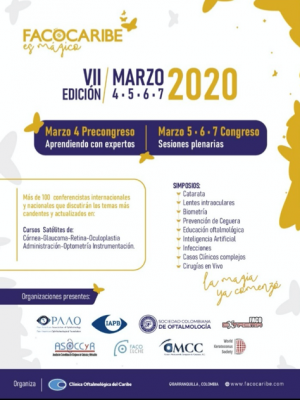 Premio Champalimaud
Otorgado a tres Instituciones de Latino América.
Felicitaciones a la Fundación Altino Ventura en Brasil, por haber sido una de las Instituciones ganadoras del Premio de visión Antonio Champalimaud 2019.
Reconocimiento muy merecido por su trayectoria de trabajo por más de 3 décadas en pro de la capacitación de oftalmólogos, prevención de ceguera y rehabilitación visual.
También la felicitación al Instituto da Visão – IPEPO, quienes utilizan la telemedicina y otras tecnologías nuevas, brindando servicios oftalmológicos a una gran población de más de 2 millones de personas en el área metropolitana de São Paulo, el Amazonas y más allá. Finalmente pero no menos importante el reconocimiento para el Servicio de Oftalmología UNICAMP  Que pertenece a uno de los hospitales universitarios de Brasil muy reconocidos, inició el primer proyecto de zona libre de cataratas en América Latina, un verdadero enfoque basado en la salud pública para el tratamiento y la prevención de la ceguera.
¡Qué sigan los tres con mucho ÉXITO!