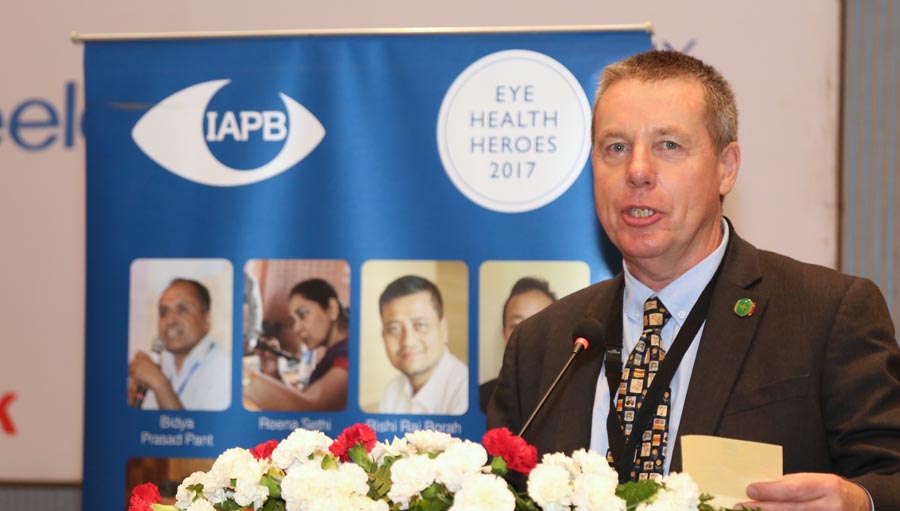 Peter Ackland, CEO of the International Agency for the Prevention of Blindness (IAPB), will be retiring from his role at the end of this year. Bob McMullan, President, announced Peter's decision to step down at the IAPB Council of Members meeting held recently in Kathmandu, Nepal. Speaking at the Council, Bob spoke for the members, staff and himself when he praised Peter's many contributions to the eye health sector over the years and wished him well.
"IAPB members—especially the smaller ones–IAPB staff and the officers, we all deeply appreciated his management style, friendship and advice over the years", he noted. "His last great gift to the eye health sector in his present role is the IAPB Vision Atlas, which he developed and implemented".
"…it is a moment where we should express our gratitude to Peter… Looking at how you shaped the [IAPB] network is something you should really be proud of…" – Sabine Rehbichler, Light for the World.
Many IAPB members too spoke at the Council and expressed their gratitude for Peter's contributions. Sabine Rehbichler (Light for the World), Babar Qureshi (CBM), Dr Taraprasad Das (Regional Chair, IAPB SEA/L V Prasad Eye Institute), Bill Felch and Hugh Taylor (International Council of Ophthalmology), Ivo Kocur (World Health Organization), and Elizabeth Kurian (Mission for Vision) spoke eloquently about Peter's contributions and his leadership.
Career
Following his training as a chemist, Peter spent several years conducting research in industry and academia. He then made a career change and  has been engaged in health and community development work for the past 30 years.
Commencing his career in international development in Africa – where he lived for 12 years – Peter managed different types of development programmes, including teacher training, small business development, environmental and agricultural projects and capacity building of disabled people's organisations. He then spent five years promoting services for people with dementia in the UK before joining the mission to end avoidable blindness.
Working for Sightsavers in the beginning, Peter has worked towards developing eye health services and the elimination of avoidable blindness and visual impairment for the past 15 years. Consequently, he is a passionate advocate for Universal Health Coverage as well as the realisation of the rights of people with disabilities. Peter Ackland joined IAPB as Director of Programmes in 2008 and became the CEO of IAPB in February 2009.
"[I was] lucky to have worked with Peter very closely. I can honestly say that he was among my best line managers [when we worked together]… You took on one of the toughest jobs… as CEO of IAPB and transformed it… You are a person with an excellent combination of head, heart and hands…" – Elizabeth Kurian, Mission for Vision.
Seeing is Believing
The partnership between the Standard Chartered Bank and IAPB is at the heart of this extraordinarily successful initiative and Peter has been integral to the success of this partnership. In 2012, Standard Chartered Bank made the decision to extend its support to Seeing is Believing for a further eight years, to 2020, and increase the total grants to $100m. To date the programme has supported more than 150 projects and reached 133 million people in 36 countries. Apart from fundraising the Bank's staff play an important role in monitoring the progress of projects at country level and volunteering to help with projects.
"…your patience in dealing with [difficult situations] and your steady leadership has been outstanding. I know that you are really committed in your heart to improving eye health around the world…" – Bill Felch, International Council of Ophthalmology.
IAPB Vision Atlas
The IAPB Vision Atlas is a project Peter conceived and he has helped write most of its content. Furthermore, Peter's relationships in the eye health sector have also helped secure leading experts to contribute to its sections. On World Sight Day this year, a renewed Vision Atlas was launched with the latest data and projections.
We wish Peter the very best for the future.