For World Glaucoma Week, Dr. Sidi Mohamed Ezzouhairi on why we need to rethink glaucoma care…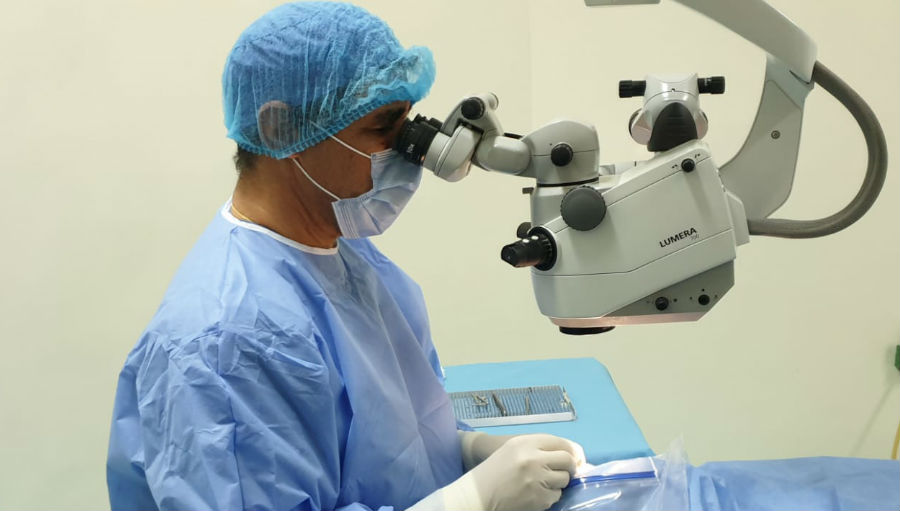 Glaucoma remains one of the leading causes of irreversible blindness worldwide. It is projected that the prevalence of glaucoma increases to 112 million people by 2040, disproportionately affecting people in Asia and Africa (1).
Blindness and visual impairment from glaucoma are avoidable with early diagnosis, appropriate, sustained, life-long treatment as well as an adequate follow-up.
However, People still go blind from glaucoma in Africa, because:
1- Glaucoma is frequently undiagnosed. In fact, for early glaucoma screening, family history and other risk factors must be considered, high intra-ocular pressure is the most important risk factor for glaucoma, which is a major step but altogether insufficient, so collecting other factor risk is crucial and worthy.
We forget to look carefully at the optic disc especially during our busy daily practice as well as to adequately use function and structure assessment of glaucoma.
2 – Once diagnosed, most patient will be started on anti-glaucoma treatment, but in many cases the optic neuropathy of glaucoma is inadequately treated, they would be overtreated, undertreated or if treated at all and that raises several therapeutic problems.
3 – Glaucoma is a chronic disease, so follow-up is a cornerstone of its management but detecting progression in many times is ineffective since we have to distinguish slow progressor from fast progressor, indeed the management is not the same in those who progress faster toward visual impairment and blindness
Health professionals need to realize that follow-up and glaucoma management is not defined based only on intraocular pressure measurements even when completed by diurnal curve and corrected by central corneal thickness.
4 – Then come the issues of compliance and adherence, limited equipment and treatment options, the high cost of care and lack of awareness among patients, which play a role in worse outcomes in those patients in Africa.
In my Glaucoma center, most of the time, I'm facing already blind patients, obviously some of them consult late, but what strikes me more is to see patients under glaucoma care become blind or referred very late to glaucoma specialist or to glaucoma surgery, in such cases, the prognosis remains dire.
Hence, building knowledge and capacity for adoption of best practices for treatment of glaucoma is essential.
Our mission as an eye care professional is to use the right ways to protect glaucoma patients from blindness. For me, the cornerstone of the prevention of blindness is first to provide effective eye health care. So, whether detecting glaucoma at early or late stages, it's absolutely essential to consider factors involved in the development of severe progression.
We have to master how to detect fast progressors, and renounce some wrong practices already "learnt"
We have learned that POAG is more common in Africa and Middle East, but is it true?
Secondary exfoliative glaucoma is more common in our area, which progresses at least three times more than POAG, but remains underdiagnosed or even undiagnosed. Primary angle closure glaucoma, which can lead rapidly to visual lost, is far more frequent than we think.
I believe that everywhere resources are low, we have to enhance our understanding of critical screening criteria for glaucoma and to develop new efficient strategies and simple trainings designed to eye caregiver in glaucoma and to increase their number.
These strategies may include telemedicine for disadvantage areas and involves artificial intelligence as well.
The objective is to maximize eye health care and to meet patient needs, which are preserving their quality of life and preventing them from visual impairment and blindness.
I believe that we have to transfer simple and useful skills (gonioscopy, subtle signs of exfoliation…) to general ophthalmologist and stress primarily on how to differentiate between fast and slow glaucoma progression and algorithms to manage both
The Moroccan Glaucoma Center has developed several activities such as:
WhatApp group in which ophthalmologists share and comment on clinical cases sent by colleagues
Frequent Live Glaucoma and cataract surgery on "Youtube", wherein Trabeculectomy, Deep Slerectomy, Tubes are shown and explained step by step
Training of ophthalmologists coming from Morocco and all West Africa
Workshops
As General Secretary and founder of Moroccan Glaucoma Society, I participate in organizing awareness and screening campaigns of glaucoma, and also two scientific meetings a year with more than 400 ophthalmologists.
As reminder, IAPB's  vision is to strive toward a world in which everyone has access to the best and effective possible standard of eye health.
1- Tham YC, Li X, Wong TY, et al. Global prevalence of glaucoma and projections of glaucoma burden through 2040: a systematic review and meta-analysis. Ophthalmology 2014;121:2081–90. Cited in Kyari F, Nolan W, Gilbert C.
GA 2020 – Act Now!
The IAPB Global Assembly 2020 (GA2020) programme has several sessions on Glaucoma. If your work is around the topic, do submit an abstract–the sector needs to know!