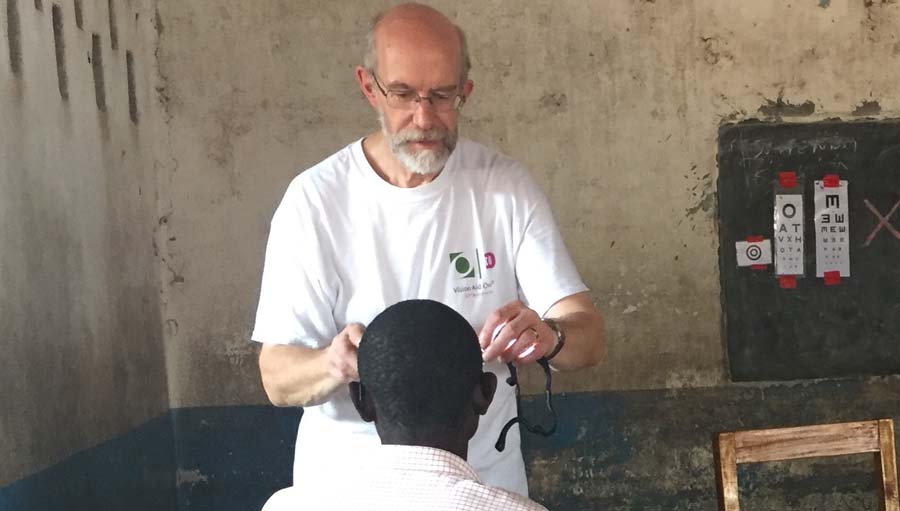 Vision Aid Overseas' long-standing volunteer, Mark Esbester, has been awarded an MBE in the Queen's New Year Honours as announced on the 28th December 2018. Mark has been a supporter of Vision Aid Overseas for over 13 years and has taken part, often as a team leader, in over 20 volunteer assignments during that time.
Mark's first overseas volunteer assignment was in 2006 to Uganda. In 2008, after just two assignments he trained to be a team leader and to date, he has volunteered on 25 assignments across many countries including Uganda, Zambia, Ethiopia, Sierra Leone and Burkina Faso.
Currently, Vision Aid Overseas works with UK optical volunteers to help establish sustainable and affordable eye care services across 4 African countries. Volunteers like Mark, use their skills to train local eye care workers and university students so that they get the practical skills needed to successfully care for their patients. They also help to establish Vision Centres when needed and deliver outreach services to some of the most isolated communities.
Alongside this, Mark gives up his time to help train new Vision Aid Overseas volunteers team leaders on our Volunteer and Team Leader Development Programme Days in the UK, as well as fundraising and giving talks on behalf of our charity.