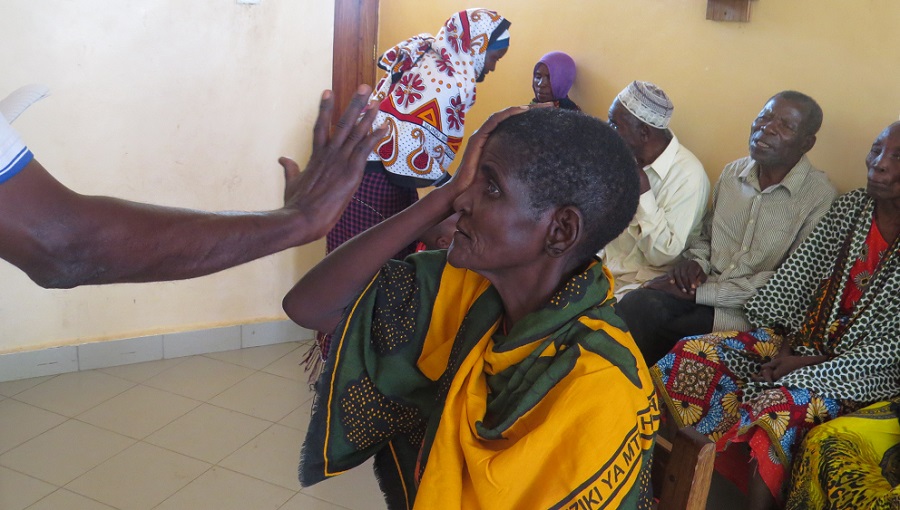 In October 2017, the project facilitated the Singida regional authorities to commemorate World Sight Day with the slogan "Make Vision Count". Sightsavers was able to work with the regional authority and undertake a mass eye screening and surgery camp for three days in Singida Municipality.
The team raised awareness on eye health across all streets in Singida Municipal from 6th to 8th October. This was followed by the mass eye screening camp which was held at the People's Playing ground in Singida town.
The Regional Commissioner, Dr. Rehema Nchimbi witnessed the screening camp in which 807 people were examined for eye problems (389 males and 418 females). Of the 807 examined, 98 were found with cataract and all of them (12.14% of those examined) were operated (42 males and 56 females).
In her closing remarks, Dr. Rehema Nchimbi addressed Singida residents, saying: "having quality eye equipment in the region makes it easy for every leader to mobilise people to test their eyes.
She continued by adding, "I am requesting all district top leaders to test their eyes and ensure people across all districts to utilise the delivered equipment by testing eyes." Dr Rehema Nchimbi was very pleased by the support that Sightsavers and Standard Chartered Bank had extended to the region through the Maono Project and insisted on the importance of strengthening eye health systems in the region. She also expressed that she predicts seeing Singida as an example for other regions to adopt practices in eye health systems strengthening because they have been empowered and given a solid opportunity through the project.
Dr. Rehema Nchimbi closed the WSD commemoration by promising her support to Sightsavers and Standard Charted Bank by saying, "I assure our partners that my region will make sure every investment done through this project go beyond 2020".

Edwin Maleko
Project Coordinator
Sightsavers Tanzania
emaleko@sightsavers.org