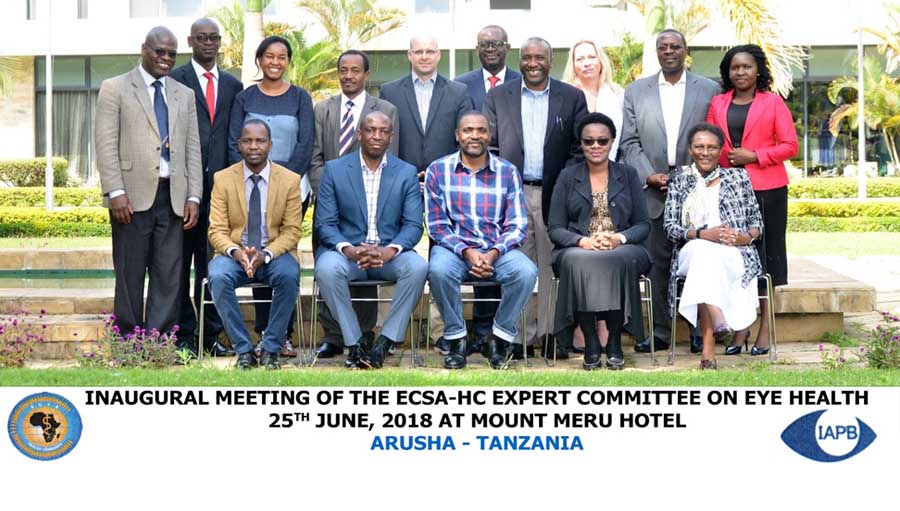 As reported in the IAPB Africa Newsletter 2017 Q2, the East, Central and Southern African Health Community (ECSA HC), with support of College of Ophthalmologists of East Central and Southern Africa (COECSA) and IAPB established the ECSA-HC expert committee on eye health in an effort to raise and sustain the eye health agenda high at regional and national level in the ECSA-HC member states.
The inaugural meeting of the Experts Committee on Eye Health was held in Arusha, Tanzania, in May 2018 as a pre-ECSA Directors Joint Consultative Committee (DJCC)/11th Best Practices Forum meeting with the objectives of finalising its TOR and agreeing on its Modus Operandi. The Committee then went on to develop the recommendations raised by the stakeholders during the consultative meeting in May 2017 for presentation by the Committee's chair to the DJCC for consideration of submission to the ECSA-HC Health Ministers Conference (HMC).
The interim chairperson of the Committee Dr Aaron Magava presented to the DJCC on the need to make eye health issues more visible and improved prioritization for eye health services in the region.  He highlighted the underreporting of eye conditions in national HMIS where countries only measure 2-3 eye conditions.  He also emphasised the need for the integration of eye health cadres national HRH Plans. On the Committee's behalf, the Dr Magava made the following request to be processed for HMC's consideration:
Human resources development for eye health

To be integrated into the National HRD policies to address the availability of right numbers, in the right place and at the right time of eye health workers to provide comprehensive eye care in Member States.
To put in place measures to improve the skills of the eye health workers such as adopting the competency based curricula for teaching and educating eye health workers.

Research on eye health

To generate quality eye health data through integration of eye health into existing national HMIS by increasing the number of indicators used to monitor eye health services.

Inclusion in the next Best Practice Forum of a theme or subtheme on Eye Health.
The DJCC was concerned about issues presented, high burden of eye conditions and yet limited response by the countries in the region and applauded the efforts being made to raise eye health issue high on the agenda.  The DJCC approved the request by the Experts Committee on Eye Health for the inclusion of a theme on eye health in the next ECSA-HC Best Practices Forum, so that comprehensive recommendations can be drawn and taken to the ECSA-HC Health Ministers Conference.