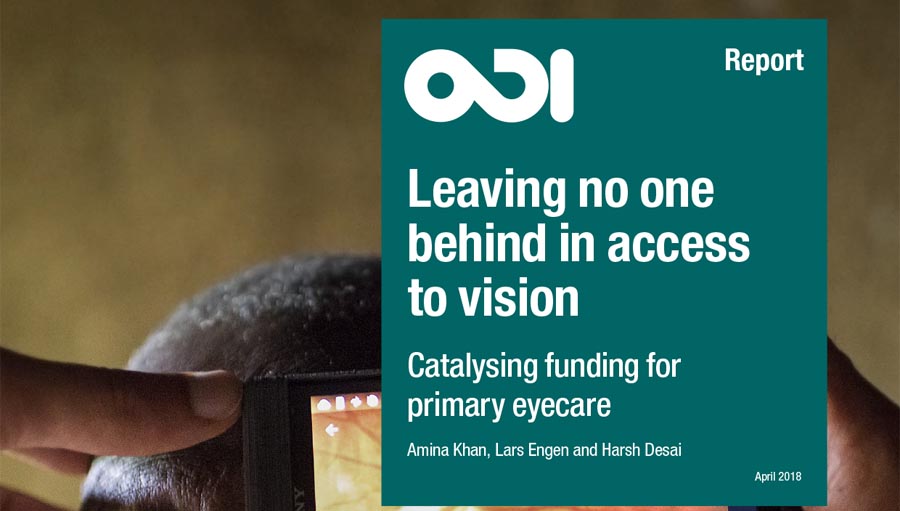 Khan, A, Engen, L. & Desai H., Leaving No One Behind In Access to Vision: Catalysing Funding for Primary Eye Care, ODI Report, April 2018
In 2017, James Chen, founder of the UK-based eye health agency – Vision For A Nation – published the book Clearly: How a 700-year old invention can change the world forever. In it, he stated that 'global prosperity cannot be achieved without clear vision for all', and showed how simple primary eye care interventions are some of the most useful ways for people in developing countries to access a pair of glasses if needed in order to restore their sight. The Report was funded by Clearly.
Chen (2017) argues that the global development community must act decisively to remove the barriers to the provision of Primary Eye Care in developing countries through policy changes in the 'four Ds':
Diagnosis: allowing health workers, nurses or teachers to take on simple, straightforward tasks of vision screening.
Distribution: subsiding provision of glasses to the poorest people to help gradually create a market, removing inappropriate regulations on selling glasses, and creating simpler, cheaper supply chains.
Dollars: removing import duties and taxes on basic glasses to make them affordable.
Demand:eliminating social and cultural barriers to wearing glasses.
Key Messages
Two and a half billion people in the world today need but lack access to glasses, 80% of whom live in just 20 developing countries.

Effective delivery models for primary eyecare do exist: case studies in Rwanda, Bangladesh and Cambodia show that eyecare services that are integrated with existing health and education systems are fit for the future.

Donors can play an important role in addressing the unmet need for glasses, and in drawing attention to amplifying the impact of clear eyesight on people's health, education and economic outcomes.

Instead, innovative financing mechanisms can be used to leverage and multiply available funding from sources such as the private sector and philanthropies.