On Global Accessbility Awareness Day, Emma Davies, IAPB's Membership and Fundraising Officer reflects on her work with RNIB and why accessibility is so important.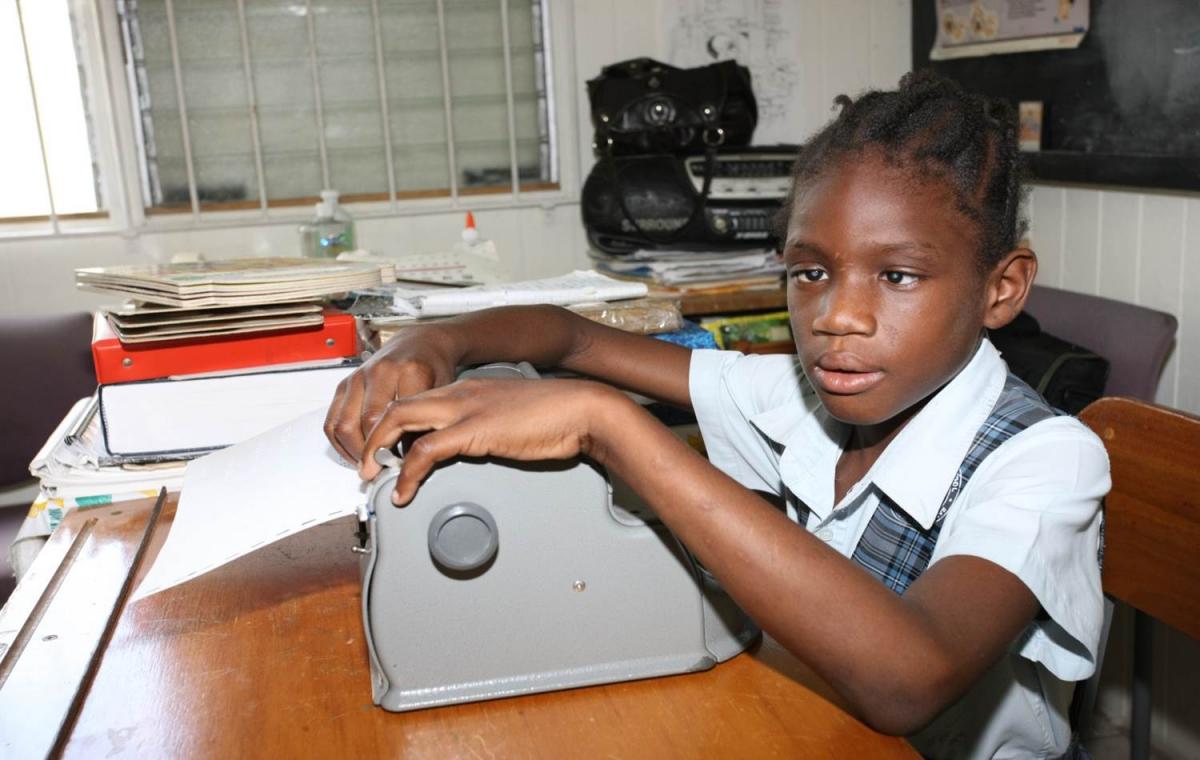 I first realised the importance of accessibility, when I started work for the Royal National Institute of Blind People (RNIB) at nineteen. I was aware of the needs of disabled people before that point in a broad sense, but it wasn't something that I had any kind of concept of.
Data Capture and Transformation
My job title of "Transcription Officer of Data Capture and Transformation" made me sound more like a wizard than anything to do with accessibility! However, transcription is a vital part of accessibility for blind and partially sighted people. It is the process that turns words on pages into Braille, audio and large or giant print.
Initially my job was to transcribe people's bills into accessible formats, and for a while I didn't realise the importance of that. A sighted person takes reading one's bills for granted, but for a blind or partially sighted person that's a part of their independence. Later, I moved to work within the main transcription department.
The art of transcription
The process of transcribing books into Braille is tricky and requires the books to have their spines cut off, with precision. They are then fed through a scanner, and the text is captured via scanning software.
I remember sitting in the photocopier room painstakingly photocopying every single page of "A Pair of Blue Eyes" by Thomas Hardy. I vowed I would never read that novel, since the quality of the pages meant it would be destroyed in the scanner. The majority of the books we transcribed were for the British Library.
Transcription also requires you to learn Braille, which is technically difficult. If you are sighted, you can read Braille by sight (which isn't easy). Everybody's favourite question is "can you read Braille?" and they are always confused when I say "yes, by sight". Even to this day I check the Braille in lifts, train toilets and on paracetamol packets, although that's not challenging as its Grade 1 which spells out each letter. Grade 2 requires more effort to read. I should also say that I wasn't even working on the much harder areas like some colleagues who were transcribing maths, music, languages and creating tactile images… I'm still in awe of them.
Accessibility education
After working for RNIB for four years, I decided to go to university (a degree in English Literature). I thought it was high time I read some of the books I'd worked on; thankfully "A Pair of Blue Eyes" was not on the reading list! During my time at university, I started to realise just how important it is for people to be able to access all information in a format that enables them to read. If it wasn't for the library I wouldn't have managed to do my degree. There is no way I could have purchased all those books, so imagine not being able to access a book because it isn't in a format that you can read.
Later in my career I started working for "Scope", and accessibility took on a new meaning. Now I see accessibility in a new light: why do we still live in a society that doesn't fully enable people to access transport, information, work and even services? In one respect we are a lot more geared towards accessibility, but putting signs up doesn't mean you're committed to it.
From my journey of understanding accessibility, I would ask that people learn how to change their mind-set. Restaurants should have Braille menus, buses should always be able to accommodate wheelchair users and taxis shouldn't chuck guide-dog users out onto the curb. It is the 21st century, isn't it time we all thought about accessibility as not something we should do, but something that intrinsically happens?