On World Optometry Day,  Judith Stern Global Manager of Academy, Public Health at Brien Holden Vision Institute and Selina Madeleine, Global Communications Manager on changing the way optometrists think about myopia.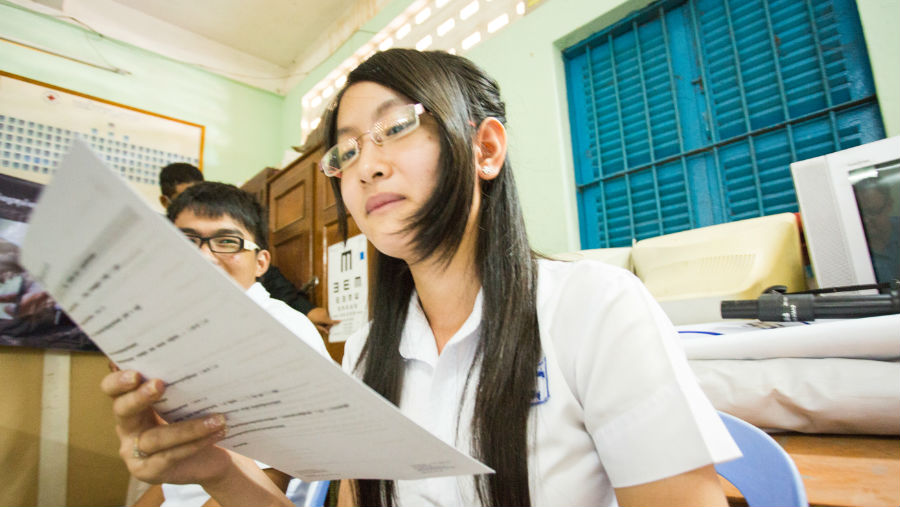 With the world shining a spotlight on optometry today, it seems an opportune moment to highlight one of the pressing global issues for our profession: the increasing global prevalence of myopia – we cannot ignore this worsening situation. We have an opportunity now to reverse the trend.
Myopia is projected to affect 50% of the world by 2050[i]. With uncorrected refractive error as the major cause of vision impairment globally, one of the viable and sustainable solutions that can address this need is developing a qualified optometric workforce and guiding practice evolution. In 2015, the World Health Organization (WHO) met with the Institute and confirmed action must be taken on all interventions helpful in reducing the threat of myopia[ii].
We know practitioners are the public interface to managing myopia and improving future vision outcomes for their patients. However, a recent practitioner survey on attitudes to myopia management and control highlighted that close to 70% of practitioners are still correcting myopia with single vision lenses as their primary mode of correction despite the research showing that we are now able to slow the progression of myopia with appropriate management strategies[iii].
Views of Optometrists
This provokes the very relevant question – how can we change the way optometrists think about myopia? We asked a few optometrists about their views on this question.
"I think that many optometrists don't think of myopia as a blinding condition, so this is where awareness needs to come in to help make that change. Prevalence is increasing and high myopia is part of that increase, some cases which can become blinding. Optoms can help to prevent this, while earning a living which is a great opportunity for a health professional."
"My feeling is if we want to change the way optometrists think, in order to change their prescribing practices, then the new delivery would need to be pushed through CPD delivery at the major optometry conferences. The attending optometrists need to see the evidence, at this level, and then hopefully this could potentially affect their prescribing."
"Maybe it's really about asking optometrists to step up and accept their public role as a health care professional – can we believe we can make a difference? In some way the new standards of care becoming available around myopia are a fresh development for the profession and if we dare to say it, an opportunity to increase our level of ongoing care."
"As an optometrist we probably know we should be doing more than just correcting myopia in children, and I'm sure many people are willing to change how they work. Maybe it's about helping people understand, as optometrists, we can play a significant role in the onset and progression of myopia in children by evolving our methods of treatment."
Practice-based education
Judith Stern, Global Manager for Education, Brien Holden Vision Institute spoke about the need for practice-based education to support practitioners with skills to manage myopia.
"We understood from having discussions with optometrists on a global level that many are concerned about the rising prevalence of myopia, risks of myopia and predictions of progression. Many are aware there are new and different ways to slow myopia – yet there was not much available in the sector to consolidate and translate the research to inform their clinical practices. This showed a genuine need in the profession to enable practitioners with the skills to create a risk profile for onset and progression, and to confidently offer their patients an appropriate management plan to help slow the rate of myopia progression," said Ms Stern.
Professor Earl Smith III, a world leader in managing myopia recently stated, "I think optometrists are obligated to take a front line role in the management of myopia. If we can reduce myopia by 40% or 50% then that has a huge public health benefit."
Liked it? We have more stories for World Optometry Day
[i] Holden BA, Fricke TR, Wilson DA, Jong M, Naidoo KS, Sankaridurg P, Wong TY, Naduvilath TJ, Resnikoff S, Global Prevalence of Myopia and High Myopia and Temporal Trends from 2000 through 2050, Ophthalmology, May 2016 Volume 123, Issue 5, Pages 1036–1042
[ii] Holden, B.A., Fricke,T.R., Wilson, D.A., Resnikoff, S., Jong, M., Naidoo, K.S., Sankaridurg, P. Prevalence of myopia and high myopia and temporal trends from 2000 to 2050; Brien Holden Vision Institute Report, 2015.
[iii] Wolffsohn, J. S., A. Calossi, P. Cho, K. Gifford, L. Jones, M. Li, C. Lipener, N. S. Logan, F. Malet, S. Matos, J. M. Meijome, J. J. Nichols, J. B. Orr, J. Santodomingo-Rubido, T. Schaefer, N. Thite, E. van der Worp and M. Zvirgzdina (2016). "Global trends in myopia management attitudes and strategies in clinical practice." Cont Lens Anterior Eye 39(2): 106-116.