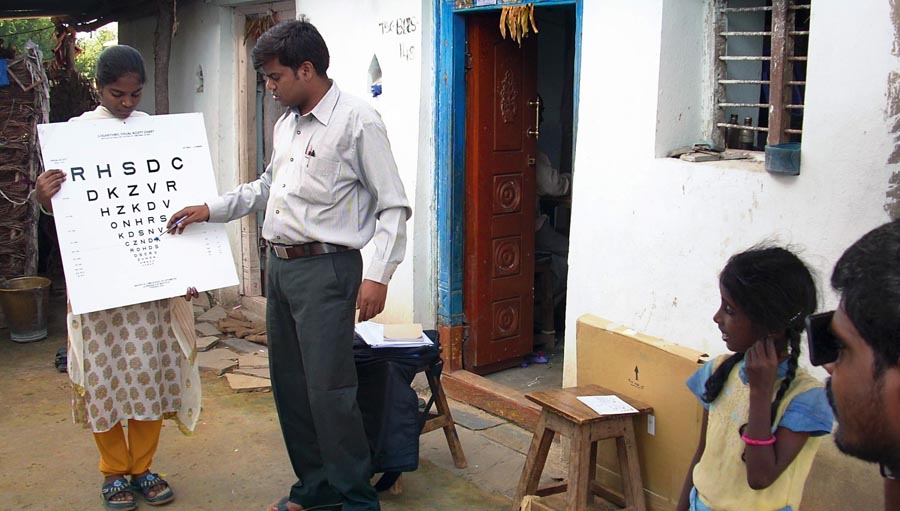 One of the major problems in prevention, accurate diagnosis and treatment of eye diseases is the lack of trained human resources. To address this issue, the L V Prasad Eye Institute (LVPEI) is offering two courses in Community Eye Health.
Diploma in Community Eye Health (DCEH)
The course aims to impart knowledge and skills required to prevent and treat visual impairment and rehabilitate them to improve their quality of life. The skills learnt from this programme can be applied to other health care and development programmes. It is a comprehensive programme, with a right blend of theoretical knowledge and practical training and field visits
The six-months programme will commence from 8th January 2018.
Certificate course in Community Eye Health (CCEH)
This one month course aims to provide an overview on key concepts in community eye health in a nutshell. Specifically designed for mid-level and higher level managers and optometrists who want to get into Community Eye Health, this course covers topics such as Community Needs Assessment, Basic Concepts in Epidemiology and Biostatistics, planning and management of eye care programs among other topics. This course is a shorter version of Diploma in Community Eye Health (DCEH) programme.
Practicing Eye Care Managers/Administrators in hospitals, Ophthalmologists, Optometrists working as teaching faculty in optometry schools and other professionals who are interested in Community Eye Health can reap the benefits of these two courses.
For course enrollment and complete details please write to Dr. Srinivas Marmamula sri.marmamula@lvpei.org
Established in 1987, L V Prasad Eye Institute (LVPEI) is a comprehensive eye health facility with its main campus located in Hyderabad, India. A World Health Organization Collaborating Centre for Prevention of Blindness, the Institute offers comprehensive patient care, sight enhancement and rehabilitation services and high-impact rural eye health programs. It also pursues cutting edge research and offers training in human resources for all levels of ophthalmic personnel.