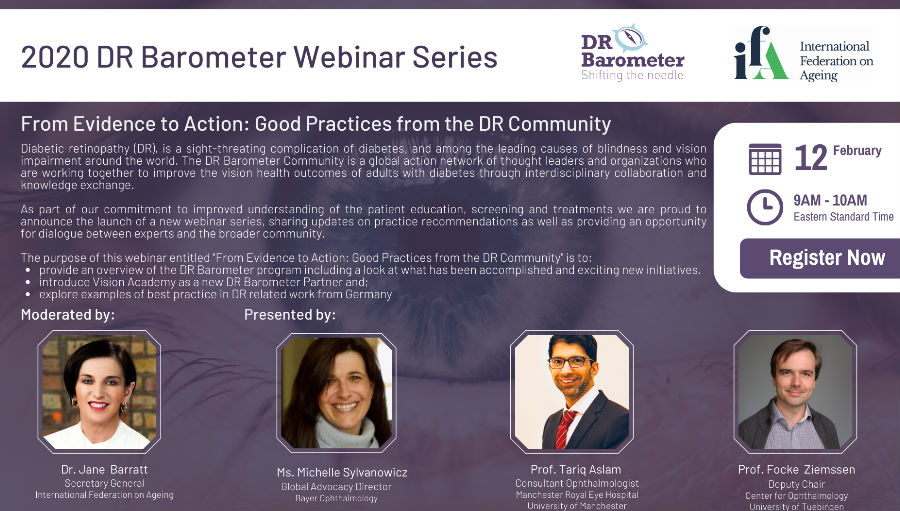 Diabetic retinopathy (DR), is a sight-threatening complication of diabetes, and among the leading causes of blindness and vision impairment around the world. The DR Barometer Community is a global action network of thought leaders and organizations who are working together to improve the vision health outcomes of adults with diabetes through interdisciplinary collaboration and knowledge exchange.
As part of our commitment to improved understanding of the patient education, screening and treatments we are proud to announce the launch of a new webinar series, sharing updates on practice recommendations as well as providing an opportunity for dialogue between experts and the broader community.
The IFA is pleased to invite you to the upcoming first DR Barometer webinar entitled "From Evidence to Action: Good Practices from the DR Community".
Moderator: Dr. Jane Barratt, Secretary General, International Federation on Ageing
Presenters: Ms. Michelle Sylvanowicz (Global Advocacy Director, Bayer Ophthalmology), Prof. Tariq Aslam (Consultant Ophthalmologist , Manchester Royal Eye Hospital, University of Manchester) and Prof. Focke Ziemssen (Deputy Chair, Center for Ophthalmology, University of Tuebingen).
This webinar will:
provide an overview of the DR Barometer program including a look at what has been accomplished and exciting new initiatives.
introduce Vision Academy as a new DR Barometer partner.
explore examples of best practice in DR related work from Germany
Register to learn more about this topic and for the opportunity to connect with DR experts on Wednesday, February 12 at 9 AM EST.
Please contact yzheng@ifa.ngo for any questions regarding the webinar.