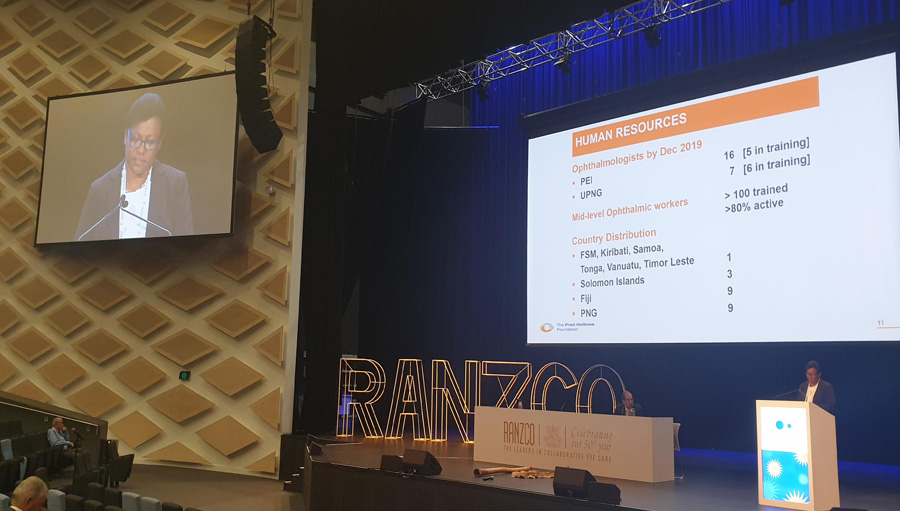 On Monday November 11, Dr Anaseini Cama gave the Fred Hollows lecture at the Royal Australia New Zealand College of Opthalmologists (RANZCO) conference in Sydney. Dr Cama currently leads the Fred Hollows Foundation Australia trachoma elimination efforts in the Pacific Islands. Her distinguished career in ophthalmology has taken her around the region as PacEyes President and also as the sub-regional Pacific Islands Coordinator for IAPB. She is well-placed to comment on eye health challenges in the Pacific including those posed by DR, lack of resources and HR.
Dr Cama noted:
A rising epidemic of NCDs and diabetic retinopathy emerging as a cause of visual impairment in the Pacific has seen the recognition of the need to increase trained HR to recognise, refer, and manage diabetic retinopathy adequately in the Pacific. The Pacific Eye Institute has specific diabetic retinopathy modules within both ophthalmologist (DO / MMed) and ophthalmic nurses curriculum (PGDEC). Additionally, training  has rolled out to community health nurses and community health workers to improve community awareness of diabetes eye disease, its prevention and the importance of early recognition and referral for screening and management.
Studies conducted at the Diabetes Eye Clinic in Colonial War Memorial Hospital, Suva, showed that 50% of new diabetics seen already had some form of retinopathy, and 26% had sight threatening retinopathy. A review of patient management showed that in 30 – 50% of cases, timely laser and good hyperglycaemic control halted disease progression.
 Early screening for diabetes eye disease and good control of glycemic levels is therefore important for all diabetics.
by Dr Ana Cama with Drew Keys