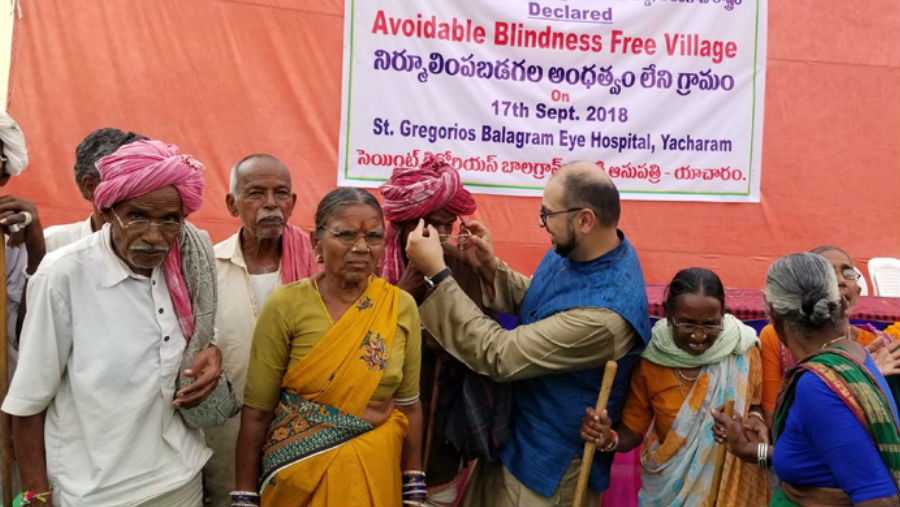 We tend to know why children and adults do not access eye care services – poverty, inability to access services, uninformed about solutions to poor vision, the stigma involved, and the list goes on…
Knowing the "why" is the easy part. What we are all working towards is the "how." How do we eliminate those barriers? How do we ensure eye care is everywhere?
Anyone who works in the health and development sector will tell you that there is not one, singular solution to achieving universal coverage. There isn't a magical recipe that works for the entire population. It takes a myriad of services, skills, research, resources and professions to dissect each factor, and design systems and strategies to achieve schemes that work now and long into the future.
In 2014, Operation Eyesight Universal began declaring avoidable blindness-free villages. By working together with local community health workers, governments, ophthalmologists, eye health nurses, administrators and numerous others, we started to tackle the problem of avoidable blindness one village at a time. The concept of universal coverage can be daunting, but "here" is tangible; it's manageable – and it's exactly how we're addressing the problem.
Now, as of October 13, 2018, we've declared 1,000 villages across India and Nepal as avoidable blindness-free. These villages are communities where nobody is blind from a cause that can be avoided or prevented. Their residents are equipped with eye health education and have access to community health workers and quality eye care services – and the solution is working.
I recently visited Raipole, a small village on the outskirts of Hyderabad, India. I was there to help declare Raipole an avoidable blindness-free village. Dozens and dozens of villagers, the majority wearing eyeglasses, came out for the celebration. What struck me as I sat on stage was that, without the community health workers, without the systems, without Operation Eyesight and our partners, and without local government support, the majority of the people sitting in the audience would be without clear vision. It took us working together to get eye care there. Not everywhere, but there. And "there" is a push in the right direction.
Our solution is working with partners to implement Hospital-Based Community Eye Health programmes that lead to avoidable blindness-free villages. There are hundreds of other organisations around the world who are implementing their successful solutions. I'm inspired to see action because our beneficiaries deserve it; we owe it to them to have eye care reach every hamlet, village, town, shanty town and city.
Is achieving eye care everywhere for everyone a big challenge? You bet it is. But it is NOT impossible. I encourage us all to find more ways to work with one another to achieve our common goal of eliminating avoidable blindness – everywhere – For All The World To See!
Operation Eyesight Universal is a proud partner in Our Children's Vision. To learn more about their programmes, visit operationeyesight.com.
This blog originally appeared on Our Children's Vision and has been reproduced with permission