World Report on Vision Launch Canberra
The November 26 Parliamentary Friends Group for Eye Health and Vision Care Dinner was held in the Gallery at Parliament House Canberra, hosted by Vision 2020 Australia and attended by two dozen politicians bridging the political divide. Guest of Honour was IAPB CEO Peter Holland, who launched the World Report in the presence of IAPB's Regional Chair Ms Amanda Davis and IAPB President, the former Senator Bob McMullan.
Judith Abbott, CEO of Vision 2020 Australia recaps: "It was an enjoyable evening and a tremendously valuable opportunity for all of us in the sector to come together to promote our work to some of our most important stakeholders. It was also a timely reminder that our work continues to receive strong support across the political spectrum – even during an extremely busy Parliamentary sitting week."
Meanwhile, Vision 2020 Chair, Amanda Vanstone stated in her closing remarks, "2020 is going to be a big year for our sector. It presents a unique opportunity for us to raise awareness and advocate for the kinds of changes and funding that can make a real difference to Australians at risk of, or living with, vision loss."
The impact of Australia's commitment is felt well beyond the walls of Parliament House in Canberra. Australia has been at the forefront of global efforts to boost spending in the eye health sector, a fact that was not lost on the political leaders present. And yet, as the World Report highlights there is still much to be done, particularly to reach those on the periphery of our sector. One of the aims of the report is to reach these people – in Canberra it was to reach politicians of all political persuasions, whereas in Seoul at the Korean launch the aim was to reach a deeper audience in specific sectors.
World Report on Vision Launch in Seoul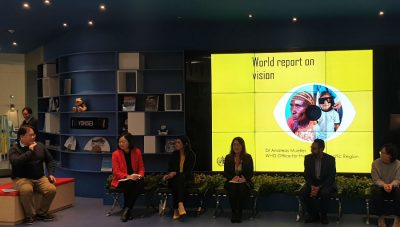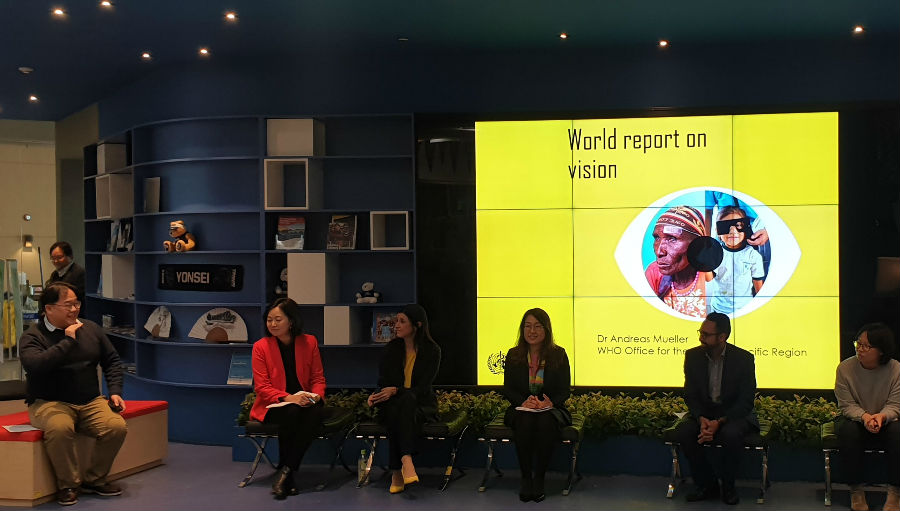 Dr Andreas Mueller from the World Health Organization was in Seoul on the 6th of December to launch the World Report on Vision in Korea. This important document is the first WHO report into vision and the singular most important advocacy document for eye health for the next decade. It's a testimony to the hard work of the Korean Eye Care Working Group that the Korean launch at Yonsei University, was the third country launch worldwide – the Philippines, where WHO Westpac office is located was first and then Australia. Speakers addressed the disparity in eye health coverage amongst minorities and women and the importance of renewed advocacy efforts to raise profile in Korea. One of the aims of the World Report on Vision is to reach beyond the eye health sector. This was a huge success in Seoul: with only one panelist from eye sector, but many from complimentary sectors such as education. Korea launch format is now being used as a global blue-print.
"세계비전보고서 (World Report on Vision) Launch" 서울 선포식  
 지난 12월 6일 세계보건기구 (WHO)와 세계실명예방기구는 함께 세계비전보고서의 선포를 위해 한국을 방문하였습니다. 이 문서는 실명과 관련한 WHO의 첫 보고서이자, 차후 10년간 안보건 분야의 옹호 활동(Advocacy)의 가장 기본틀이 될 내용입니다.
연세대학교 백양누리 글로벌라운지에서 선포된 세계비전보고서는, WHO서태평양지부 사무소가 위치한 필리핀과 호주에 이어 세번째로 이뤄졌습니다. 이것은 그간 한국 안보건협의체 (Korea Eye Care Working Group) 회원 단체들이 세계 안보건의 발전을 위해 기울인 노력의 결과라 할 수 있습니다.
본 행사에는 다양한 사회 분야의 전문가들이 패널로 참석하였습니다. 교육, 젠더, 사회혁신 등 여러 분야 전문가들이 각자의 분야가 안보건과 어떻게 협력이 가능한지와 그 협력의 영향력에 대해 함께 이야기 하였습니다특히, 소수자와 여성에 있어 안보건 격차를 깊이 논의 하였으며 한국에서의 안보건 인지도를 증진시키기 위한 새로운 옹호활동과 관련한 노력에 대해 강조 하였습니다. 세계비전보고서의 가장 중요한 지향점은 안보건 분야를 위한 사회 여러 분야의 협력이라는 점을 볼 때, 서울에서의 행사는 매우 성공적이었습니다. 서울에서의 패널 구성은 앞으로 타 국가의 세계비전보고서 선포식의  기본틀이 될 것입니다.