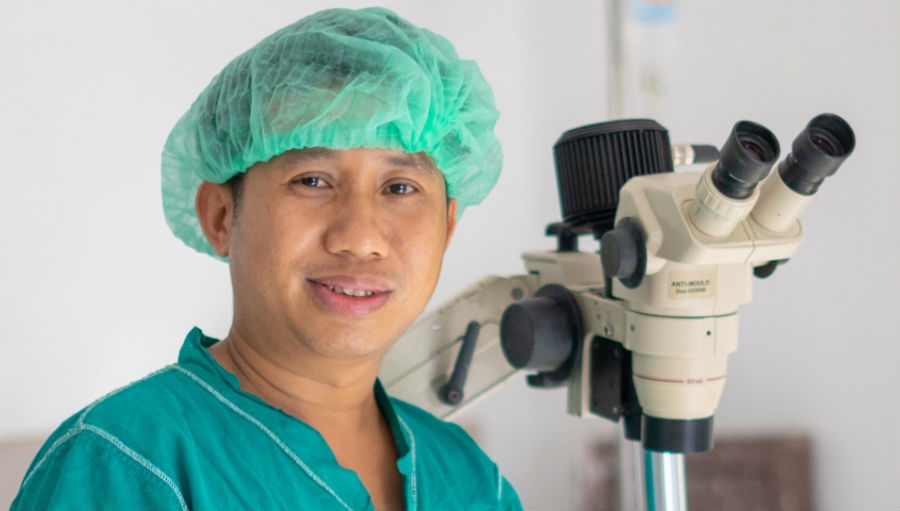 Ophthalmic nurse Santoula Keo Manizay is quiet and reserved but his actions speak louder than words. At just 31, he has checked more than 2,000 pairs of eyes and trained more than 1000 volunteer health workers in the most remote villages of Lao PDR. He is a true eye health champion.
Santoula was a regular nurse in Namor District in the country's Oudomxay province where he noticed many older people were suffering from vision problems. "I saw so many old people turning blind. I am a nurse, but I want to educate more people about proper eye care and improve their experience in taking care of their eyes. So I decided to learn and train to become an ophthalmic nurse," Santoula said.
In 2012, Santoula was selected for ophthalmic nurse training in northern Lao PDR. The training – supported by The Fred Hollows Foundation – was the first of its kind in the country. With just 29 ophthalmologists serving a population of almost seven million, Lao PDR faces a shortage of eye health professionals.
The Fred Hollows Foundation is committed to increasing the quantity and quality of the local workforce. Over four months, ophthalmologists, optometrists and nurses taught eight trainees from the northern provinces of Oudomxay, Phongsaly, Luang Namtha and Bokeo about common eye diseases and how to treat or refer them for treatment. The trainees were also given practical training on screening and eye hygiene. Towards the end of the course, the trainees were sent on a two-week field assignment, where they put into practice everything they learned.
This part of the course was crucial as it was designed to prepare the nurses for the realities of working in rural Lao PDR. The trainees learned how to conduct house-to-house screenings and collaborated with other health staff to ensure eye care was integrated with other community health programmes.
The training was rewarding for Santoula and his peers. "Oh, I'm really lucky to have this good opportunity to learn and improve my knowledge about eye care. I'm also very happy to meet many people from other provinces to share and join ideas together." The training gave Santoula confidence and encouraged him to be a team player.
"I'm really happy and appreciate that I am part of a team. I know I'm not a surgeon or expert, but I can still help a lot of people. I'm part of a team that can help blind people. I can improve their vision and give them the opportunity to go to treatment and save their life with a cataract surgery. I'm very happy in my life and in my job because I can help and do things, and be part of the eye care programme," Santoula said.