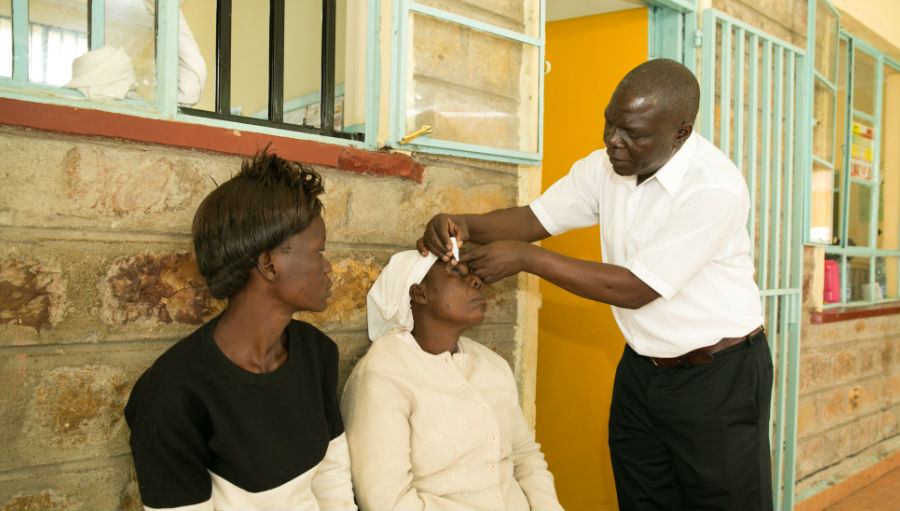 Moses Orwe is an ophthalmic nurse at Homa Bay District Hospital in Kenya's southwest. The hospital sees an average of 75 patients a day, 10 of whom will need eye surgery. The Fred Hollows Foundation spoke with Moses about his work in eye health and some interesting challenges he faces.
"In Kenya, people don't really understand eye health because we have few trained eye personnel and few eye facilities," Moses said. "As eye health workers, we're trying to create awareness so they can avoid bad cultural practices – but the lack of awareness is quite challenging."
Those "bad cultural practices" is the reliance on traditional medicine which leads to people seeking professional medical help only as a last resort.
"People crush leaves and mix it with water to create a paste they put on the eyes," Moses said. "They also use charcoal ashes and even smoke from firewood. They hold a burning stick near the eye and let the smoke go in the eye."
Moses' role therefore needs to involve a high level of community education. But despite best intentions, providing essential eye health messages to a regional population of 1.2 million people just within Homa Bay county is difficult.
Meanwhile, Homa Bay has another pressing concern: it has the highest HIV prevalence rate in Kenya. With a national HIV prevalence rate of six per cent, Homa Bay's is 27 per cent (UNICEF 2013). Promoting eye health amid such endemic health concerns is even more difficult.
So, for Moses, it is all about getting out to the people. He goes to "Chief's meetings" where he talks to community leaders about eye health and the services available, and assists with outreach campaigns, and World Sight Day activities.
"World Sight Day activities are role-play and drama. It's community health education where we set up the activities and invite people to come. It is supported by The Fred Hollows Foundation," Moses said.
Moses' interest in eye health came about via a common scenario: seeing a need and the direct link that eye health has with patients and their outcomes. "I was working as a general nurse but had a friend who was an ophthalmic clinical officer. I used to help him," Moses said. "I helped with visual acuity, would arrange and manage patients, collect medicine from the pharmacy. I developed an interest in ophthalmology, so went for training. That was for one year, from 2006 to 2007."
Moses now works as one of two ophthalmic nurses at Homa Bay District Hospital, a hospital with a specialised eye unit that was opened by Salus Oculi Kenya, a Kenyan NGO, in cooperation with DBHW (Deutsches Blindenhilfswerk/German organisation for the Blind) and co-financed by the German Ministry for Economic Cooperation and Development*. His specialisation in ophthalmology has also put Moses on the front lines of eye health in Kenya.
"My job now is management of eye patients which involves assessment of visual acuity, measuring intraocular pressure, screening of eye patients to identify those that need eye surgery, carrying out outreach eye care screenings and assisting during eye surgery," Moses said and then mentioned which of those he finds the most valuable.
"Screening eye patients," he said immediately. "You interact with patients directly and it helps me know and gain experience of different eye conditions."
And when considering what he would like to change, Moses is again quick to respond.
"Bad cultural practices need to be changed," he said, adding, "And I want to make people aware that cataract is an avoidable blindness. And the general awareness of eye health services at the hospital…"
*Corrigendum (13 August 2019): An earlier version of this story noted that the specialised eye unit at the Homa Bay District hospital was opened with support from the Fred Hollows Foundation. The unit, as is now noted above, was built with support from the German Organisation for the Blind and the German Ministry for Economic Cooperation and Development. We regret the error.