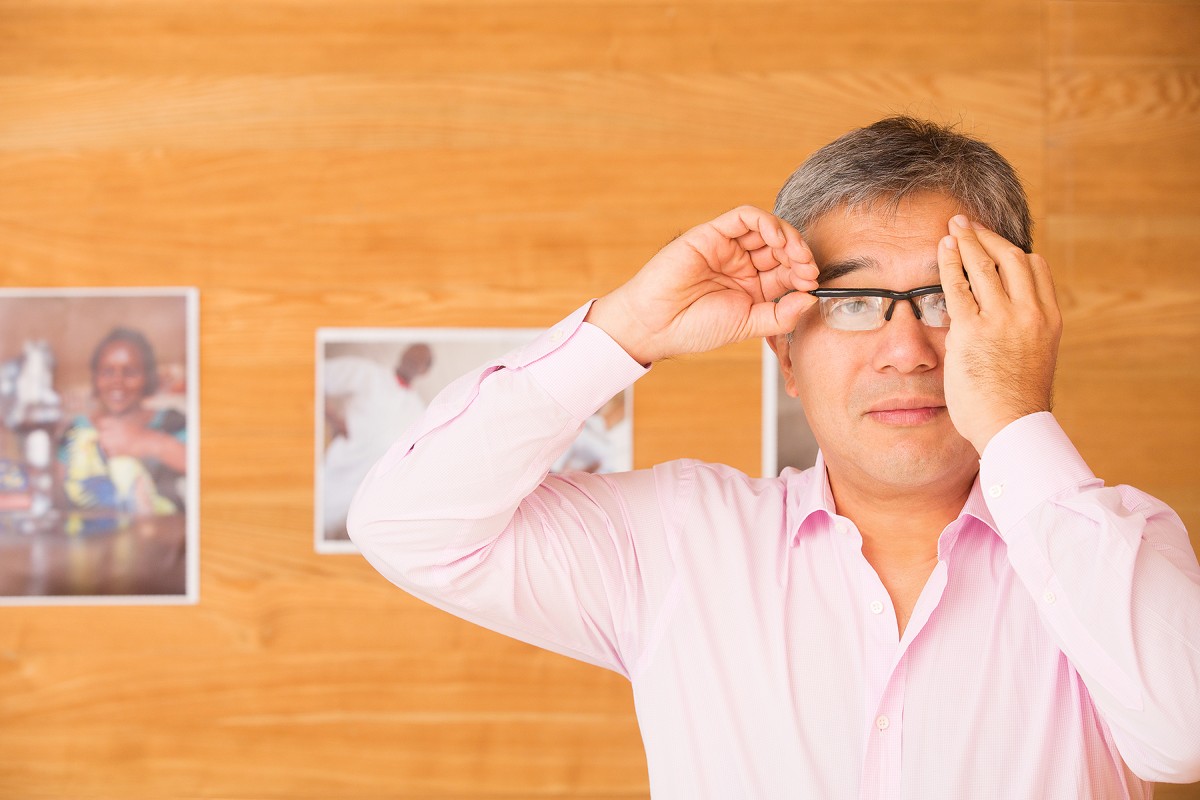 It is no secret to members of the IAPB that there are 2.5 billion people around the world suffering from poor vision with no means of improving it. However, to the rest of the world the news of this hidden, unaddressed disability is astounding.
The need to highlight this issue on a global scale is one of the key aims behind my decision to launch a new global campaign, to help the world to see – Clearly.
Clearly is the culmination of my long journey to improve access to vision correction. It all started when I spent time in Africa growing up and saw first-hand the desperate need for people to get access to vision correction. This passion grew when I discovered the potential of adjustable glasses and founded Adlens.
Eight years ago I founded Vision for a Nation. We launched a programme in Rwanda four years ago and today, every Rwandan citizen has access to primary eye care in each of the 502 health centers across the country. Each center is staffed by at least two nurses trained to provide basic treatment, including glasses for $1.50, and to refer patients with more complex conditions to eye specialists at local hospitals. This groundbreaking national program has supported the Rwandan Ministry of Health to provide all of the country's 10.5 million people with access to local and affordable eye care. Earlier this month Vision for a Nation took top prize at the 2016 UK Charity Awards in the International Aid and Development category.
My work in Rwanda and with Adlens inspired the Clearly campaign, but at the heart of this project is my fundamental belief that, with the combined force and potential of the best minds in the world, we can discover new solutions and technologies and maximize the impact of emerging innovations, which are collectively capable of affecting change on a global scale.
The campaign has three main pillars to harness intellectual capital, breakthrough ideas and solutions.
A central tenet of the campaign is the Clearly Vision Prize – an ideas competition for entrepreneurs, which asks technologists, supply chain experts, data scientists and forward thinkers to use their great minds and knowledge to come up with innovative solutions. The prize offers $250,000 USD of seed funding and mentoring to get the best ideas off the ground. Entrants need to submit their idea at http://prize.clearly.world before 18 July.
In addition to this we are hosting a series of 'Clearly Labs' – curated think tanks and brainstorms where innovators and thinkers will come together and pool their knowledge from diverse fields and develop new ideas. The first Clearly Lab took place in Hong Kong and we have others planned this year in San Francisco, London and New York.
Finally, we are also gearing up for a global event where the most brilliant brains in the world will come together in one place at one time to solve the Clearly campaign's question, how can the whole world see? The event will take place in Amangiri, Utah, USA, October 2016.
I am honored that the The International Agency for the Prevention of Blindness has chosen to endorse the Clearly campaign.
This support is invaluable and adds enormous weight to the campaign, that has already garnered support from global businesses and nine champions from across the world –ranging from the CEOs of Warby Parker to Dame Tessa Jowell, former Minister in the UK Government.
If you who would like to be involved in the campaign please contact info@clearly.world for further information and stay in touch by following us on Facebook and Twitter