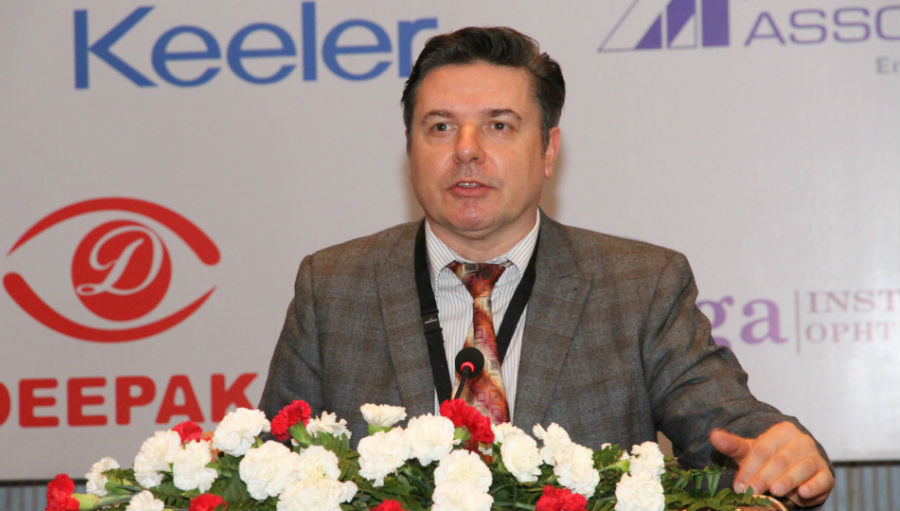 The ICO Board of Trustees announced Ivo Kocur MD MSc MA MBA— a high profile, results-oriented leader — is ICO's new Chief Executive Officer. An accomplished senior Medical Officer with the World Health Organization responsible for the global eye health agenda, Ivo carries with him more than 20 years of experience in public, private, and not-for-profit sectors. Ivo brings to the ICO a proven track record of success, change and collaborations worldwide toward the prevention of vision impairment and enhancement of eye care.
Ivo holds a medical degree and began his career as an eye surgeon and teacher at the Charles University in Prague, Czech Republic, his native country. His passion to promote education led to his efforts to spearhead the establishment of the Lions Ophthalmology Education Center in Prague, now attended by over 3000 ophthalmologists from many countries. He holds a Master of Science in Community Eye Health from the University College London, a Master of Arts in Diplomacy from the Diplomatic Academy of London, and a Master of Business Administration from the European University in Geneva, Switzerland.
In 2002, Ivo was appointed by the World Health Organization as WHO Global Coordinator of VISION 2020 and fostered international collaborations of key stakeholders in order to shape the global public eye health agenda. Since then he has facilitated the development of four eye health resolutions and two global action plans endorsed by the World Health Assembly. During his career with the WHO, Ivo has been instrumental in working with ministries of health to assess and develop national eye care plans.
ICO President Peter Wiedemann MD says, "We are particularly impressed by Ivo's energy and focus on society members. He clearly understands the need to ensure the ICO represents our member needs to its fullest."
Ivo is well versed in eye care delivery and health system issues with a career that has included roles in fundraising, government relations, and public affairs in the eye care sector. "I am honored to join the ICO and excited to build on its outstanding legacy and dedication to improve eye care around the world," said Ivo.
The Board thanks Neeru Gupta MD PhD MBA for her exemplary leadership and commitment to the organization as past Interim CEO. Neeru has played an integral role in advancing the ICO mission and continues to serve as ICO Vice-President.