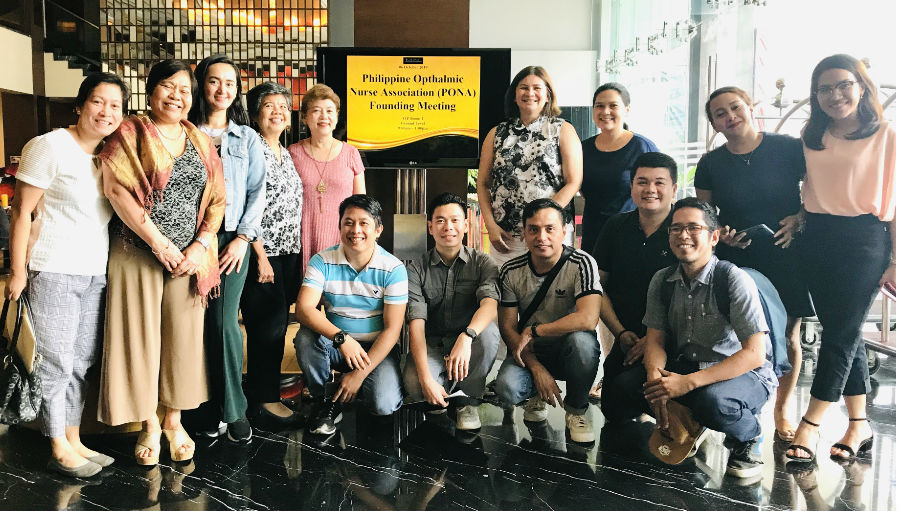 On October 6, 2019, nurses came together to form an Ophthalmic Nurses Association for The Philippines. While there are many nurses who work in Ophthalmology in the Philippines, Ophthalmic Nursing as a distinct specialty is still not recognized. The aim of this fledgling group called, the Philippine Ophthalmic Nurses Assocation (PhONA) is to define the practice of Ophthalmic Nursing and set up its training and practice standards aligned with the Philippine Qualifications Framework, and work with other stakeholders towards our collective goal of eye care prevention and treatment.
Nurses from the Ophthalmology Departments of the following institutions were present: East Avenue Medical Center, Bicol Region General Hospital and Geriatric Medical Center, St. Luke's Medical Center, Tarlac Provincial Hospital, and University of Santo Tomas Hospital. Also present were Betty Meritt, former member of the Board of Nursing, and Rosario Dumangon, a Director of the Operating Room Nurses Association of the Philippines (ORNAP).
The effort is supported by the Fred Hollows Foundation ophthalmologists, Dr. Maria Victoria Rondaris and Dr. Shelley Ann Mangahas, both of whom are very active in blindness prevention in the Philippines.
For further information or to enquire about membership, please contact: Alex Ryan T Lancion (RN) alexryantan09@yahoo.com.ph or Felicidad II A Jeeramias (RN MN)       aldasfelicidad@gmail.com
Special thanks to the delegation: Alex Ryan T Lancion (RN), Felicidad II A Jeeramias (RN MN), Edgardo Pasamba JR (RN), Jennifer A Kuizon (RN), Regino Mallari (RN), Maria Luz Bartolo (RN), Maritoni R Vasquez RN, Armel Calinagan (RN), Aneglica Mae Agualada (RN), Alsson Francis Milla, Maritess Pidlaoan (RN), Jessa Salvador (RN), and advisors: Betty Merritt (RN MN), Rosario Dumangon (RN MAN), Maria Victoria A Rondaris (MD MPH) and Shelly Ann Mangahas (MD MHA)
Photo credit: Maria V Rondaris