Adeyemi Oyewumi and Frances Unuode on how the Eye Foundation Hospital promotes excellence in eye care delivery…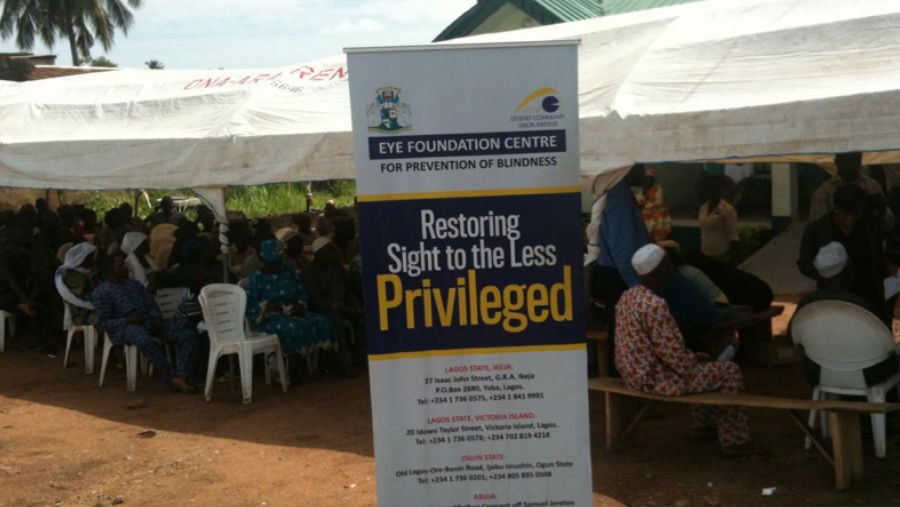 Eye Foundation Hospital was established in 1993 with a vision to eliminate avoidable blindness through the provision of equitable, qualitative, quantitative and affordable eye care to all. Over the past 25 years, we have built a network which actively promotes greater integration of eye care.
Levels of Care
We offer three levels of care (primary/basic level care, secondary level care and tertiary level care) within our network ensuring an uninterrupted level of escalation and access to quality eye care for all.  Our Primary Eye Care Centres (PECCs) are entry points of care which promote access in communities where little or no basic eye care exists. PECCs are referral points for Secondary Centres (medium-sized eye hospitals which undertake middle level care and surgeries). In turn, Secondary Centres are referral points for our Tertiary level hospitals where specialist eye care services are provided.

Pictures of our Three tier from left to right: Tertiary, Secondary and Primary Centres
Eye Foundation Hospital Group places a premium on promoting excellence in eye care delivery, clinical expertise, collaborative partnerships and the use of state-of-the-art technology in achieving its overarching objective of eliminating avoidable blindness in Nigeria and across the West Africa Sub-region.
Connecting local efforts with the international
The Group has created opportunities for connecting local efforts with international best practices with a view to catalyzing the scale of its programme, while achieving quality eye care for all . Our model and level of impact over are a result of constructive partnerships with community level organizations, government/non-government stakeholders, international organizations as well as private sector organizations. We have vigorously pursued our vision through these partnerships and platforms, all of which have contributed to the reach of the organization.  Some of our notable projects undertaken through partnerships include:
MTN Foundation Eye Restoration Project (Eyeris) – The project restored sight to the less privileged in various communities across all geopolitical zones of Nigeria. This project was implemented in two phases between 2013 and 2017 and delivered over 16,000 free cataract surgeries, dispensed about 24,000 free eye glasses and eye drops across 12 states of Nigeria.
African Centres of Excellence in Cataract Surgical Service (ACCESS) facilitated by the Hilton Cataract Initiative. The initiative promotes exchange and support from peer organizations across Africa and knowledge partners – Aravind Eye Care System and Johns Hopkins University. Through this programme, Eye Foundation Community Hospital has delivered an average of 2,000 cataract surgeries per year over the last 3 years.
Charity Vision International – We have built collaborations with Charity Vision in the area of outreaches cataract surgeries outreaches and capacity building to enhance the impact of our activities across the group.
Project Mercy 1000: This a yearly initiative of the EFHG launched in 2017, to provide 1,000 free cataract surgeries each year to vulnerable population in Nigeria. We work closely with community groups, government authorities to promote awareness and implementation of our initiative.
We have also engaged with the Lions Club and Rotary Club through various initiatives to improve outreach and sight for the less privileged in the society.
Working in an integrated manner
Eye Foundation Hospital has grown over the years, creating additional entities all working together in an integrated manner towards the vision to eliminate avoidable blindness. Together these entities are known as the Eye Foundation Hospital Group (EFHG). They include:
Eye Foundation Community Hospital (EFCH) – established in 2006 as the social enterprise arm of Eye Foundation Hospital Group to further extend quality eye care to the poor. EFCH has built partnerships with communities, governmental and non-governmental stakeholders and has extended affordable (free, and low cost) quality eye care services to over two million less privileged persons. We have done this by carrying out over 200,000 surgical operations and dispensed over 150,000 eye glasses through eye camps and outreaches across Nigeria.These efforts are geared towards building a sustainable institution that is at the forefront of promoting the elimination of avoidable blindness in Nigeria.
"I have been involved in training nurses even before the establishment of the Deseret Community Vision Institute. Being part of the faculty that has trained over 100 Community Ophthalmic Nurses and not less than 200 Middle Level Ophthalmic Practitioner has given me so much pride and fulfillment especially because of the relevance and content of the training that is geared at meeting the ever dynamic needs of patient eye care. From the Institute's Management Board and fellow tutors to the materials we dish out, I have found out that I feel inspired with valuable new ideas and techniques that I can implement in our training activities." – Paul Nwagala (Ophthalmic Nurse, Clinical Service Manager at Eye Foundation Hospital)
2. Deseret Community Vision Institute (DCVI) – This is the training arm of the Group which oversees training for ophthalmology residents and fellows, mid-level ophthalmic practitioners (MLOPs), optometrists, and ophthalmic nurses. DCVI focuses on ensuring a sustained development of human resources and skilled personnel to fill the gaps in dearth of human resources in Ophthalmic care. Over the years we have trained over 15 sub-specialty Ophthalmologists Fellows from Nigeria and other African countries such as Ghana, Democratic Republic of Congo, Sudan, Ethiopia and Cameroun; 35 Residents, over 100 ophthalmic nurses and over 200 MLOPs. DCVI has also secured accreditation with the Joint Commission on Allied Health Personnel in Ophthalmology (JCAHPO) to boost the cadre and recognition of its MLOPs. From our recent data analysis to assess the impact of our training, we found that women form the bulk of the people trained so far – 88% of MLOPs and 60% of Resident Ophthalmologists are women.
Our IAPB membership over the years has been a great platform for building partnerships and we look forward to also showcasing our experience and learning from others as we all strive to achieve a world without needless blindness.