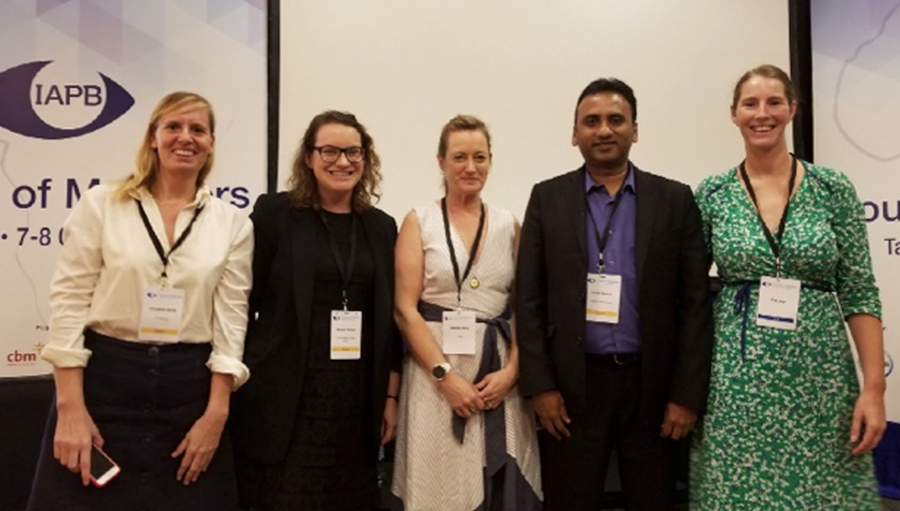 Set against a backdrop of coalescing opportunities to change the lives of the billion plus people affected by uncorrected vision, I hosted a session focused on driving access and affordability of glasses at IAPB's Council of Members.
With new sets of actors within the eye health landscape, the publication of the WHO's World Report on Vision and the planned for Global Report on effective Access to Assistive Technology (GreAT), and ground-breaking inclusion of eye heath within the UN political declaration on universal health coverage. There exists never seen before opportunities to increase access and work to scale.
The event featured Margaret Savage (Clinton Health Access Initiative), Kovin Naidoo (Essilor), Amanda Davis (The Fred Hollows Foundation and IAPB's West Pacific Regional Chair), and Liz Smith (EYElliance). 
Margaret Savage, Clinton Health Access Initiative
I was delighted to have Margaret Savage from Clinton Health Access Initiative (CHAI) as a special guest. She and her colleague Mathilde Chaudron travelled especially to Tanzania to engage with the eye health sector. Under the AT2030 programme, funded by UK aid, CHAI is delivering market-oriented product narratives to inform the Global Partnership for Assistive Technology's (ATscale) strategy. ATscale aims to revolutionise access to assistive devices, ensuring 500 million additional people access the assistive devices they need by 2030.
Margaret set out that the eyeglasses product narrative will provide a market landscape and propose an approach to sustainably increase access to high quality, low cost priority assistive products. CHAI will continue to engage with the sector as this narrative is being developed.
Kovin Naidoo, Essilor (and former IAPB Africa chair)
Kovin presented on the new report on "Eliminating poor vision in a generation". The report sets out new costings and a pathway for elimination of poor vision. Emphasising the sheer scale of the challenge, Kovin highlighted key findings and messages from the report.
Amanda Davis, IAPB's West Pacific Chair, The Fred Hollows Foundation
Amanda spoke from a regional perspective with lessons from the West Pacific. Amanda presented on addressing barriers, including strengthening health systems. She highlighted the essential role of working with government.
Liz Smith, EYElliance
Liz Smith, EYElliance, spoke about the importance of aligning key initiatives on eye health. She also stressed the need for development of pathways to scale that are durable, involving governments from the start. She highlighted that the funding community today is: "interested in systems change; looking for cross sector approaches; and more than ever interested in funding government-led initiatives".
Presentations and discussion included focus on the importance of coordination and coherency around messaging. It also highlighted the need to address refractive error within efforts to progress on universal health coverage. An important challenge which was raised is the need to appropriately balance the unmet need, the sheer scale of it, and ensuring quality and compliance. In many cases high taxation on glasses for those in need must be tackled but to increase access there are a number of other demand and supply factors. The clear steer from the panel is that we do not continue to work in siloes, we take a multi-faceted approach, and that tackling this massive challenge means harnessing the strengths of private, public sector, and NGOs.
Thank you to all for brilliant and frank discussions.