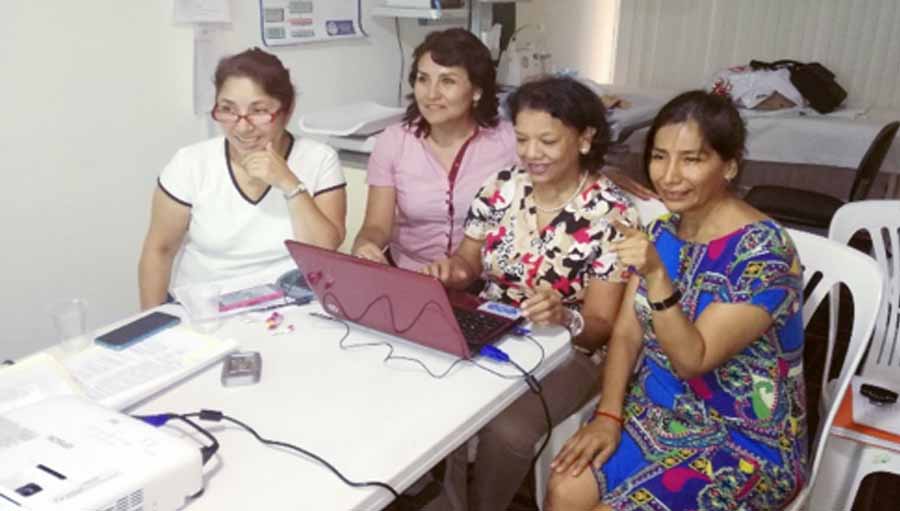 Around the world, outside of work hours, ophthalmic nurses unite under their common passion to support those with vision impairment within their community. This passion has fuelled nurses from as far as Cameroon to Canada to develop their own Ophthalmic Nursing Communities. While some may not be as formally recognised as others – they are all equally important for the development of eye care in their community. I dream that one day we can also meet and be represented under a common "Global Ophthalmic Nursing" banner.
Hola, I'm Elisa Urruchi. I work full-time on ORBIS International's Flying Eye Hospital. In my free time I volunteer with other nurses from Peru to manage South America's first – and the continents leading Ophthalmic Nursing Association – the ASOCIACIÓN PERUANA DE ENFERMEROS EN OFTALMOLOGÍA (APEO). We are an autonomous, self-sustained, non-profit peer organisation established in 2006 to unify ophthalmic nursing in Peru. APEO provides continuing ophthalmic nursing education and ultimately, works to improve the quality of ocular health services within the Peruvian community. We have been recognized by the General Peruvian Nursing Council, who we now partner with, towards our objective of continuously improving ophthalmic nursing services in accordance with the countries National Eye Health Strategy.
Since 2006 we have met many of our organisational goals:
Develop a permanent education programme in conjunction with the General Peruvian Nursing Council.
Since 2006, we have delivered 5 Regional Congresses, 4 National Congresses and 2 International Congresses in coordination with the Peruvian Ophthalmic Society. We are accredited by the General Peruvian Nursing Council and are supported by the Spain Society of Ophthalmic Nurses, Alcon and ORBIS International. Our activities are widely attended by Spanish Speaking nurses from across the Continent.

Our workshop portfolio is vast, covering phacoemulsification, vitrectomy, infection control workshops and other hot topics essential for nurses.

Promote the dissemination of ophthalmic nursing knowledge through social media.
We have created a Facebook page where we engage with our professional community. Please do find us and friend us!
Establish relationships with international Ophthalmic Nursing Associations.
We are now working with the Spain Society of Ophthalmic Nurses. We have participated as speakers in some of their activities and they have also honoured us with their presentations at some of the courses we organize.
Participate in the certification process of the Peruvian Ophthalmic Nurses backed by the General Peruvian Nursing Council.
An activity we have recently commenced: See below, a functional map for the Ophthalmic Nurse Professional Certification system of the General Peruvian Nursing Council for your reference. Once this project is finished, approved and established, it will allow for a certificate and re-certification process for ophthalmic nurses in Peru every 5 years. We are currently seeking ophthalmic nurses who have been involved in developing similar certification programmes to connect with us – as we welcome their input.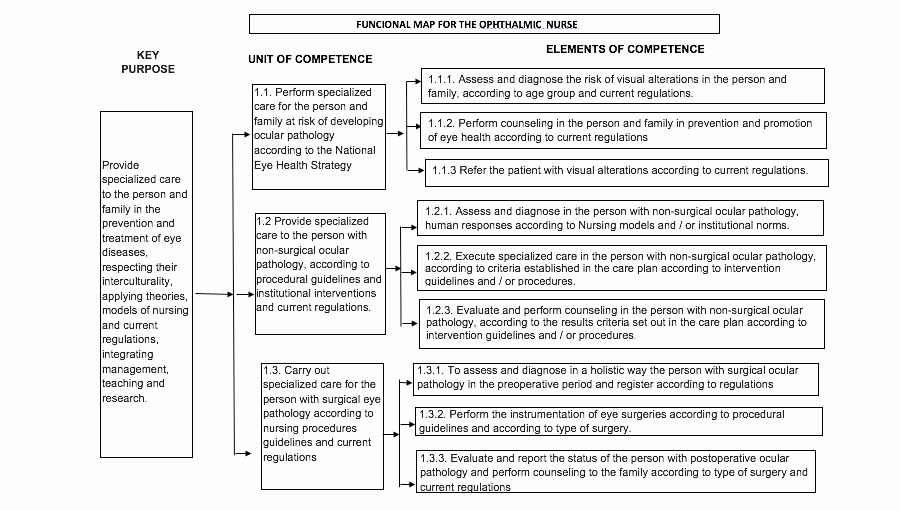 Our next International Congress will take place in the 24th& 25thof August 2018 in Lima, Peru. We invite international attendance.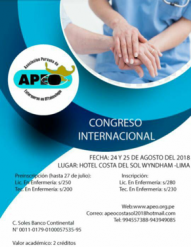 Through my involvement with APEO, I have come to recognise the important role of the ophthalmic nurse in shaping and developing ophthalmic nursing and ophthalmic services. We are, as individuals, responsible for our own professional future and owe it to future nurses, and the patients we care for today, to make sure we are at our best and offer the best service we can. I encourage nurses around the world to get involved with their local associations – and if there isn't one locally, then be the one to build it.
How to find nurses around the world
Websites:
Facebook Communities – find them and Friend them:
Combined Inter-Disciplinary Regional Associations:
Oceania: Pacific Eye Care Society (PacEYES) – Pacific Islands.
South America: Pan-American Association of Ophthalmology (PAAO).
West Indies: Ophthalmological Society of the West Indies (OSWI).
Other
Image: The Peruvian Ophthalmic Nursing Association board members working on the Functional Map for The Ophthalmic Nurses Accreditation Process (Elisa on the right – in blue). 
[/vc_column_text][/vc_column][/vc_row]