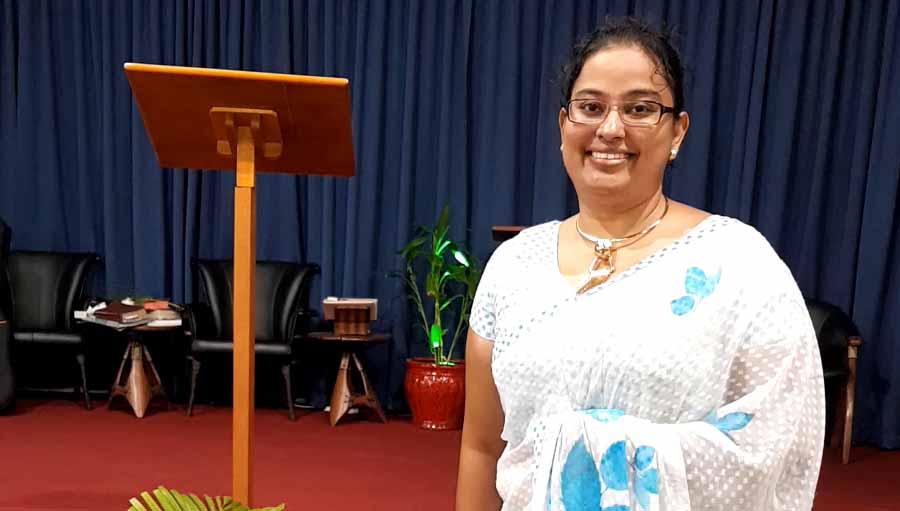 I live in two worlds. One, an island life – where time stands still and the ocean breeze whistles through the palm trees. The second, where patient-demand and service-gaps in an increasingly technical healthcare system require me to step-up and out of my comfort zone so I can prepare the next generation of Western Pacific ophthalmic nurse leaders.
Bula.I am Artika Avikashni. I'm an Ophthalmic Nurse and a Course Tutor at the Fiji National University and Pacific Eye Institute in beautiful Fiji. I am responsible for the training of qualified nurses from Fiji, Tonga, Solomon Islands, Vanuatu, Samoa, Kiribati, Federated States of Micronesia, Marshal Islands and Nauru. Some arrive with little-to-no knowledge of ophthalmics – and some with little clinical experience. After a year, they exit as autonomous ophthalmic specialists with additional JCAHPO certification and a network of colleagues and lifelong friends.
Our transition from informal training, to formal training (and in some countries formal recognition as an ophthalmic nurse) did not happen overnight. The Course I teach is the result of a community response to tackling and preparing our region and its workforce for the needs of our people. From those on the frontline – the nurses, ophthalmologists, and administrators, to those in the background at PEI, FNU, Fred Hollows Foundation NZ, JACHPO and our professional peer associations such as PacEYES, we have worked collectively to ensure we are preparing a workforce armed to tackle the issues impacting smaller island nations. We are challenged by our geography, the rise in diabetic related eye disease and our limited access to ophthalmologists (and even less optometrist and orthoptists) but we are inspired by our people and our passion to serve them is strong.
For this, our region has started the journey to prepare nurses to fill service and workforce gaps. Having a wide and wholistic health back ground – and being trusted by the community and patients – nurses make the ideal professional group to help fill those services. To-date, ophthalmic nurses in our region are being trained – and are returning to their home countries and islands – with non-traditional skills such as spectacle prescribing and medication dispensing (Table 1).
When I review the 'Health is a Human Right' theme for this year's International Nurses Day, to me, it sounds wonderful, but I know this is not achievable without simultaneously recognizing ourselves as nurses and realizing that we are both autonomous professionals and responsible professional members of a dynamic multi-disciplinary eye health care team. I know my part in the global strategy to help eye patients and I encourage nurses and all other eye care team members to join me in making human rights in health a reality.
| Pacific Island Nation | Availability of post-graduate level ophthalmic nursing course (or similar) | Trained to prescribe specific eye drops | Accepted to prescribe certain eye medications | Trained to prescribe Spectacles (glasses) | Accepted to prescribe Spectacles (glasses) | Additional – trained- services provided |
| --- | --- | --- | --- | --- | --- | --- |
| Fiji | Yes | Yes | Submitted for approval | Yes | Submitted for approval | Yes |
| Kiribati | Yes | Yes | No | Yes | Yes | Unknown |
| Papua New Guinea | Yes | Yes | Yes | Yes | Yes | Prescribe steroids |
| Samoa | Yes | Yes | Yes | Yes | Yes | Yes |
| Solomon Islands | Yes | Yes | Yes | Yes | Yes | Yes |
| Tonga | Yes | Yes | Yes | Yes | Yes | 1 x technician providing diabetic laser services |
| Vanuatu | Yes | Yes | Yes | Yes | Yes | Yes |
Reference:
Machin H (2016). Celebrating the Diverse Roles of Pacific Island Ophthalmic Nurses and Technicians. ASORN Insight. 2017 42(1) 15-21.
[/vc_column_text][/vc_column][/vc_row]